When you shop through retailer links on our site, we may earn affiliate commissions. 100% of the fees we collect are used to support our nonprofit mission.
Learn more.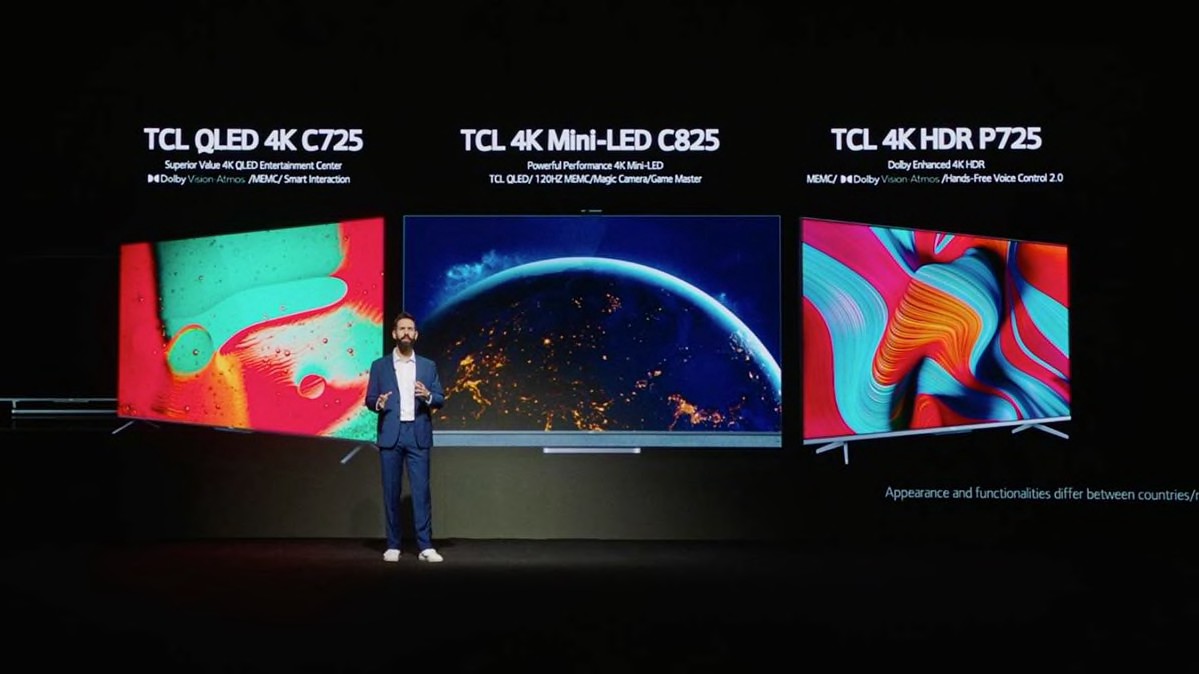 Just days into the new year, we already have a good idea of what TV buyers can expect in 2021, starting with more 8K sets from a number of brands, more LCD sets that use "Mini LEDs" in backlights, plus a few more companies offering OLED TVs.
Shoppers can also expect to see more jumbo-sized TVs—many with screens that measure 85 inches or more—at more affordable prices.
Many of the details about 2021 TV lineups were announced this week at CES, the annual consumer electronics trade show that this year is being held virtually.
We'll break out the most interesting TVs from each brand below; note that both Hisense and Vizio will be announcing TV lineups later this year. But first, here's a quick run-through of the kinds of technologies you'll see in stores.
In terms of TV improvements, expect to hear more about advanced processors and the use of artificial intelligence (AI) to improve overall picture and sound quality in 4K sets. In 8K TVs, the need to upscale lower-resolution HD and 4K content to these new high-res screens requires extra computing horsepower.
You'll also see more OLED sets alongside the LCD televisions that dominate the market. The very top sets in Consumer Reports ratings (available to digital members) tend to be OLED TVs, and the number of brands offering these types of TVs is expanding beyond just LG and Sony. Last year Vizio offered its first OLED TVs—it hasn't announced successor models yet—and in 2021 we also expect to see OLED sets from Panasonic and Skyworth. With the increased competition, shoppers are likely to see lower prices on entry-level 4K OLED sets.
The big news for LCD/LED TVs is the use of Mini LEDs in backlights by several brands. By shrinking the size of the LEDs, companies can cram thousands of them into the backlight behind the LCD panel, then divide them into zones that can be dimmed or illuminated, just like conventional LEDs. But because they're so small, they can be controlled more precisely to help improve brightness, contrast, and black levels, and help reduce the halos you often see on LCD TVs when a bright image appears against a dark background.
This could help the best LCD TVs perform closer to OLED TVs, which don't require a backlight. Instead, every individual pixel gives off its own light and can be turned on and off individually, so if part a picture is supposed be completely black, it can be. The great contrast and deep black levels have helped OLEDs top CR television ratings in recent years.
Also in 2021, TV manufacturers will offer models with larger screens. TCL, for one, said it hopes to make 85-inch TVs affordable to most consumers this year, and Sony will be offering a 100-inch LCD TV in its lineup for the first time.
But product announcements are one thing; as always, Consumer Reports is looking forward to buying and testing many of these new sets to help shoppers separate hype from performance, and make smart purchase decisions.
LG Electronics
In 2021 LG will manage a familiar balancing act, touting improved performance in its LCD lineup while continuing to insist its OLED TVs are the pinnacle of TV performance.
This year—perhaps in recognition of newer companies such as Skyworth and Vizio offering less expensive 4K OLED TVs—LG will have a group of lower-priced OLED series. LG says these A1-series TVs will be the least expensive OLED TVs it's ever offered, though the company hasn't yet disclosed pricing.
Like last year, LG's C1 sets will be the mainstream OLED series, followed by the pricier G1 Gallery models. The company's flagship sets will be Z1 8K OLED sets, sold in 77- and 88-inch screen sizes. That's big enough for the extra picture detail to be noticeable. This year, the G1 sets will be available in a new 83-inch screen size.
In terms of performance, the company touts a new "Evo" OLED technology that uses a new pixel structure to boost brightness, which should help improve HDR performance. But it appears that the Evo technology will be limited to G1 Gallery sets.
LG's top TVs get a new, more powerful processor and AI, with features such as the ability to detect faces and objects on the screen, then analyze the info on a scene-by-scene basis to make image and sound adjustments. The processor is also used to upscale lower-resolution content to the set's higher 4K or 8K display.
LG's big news for its top-tier "NanoCell" LCD sets is that it will use Mini LEDs in the backlight of some top models to boost brightness, increase contrast, and reduce "blooming," or halos around brighter objects when displayed against a dark background.
Also interesting is that the company says it will combine its own NanoCell color technology with the use of quantum dot technology, which is familiar from other brands, including Samsung. Both technologies are used to create a very wide range of colors.
Unfortunately, the company has decided to brand TVs using Mini LEDs and quantum dots "QNED" TVs, adding a bit more confusion to shoppers already trying to distinguish between OLED and QLED TVs. LG will also offer regular NanoCell models, as well as standard LCD TVs, this year.
All of LG's smart TVs, which use its own webOS platform, get a major overhaul in 2021, including a new, better-organized home screen. There's also a new, more ergonomic Magic Remote with buttons for Alexa and Google Assistant.
Panasonic
Panasonic is teasing a return to the U.S. TV market this year, with a new flagship 4K OLED TV line. For years, Panasonic plasma TVs dominated our TV ratings, but the company pulled out of the TV market here after it stopped making plasma sets and its LCD models failed to gather a strong following.
The details are still a bit sketchy—the company told us via email that despite its announcement at CES this week, it's not positive it will actually ship the 55- and 65-inch JZ2000 4K OLED TVs to the U.S. in 2021. (It's a little-known fact that Panasonic quietly shipped a limited number of GZ1000 4K OLED TVs to a handful of retailers in the U.S. late last year.)
If the new sets do arrive, they'll probably be pricey, and Panasonic claims they'll be the brightest OLED sets on the market, helping to deliver a top-notch HDR experience. (The TVs support the HDR10, Dolby Vision, and HDR10+ formats.) Features will include more powerful processors and AI for upscaling lower-resolution content and optimizing the picture and sound based on the content being viewed. The TVs will support Dolby Atmos audio and will include front-, side-, and up-firing drivers for creating an immersive soundfield.
Panasonic uses its own smart TV system, called My Home Screen 6.0, that will work with several voice-controlled systems. It also has a dual Bluetooth feature that will let two people listen to a TV show on headphones simultaneously.
Samsung
Samsung's biggest news this year is that several of its premium 4K and 8K TVs will get Mini LED backlights. The sets will carry the "Neo QLED" sub-brand to differentiate them from Samsung's regular QLED sets.
The company will also offer its first TVs using an even newer technology, called MicroLED technology, in 88-, 99- and 110-inch screen sizes this year. More on that in a bit.
To get an idea of the size of its Mini LEDs, Samsung says the ones it's using are 40 times smaller than conventional LEDs. It also has a new approach, called a quantum matrix, that's supposed to direct the light more accurately to prevent halos around bright objects on a dark background.
All of Samsung's 2021 8K QLED models will be Neo QLED sets, as will TVs in its top two LCD series. There will also be QLED models without the Mini LEDs.
Like other TV brands, Samsung is touting a more powerful processor and AI to optimize picture and sound quality.
In terms of audio, several of Samsung's top series get more speakers in the rear of the TV to create a more enveloping audio environment. Samsung is also employing the object-tracking audio tech we saw in sets last year to analyze scenes and then create sound that corresponds to the onscreen action and movement. So sound will seem to follow a car moving across the screen, for example, or thunder will appear to come from above you.
Another carryover feature, called Q-Symphony, works with Samsung sound bar speakers, allowing you to use both the TV speakers as well as the sound bar to create a better surround-sound experience.
As for MicroLED, it's basically the LED version of OLED, in that every LED has sub-pixels that give off their own light. That means no backlight is needed.
MicroLED offers both the brightness of LEDs and the deep contrast and great black levels you get with OLED TVs. The system is modular, so you can create a bigger screen simply by adding more modules. We've seen this technology before, but so far it's been relegated to commercial applications, such as video walls.
This year, Samsung says it will offer consumer versions in 88-, 99- and 110-inch screen sizes that can be mounted on a wall, just like any other large-screen TV. Availability and pricing haven't yet been announced, but we're expecting that MicroLED TVs will be financially outside the reach of most consumers for the foreseeable future.
Skyworth
The Skyworth brand isn't well known here in the U.S., but it's actually one of the world's largest TV companies. This year, the company is moving beyond its established business of designing and building TVs for other brands, and is instead looking to establish its own brand here in the U.S. The company has a new five-series TV lineup that includes both LCD/LED and OLED TVs.
Skyworth first came to our attention back in 2019, when we were able to buy and test the first OLED TV it offered in the U.S. market. That TV excelled in picture quality and (like other OLEDs) in viewing angle but didn't do all that well overall. In particular, it really fell short on HDR performance. But the company says the models it will ship in the U.S. later this year will be greatly improved.
Skyworth will have two XC9300-series 4K OLED TVs, offered in 55- and 65-inch screen sizes. These sets will support both HDR10 and Dolby Vision HDR formats, as well as Dolby Atmos audio. One thing unusual about Skyworth is that it has a joint venture with LG in China for OLED production, so it makes its own panels; brands such as LG, Sony, and Vizio all use LG OLED panels.
Skyworth's LCD lineup will start with an entry-level HD (1080p) line with TVs that come in smaller sizes. There will then be an entry-level 4K line, in screen sizes ranging from 50 to 75 inches, plus a midtier series—which offers improved color performance—offered in screens ranging from 43 to 65 inches.
For those looking for better HDR performance—as well as support for Dolby Vision, there are 55- and 65-inch sets in the company's UC8500 series, its best LCD TVs for 2021. These sets have native 120HZ refresh rates, plus variable refresh rates (VRR) for smoother gaming action.
All Skyworth's LCD-based sets use the Android TV system, though it's not clear whether they'll use the older Android TV system or the updated, and renamed, Google TV platform.
Sony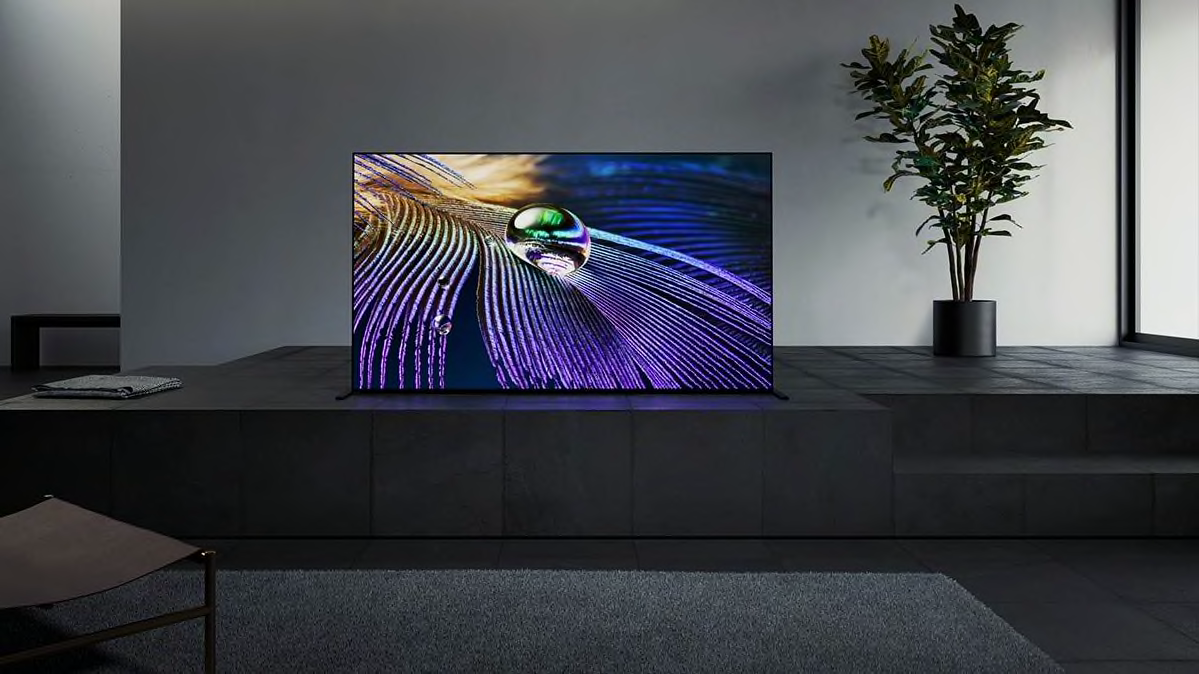 Sony's OLED TVs were at the top of our ratings last year, and this year the company has two new models that utilize a new OLED higher-contrast technology. One is the A90J and the other is the A80J, and they replace earlier A9G and A8H models, respectively. Both have Sony's Acoustic Surface audio technology that uses actuators to turn the whole screen into a speaker.
Sony says its new contrast technology will boost bright highlights while retaining the deep blacks we've come to love from OLED TVs. By increasing the TV's dynamic range (the difference between bright and dark areas of a picture), the sets could offer even better HDR performance than last year's OLEDs.
Bucking a TV trend this year, none of Sony's 2021 LED/LCD TV lineups will use Mini LEDs in its backlights. Instead, Sony is touting what it calls "cognitive processing" that is supposed to boost video and audio performance. In a briefing with CR last week, Sony gave us some insights on what makes its sets different.
Though the processors in many premium TVs use AI and machine learning to make picture improvements, Sony's new processor attempts to determine how humans actually perceive images, then adjust the picture to make it look more natural and realistic. It does this by dividing the screen into numerous zones, then enhancing the specific areas where it believes the viewer is focusing, such as faces. The processing also matches audio to what's on the screen and upconverts it to 3D surround sound.
It was hard to tell how effective the processing was during our short video call with Sony, but we'll have a chance to check it out in person when we buy the sets and get them into our TV labs.
Sony's LCD/LED TV lineup will be represented by its Master Series Z9J, a flagship 8K series that comes in 75- and 85-inch screen sizes.
Befitting its top-dog status, these TVs get all of Sony's premium features, including a full-array LED backlight with local dimming, as well as Sony's contrast-boosting technology. It also has a very wide viewing angle for an LCD TV, meaning that the picture stays vibrant even for people who get a seat off to the side of the room.
Sony is enhancing its Acoustic Multi-Audio—which has speakers around the edges of the panel, including upfiring drivers for Dolby Atmos audio—with even more speakers this year. Both the LCD and OLED TVs can upscale sound to 5.1.2 channels to create a more immersive sound environment, and analyze the audio signal so that the sound corresponds to what's on the TV screen.
The Bravia X95J, which replaces last year's X950 models, is Sony's top mainstream 4K TV series for 2021. Just below that are the X90J sets, which replace last year's X900 series, which probably offered the best balance of price and performance of any Sony TV in 2020. The main differences between these sets are brightness and the level of audio performance.
This year, all Sony smart TVs will use the new Google TV smart TV platform, which replaces the Android TV system used in previous Sony sets. Also new is a three-way stand that allows for more placement options.
TCL
TCL has been an up-and-coming brand in the U.S. for the past few years and several of its TVs have done very well in our ratings, so we're excited to see what the company has in store for 2021.
This year, TCL says, it will offer its first 8K models in the U.S., introduce a new Mini LED technology for LCD TV backlights, and try to make 85-inch TVs more affordable for consumers.
TCL was the first TV manufacturer to offer TVs with Mini LED backlights, back in 2019. Last year the technology rolled out to its popular 6-series sets, which we've included in many of our best TV bargains articles.
In 2021, TCL is taking the technology a step further with what it calls "OD Zero" Mini LED technology, a reference to there being no distance between the Mini LED backlight and the LCD panel. That enables the TV to have an even thinner profile than most LCD TVs while retaining all the other Mini LED performance benefits, according to the company.
The company says OD Zero sets will boast "tens of thousands" of Mini LEDs and "thousands" of dimmable zones. Right now, it's not clear which models will use the OD Zero technology and which might use TCL's more conventional Mini LED technology.
One thing that could be confusing for shoppers is that TCL will be selling both 4K and 8K models in the company's 6-series sets. That's because TCL will continue selling its current 4K 6-series Roku TV sets through the end of the year, and all the new 2021 6-series TCL Roku TV models will be 8K models.
Right now, it looks like the 4K models will be called R635 sets and R648 TVs will be 8K sets.
TCL's first 85-inch TVs, part of what it calls its XL Collection, will consist of an entry-level 4-series set; a step-up QLED 7 model; and a flagship 8K TV that uses a Mini LED backlight. No model name or number for the flagship has been revealed, but it could be one of the new 6-series sets with the OD Zero backlight.
Prices so far haven't been disclosed, but there were some reports during CES that the 85-inch 4-series set will be priced at $1,600. That's not cheap, but it's a very low price for a set this size. We should be able to confirm the pricing soon, because the set is supposed to be available during the first quarter of 2021.