When you shop through retailer links on our site, we may earn affiliate commissions. 100% of the fees we collect are used to support our nonprofit mission.
Learn more.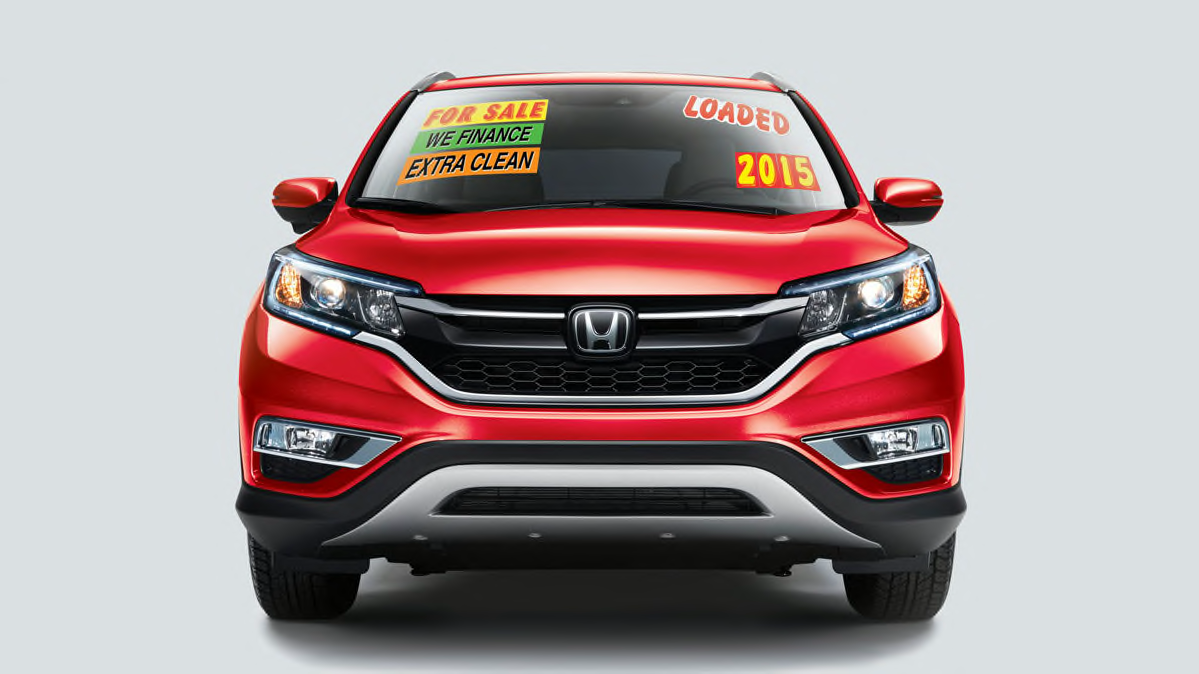 Photo-Illustration: Consumer Reports, Honda
Used-car prices have soared this year, and according to market analysts, they're likely to remain high for a while. The reasons are complicated. In short, a global microchip shortage has meant that automakers can't build new cars fast enough to meet demand.
Fewer new cars for sale has increased demand for used cars, pushing prices up more than 40 percent above normal levels this past summer. "With financial stakes so high, it's more important than ever to do careful research," says Jake Fisher, director of CR's Auto Test Center. Our strategies and model profiles here will help you find quality used cars at the best prices in this unusual market, no matter what your budget is.
Consider These Key Factors
Safety Equipment
In recent years, a growing number of new cars have included advanced safety and driver assistance technology as an option, if not standard equipment. That means used cars are more readily available with features ranging from automatic emergency braking (AEB) to adaptive cruise control. Among those features, Consumer Reports highly recommends AEB with pedestrian detection and blind spot warning. "We think it is worth the extra effort to ensure your next car has these key safety features," Fisher says.
Strong Reliability
Narrow your field down to models that stand out for reliability in CR's surveys. But remember, every pre-owned car has its own history of use—and sometimes abuse—so it's always a good idea to have any used vehicle you're considering inspected by a trusted mechanic before buying it. "Because cars are selling so quickly, it might be difficult to get a seller to agree to a mechanical inspection," says John Ibbotson, CR's chief mechanic. "But having a trusted mechanic inspect any used car you're considering buying is a good way to ensure that it will be both safe and reliable in the future."
Age
Due to the current market, cars that are only a year or two old will not have depreciated much, and may even cost the same as they did when they were new. For that reason, you're likely to find better values in cars that are 3 to 5 years old. Many of these are just coming off lease and have been well-maintained. In today's highly unusual market, you may need to consider an older model than you normally would to meet your budget goals. "Try not to get stuck with something that's going to be worth less than the amount you owe on the loan in a few years," Fisher says. "Paying a higher-than-normal price now could mean that the car will depreciate faster as time passes."
Weigh All of Your Options
Search Online
Look at websites like the CR Used Car Marketplace and Vroom. If you're willing to buy from an individual rather than a business, you can find listings on Craigslist and Facebook Marketplace. Be prepared to act, because sellers aren't likely to hold on to cars very long in this market. "Deals might disappear fast, so you may need to move quickly," Fisher says. "But don't rush so fast that you overlook important details and end up with a purchase you regret."
Buy Out Your Lease
Almost all lease contracts come with a buyout clause, so consider buying the car you're leasing when the term ends. If the buyout price for your car was set before the pandemic, it's likely to be far lower than the car is currently worth on the open market. "Buying the car you've been leasing could be your best bet in the current market," Fisher says. "You'll be able to maintain the level of features and comfort you're used to and might have to give up if you bought another car at today's elevated prices."
Choose a Less Popular Model
As always in recent years, SUVs and pickup trucks are very popular, which means there will be fewer of them that current owners will want to part with. You're likely to find better availability—and maybe even a deal—on less popular models, such as sedans, hatchbacks, minivans, and front-wheel-drive SUVs.
Be Smart About Financing
Compare Offers
Determine a budget, looking at both the monthly and overall costs, and get a preapproved offer from your bank or credit union before you go to the dealership. If the dealership can't beat the offer, you can be confident that you secured a good loan rate. "Walking into a dealership with your financing set up gives you a big leg up in the negotiations," Fisher says.
Be Wary of Extended Warranties
Extended-warranty programs generally aren't worth the money: On average, it costs less to pay for repairs out of pocket than to buy a plan that you might never use. If you can't purchase a used car that's still covered by its factory warranty, your best bet is to buy a model with a good history of reliability, or maybe a certified pre-owned vehicle, which will often come with some type of warranty. If you decide you want to buy warranty coverage, say, for a gotta-have model with a dubious reliability record, make sure you know what the plan does and doesn't cover. "Most people are better off saving for unexpected repairs, because extended warranty contracts contain complex legal language that can be difficult to understand," says Chuck Bell, programs director for CR's advocacy division. "Also, dealers can mark up warranty coverage at different rates for different people."
Don't Lease a Used Car
There are significant financial risks to leasing a used car, including the potentially high cost of repairing a vehicle you don't even own. On the off chance you do lease a used car, try to get one still under factory warranty or consider purchasing extended warranty coverage if there are not a lot of exclusions. It's also possible to take over someone else's lease through a company like Swapalease. In this case, the car is likely to still be under warranty and have a better maintenance history.
Know What You're Buying
Check the Car's History
Reports from Carfax or another reputable agency can reveal a car's accident history and whether it has been serviced regularly.
Walk Around the Car
Visually inspect the car on a dry, sunny day to better see imperfections and potential problems. Eyeball the underside for rust, fluid leaks, and signs of collision repair. Turn every knob and press every switch to make sure everything works as it should. If you smell mildew, the car may have been in a flood or there may be a leak somewhere, which could mean unseen water damage.
Take a Test Drive
Before you even start driving, make sure the car is sized appropriately to meet your needs, that the seats are comfortable, and that its controls won't drive you crazy. While driving, look for visible exhaust smoke, feel for abnormal vibrations, and smell for burning fluids. After driving, check under the car for oily leaks, keeping in mind that if the air conditioning is on, there will be a puddle of clean water under the car.
Get a Mechanical Inspection
This advice is so important that we think it's worth repeating: If you can, have the car inspected by your mechanic or, in a pinch, a friend skilled at auto repair. Unless the car is covered by a warranty or service contract, any problems it has are yours once you drive it home. (Learn more about how to inspect a used car.)
Used Cars You Can Count On
These used-car picks (with a focus on SUVs, due to their popularity) are likely to satisfy buyers based on CR's ratings and reviews. Smart Choice models are consistent consumer favorites; Under the Radar models are not as popular but have a strong reliability record and had a good overall road-test score when CR tested them as new.
Used Cars Over $40,000
Used Cars for $30,000 to $40,000
Used Cars for $20,000 to $30,000
Used Cars for $10,000 to $20,000
Used Cars for Under $10,000
These cars are all at least a decade old. But if you're on a tight budget, they cost less than $10,000 and have held up remarkably well, according to our reliability data. Still, we recommend checking the vehicle history report and having a mechanical inspection before you decide to buy. (Learn more about how to protect yourself when buying a used car.)
Prices shown are subject to change due to market fluctuation. Cars are organized by price.


2009-2011 Honda Accord
Price range: $7,000-$10,325
Though light on amenities, Accords of this vintage are reliable and fuel efficient, and ride nicely.
2008-2010 Honda CR-V
Price range: $7,075-$10,200
A perennial favorite, this earlier vintage of CR-V still offers good reliability and fuel economy, as well as a roomy interior and plenty of cargo space.
2010-2012 Honda Fit
Price range: $7,150-$9,350
Good reliability, 30 mpg overall fuel economy, and a surprising amount of interior and cargo space make this diminutive wagon a smart buy.
2010-2012 Toyota Prius
Price range: $7,400-$10,625
A spacious interior, hatchback versatility, and 44 mpg overall fuel economy are all good reasons most anyone would consider this car a good buy.
2010-2012 Toyota Corolla
Price range: $7,725-$10,000
This small sedan has long been a good value, offering 32 mpg overall fuel economy; a roomy, quiet interior; and top-notch reliability.
2009-2011 Toyota Camry
Price range: $7,800-$10,025
Although handling isn't particularly exciting, above-average reliability and fuel economy and a roomy interior make the Camry a good option.
2011-2012 Infiniti G
Price range: $9,050-$10,800
The G sedans are fun to drive, with agile handling, very good reliability, and decent fuel economy, albeit on premium fuel. But the interior and trunk are a bit tight.
Editor's Note: This article also appeared in the November 2021 issue of Consumer Reports magazine.