When you shop through retailer links on our site, we may earn affiliate commissions. 100% of the fees we collect are used to support our nonprofit mission.
Learn more.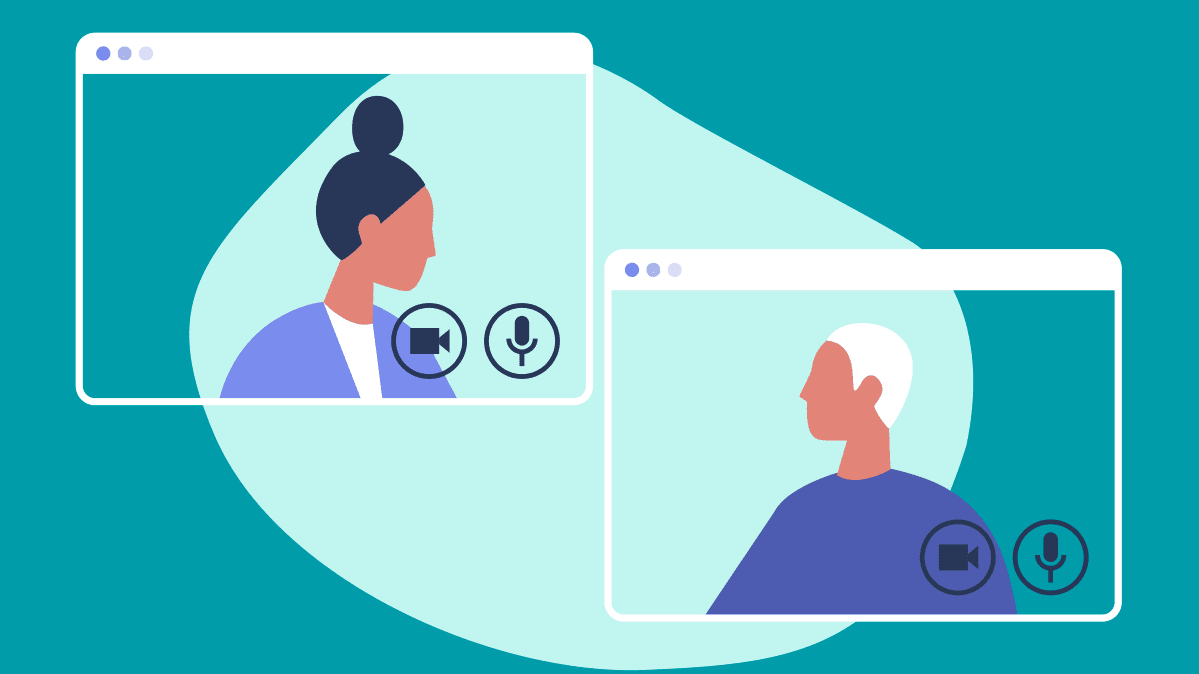 For many of us, videoconferencing has morphed from an occasionally used tool into part of our daily routine, for both work and staying in touch with family, doctors, teachers, and friends. When we were in the office, the decision about which platform to use was often made by the IT department. Now, increasingly, it's our call.
The first step to picking a service is to get real about how you want to use it. If you're just holding small, simple group meetings, try a consumer-grade video chat app, such as Apple FaceTime, Google Duo, or Facebook's new Messenger rooms.
More on technology and the coronavirus
But if you're hosting larger meetings that require presentation features like document-sharing or whiteboarding, the next step up is a free version of the major business-oriented platforms, such as Cisco Webex, Google Meet (a replacement for Hangouts), Microsoft Teams (which will replace the company's Skype), or Zoom.
The host (or the host's organization) is the only one who needs to register with a service and pay, if there's a fee.

We discuss the pros and cons of major services below, but you shouldn't discount the importance of familiarity. If you're used to a particular platform from the office, it's likely to work for you at home, too.

Before getting to the individual services, researchers in Consumer Reports' Digital Lab recently analyzed Zoom and Google Meet, Microsoft Teams, and Cisco Webex, and found that videoconferencing companies can collect a lot of consumer information. We also found that both meeting hosts and other participants can record meetings and share them with co-workers, your boss—or even the whole internet.
Here are some simple ways to protect your privacy.
Assume that you're on camera throughout a meeting and that the meeting might be recorded. Consider turning off your camera and mic when you're not presenting.
Use virtual backgrounds if you want to avoid sharing information that can be gleaned from your bookshelves, artwork, or a messy kitchen.
Remind other participants not to share meeting IDs and passwords to prevent Zoombombing-style intrusions. Let everyone know if you plan to record a meeting.
Employ privacy best practices like using a unique password for your videoconferencing platform (a password manager can help). Using a dedicated "burner" email address when you sign up can reduce spam and improve security.
Next, we have some advice to help both you and your home office look good onscreen—it's a topic a number of people have asked us about. You don't need to build a CNN-worthy set, but some attention to lighting and your background can make a difference.
Place your webcam at eye level. The lens of a webcam can function like a fun-house mirror if it's placed below your chin. To fix this, place your laptop on a pile of books.
Select a bright space for your meeting, ideally with natural light. Turn off overhead lights, and add a lamp a few feet in front of you to light your face. Bare walls can make for disorienting backgrounds. If you don't want to use a virtual background, try to include a few objects in the frame.
Avoid clothing with small patterns, which can be distracting onscreen. Additionally, try to avoid pure black and white: The camera might not pick up any depth, and white clothes can disappear into a white background.
Use good headphones with a built-in mic, instead of relying on the tinny speakers and weak mics in many laptops. The audio can be even more important than the video.
Now, here are 10 widely used teleconferencing options, with an explanation of their advantages and drawbacks, and what kind of user will probably like them best.
Apple FaceTime
Price: Free.
FaceTime is the free videochat service built into all Apple devices, from iPhones to desktop computers. While it's mostly used on mobile devices for a quick chat with a friend or two, the platform does allow a maximum of 32 participants. It's a proprietary platform, however, so everyone needs to be on an Apple device like an iPhone, iPad, or iPod Touch; Android's not allowed. Despite its relatively casual vibe, FaceTime is also end-to-end encrypted, which is an important security feature. It's quick, easy, and intuitive for casual meetings. However, FaceTime lacks more advanced functions, like scheduling and screen sharing.
Who it's best for: An Apple fan, whose friends and colleagues are also Apple fans, looking for a no-fuss alternative that functions pretty much like a conference call.
Pro tip: Pressing the FaceTime button in the lower middle of the screen turns an audio-only call into a video call.
BlueJeans
Price: Standard tier, $10 per month, supports 50 participants, with no time limit and 5 hours of recording. Blue Jeans Pro, $14, offers 25 hours of recording and adds IT support.
BlueJeans is a business-oriented platform that, according to the company, makes videoconferencing as easy as your favorite pair of Levi's. One key selling point is its flexibility in working with software from other companies. You can start a BlueJeans conference from another messaging platform such as Skype, Slack, or Microsoft Teams. BlueJeans also has a variety of innovative features, ranging from in-meeting polls to shareable meeting recaps. However, unlike many of its competitors, BlueJeans doesn't offer a free tier.
Who it's best for: An outside-the-box business user who doesn't mind paying for a platform that's surprisingly flexible and, on a good day, might even boost a team's creativity.

Pro tip: The Raise Hand feature allows an attendee to easily step up into a presenter role.

Cisco Webex
Price: Cisco's free tier accommodates 100 participants with no time limit. The Plus plan costs $17 per month and comes with 5 gigabytes of cloud storage, transcriptions, and 24/7 support.
The most corporate-feeling of the major teleconferencing platforms, Cisco Webex built its reputation by delivering reliable videoconferencing to government agencies and Fortune 500 companies. But during the coronavirus pandemic, Cisco is also gaining traction with small businesses and individuals. The company recently beefed up its free tier, removing the time limit on calls, which had been set at 40 minutes. Even the free version has advanced, enterprise-level features such as screen and file sharing and whiteboards.
Who it's best for: Anyone who has used the platform while working for a large company and wants to bring that power to their home office.

Pro tip: The optional Call Me feature allows a conference to call a participant, rather than the other way around.
Facebook Messenger Rooms
Price: Free.
Messenger Rooms is an offshoot of Facebook's Messenger chat app. The feature set is simple and includes basic security features that allow you to lock a call and remove or block participants. Its limit of 50 participants is generous, and you don't need a Facebook account to join a call. Integration with Instagram Direct, WhatsApp, and Portal smart speakers is supposed to be coming soon.

Who it's best for: A Facebook fan who's seeking a social experience and is more interested in swapping stories than sharing documents.
Pro tip: You can use all the same augmented reality feature that enlivens plain Messenger—bunny ears, anyone?

Free Conference
Price: The free tier allows five participants with calls up to 12 hours in duration, and supports screen sharing and whiteboarding. The $25-per-month Plus plan supports 50, and adds toll-free numbers and audio/video recording.

Free Conference is a browser-based platform (no software to download) offering enterprise-level features to small-business and individual users. For instance, you get in-meeting chat and robust moderator controls. But the platform, which was founded in 2000, is facing new competition these days from free and low-priced tiers on platforms including Cisco, Google, Microsoft, and Zoom. Note that despite the company's name, the paid plans are much more robust, with room for up to 100 participants.
Who it's best for: A no-nonsense small-business customer looking to get started in a hurry—you can get up and running in 30 seconds—while still having the tools needed to oversee a complex meeting.
Pro tip: The host can mute or block users and designate who can share content with the group.

Google Duo
Price: Free.
Google Duo is the company's answer to Apple's FaceTime. The key difference is that it works with both Android and iOS devices. Heavy on convenience but light on business features, Duo is best suited to intimate, casual calls. Recently, Google increased the maximum number of guests on a call from eight to 12. Like FaceTime, Duo features end-to-end encryption, an important security precaution.
Who it's best for: Anyone in search of a casual videochat app for friends who span the Android and Apple ecosystems.

Pro tip: Duo features a low-light mode as a default, which generally brightens up a dark room. But if you're finding it hard to get a decent exposure, try turning it off on the Call Settings tab in the settings menu of your phone.

Google Meet
Price: Free. Google's Business tier, $12 per month per user, adds access to G-Suite tools and unlimited storage.
A feature-laden replacement for the departing Google Hangouts, Meet is designed for easy integration with Google's popular G Suite apps, including Gmail, Docs, and Drive. Google recently made Meet free for anyone with a Google account. It also suspended the service's 60-minute time limit on meetings until Sept. 30.
Who it's best for: A professional or small business user who's already using other Google applications and needs a robust business-oriented videoconferencing platform.
Pro tip: On the settings tab, you can adjust the resolution for both sending and receiving video, depending on the speed of your internet connection.
Microsoft Teams
Price: Teams' free tier supports 250 participants, no time limit on calls, along with chat, screen sharing, and 2GB of storage. The $12.50-per-month paid tier offers 1 terabyte of storage and access to Office apps.
Teams will replace the many iterations of the venerable Microsoft-owned Skype, which is slated for retirement in the summer of 2021. In addition to its tight integration with Microsoft Office products such as Word, Excel, and PowerPoint, Teams provides dedicated conversation channels and real-time document collaboration. But the free version doesn't let you schedule meetings ahead of time or record them. (Microsoft says it will be adding a recording feature soon.)
Who it's best for: A power user who's already happily using Windows apps—or who holds big meetings. Teams can handle groups of up to 250 participants, many more than lots of its competitors.
Pro tip: Scheduling Quiet Hours, or even Quiet Days, allows you to keep notifications at bay when you need to disconnect.

RingCentral Office
Price: The Standard tier costs $25 per month for up to 100 participants and 24/7 support. The Premium tier supports up to 200 participants and adds call recording.
As you might guess from its name, RingCentral built its brand on audio conference calling, and that remains a strong suit. (It has no relation to the Ring Doorbell company owned by Amazon.) There's no free tier, but you can get a free trial. The platform is designed for small and midsized businesses rather than individuals, and it offers integration with G-Suite, Microsoft 365, and Slack so users can schedule and begin calls directly from those platforms.
Who it's best for: A savvy small-business user who needs a robust option for audio conference calls as well as videoconferencing.

Pro tip: Host Only mode allows you to manage screen sharing options during a meeting.

Zoom
Price: A free tier allows meetings for up to 100 participants. The $15-per-month Pro plan adds administrative controls and 1GB of cloud recording.
Only a few months ago, Zoom was primarily a business platform, but since the coronavirus blew up, the platform has gained mass popularity, with its daily traffic now exceeding 200 million. With that rapid growth came some newly exposed privacy and security problems; the company responded by suspending the rollout of new features for 90 days to focus on privacy and security. Many users like Zoom's clean interface and its array of group collaboration features such as whiteboarding, screen sharing, and breakout rooms. There's a 40-minute limit on meetings in the free tier. That might turn into an advantage if your boss or co-workers are long-winded.
Who it's for: Increasingly, everyone. Zoom has become the videoconferencing system of choice for many get-togethers.

Pro tip: Zoom's virtual background feature allows you to use a photo as background, preventing clients and co-workers from seeing your home office.