When you shop through retailer links on our site, we may earn affiliate commissions. 100% of the fees we collect are used to support our nonprofit mission.
Learn more.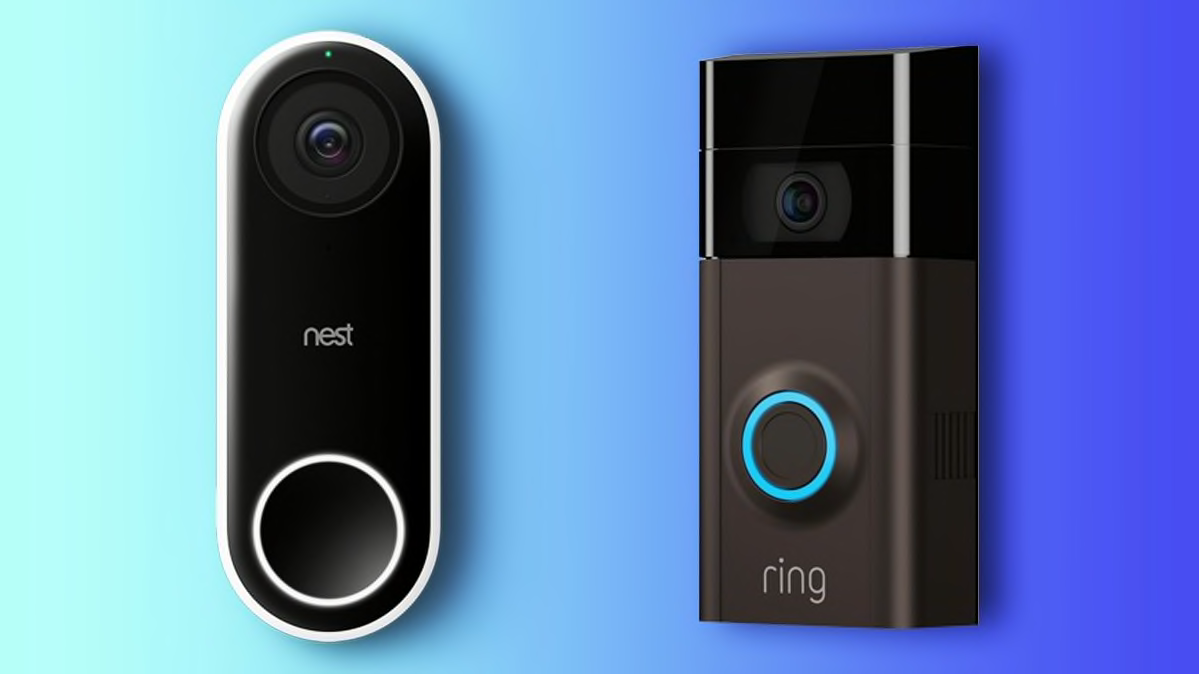 Video doorbells have become an increasingly popular way to keep a watchful eye on your home. According to research firm Parks Associates, 25 percent of U.S. broadband households had plans to buy a video doorbell in 2019.
Amazon-owned Ring, makers of the eponymous Ring Video Doorbell, has the most name recognition in the category, but they have a tough competitor in Google Nest. Known for its smart thermostats, Google Nest makes a video doorbell called the Google Nest Hello.
"Both of these video doorbells will do a good job keeping an eye on your front door," says Bernie Deitrick, Consumer Reports' test engineer for home security cameras. "But our tests revealed some important differences between them."
Below, we compare the hardware, lab-test performance, smart features, and recurring cloud storage costs of the Google Nest Hello, $229, and the Ring Video Doorbell 2, $199. Read on to see which doorbell comes out on top.
How We Test Video Doorbells
One of most important aspects of Consumer Reports' video doorbell testing is video quality. These tests evaluate a camera's picture in good light, low light, and zero light (to judge night vision) using a special scene designed by our engineers to challenge the cameras. We also add various levels of lighting to the rear of the scene for each lighting scenario, to make sure light sources don't wash out details, such as a bright floodlight obscuring a visitor's face.
We also look for a wide variety of smart features, such as facial recognition and voice control, as part of our Smart IQ score for smart-home devices. Last, we test the response time of smartphone alerts. All this data is factored into the Overall Score you'll see for every model in our video doorbell ratings.
The CR Face-Off: Nest vs. Ring
Hardware
The oval-shaped Nest Hello and chunky, rectangular Ring Video Doorbell 2 have distinctive physical designs, but their internal hardware isn't that different: Both models have HD cameras with high dynamic range (HDR) to improve contrast, a 160-degree field of view, night vision, a microphone and speaker for two-way audio. That's in addition to the doorbell button, of course.
The key differences: The Nest records video in a 4:3 format to "show people head to toe," according to Google Nest. The Ring records video in a wide-screen 16:9 format, which can cut off people's heads and feet when they get too close.
But perhaps the biggest difference is how the doorbells receive power. The Nest requires low-voltage doorbell wiring for a constant source of power. The Ring can also run off doorbell wiring—or a removable, rechargeable battery.
If your home lacks doorbell wiring, the Ring is your best bet unless you're handy or you hire an electrician to run new wiring. Due to their very different strengths and weaknesses, this part of our comparison is a draw.
Smart Features
The Nest and Ring video doorbells offer plenty of features, but some of those features are only available as part of a cloud video storage plan that comes with recurring monthly fees (neither doorbell gives you free video storage). Both models include the following features at no additional cost: motion schedules (the ability to specify times of day to receive/ignore alerts) and voice control via Amazon Alexa and Google Assistant.
While Ring works with both assistants, only Alexa can be used with it to view a live feed from the doorbell, talk to guests, or act as a doorbell chime. If you want those three features with the Google Assistant, you'll have to go with the Nest Hello.
The Ring Video Doorbell 2 also offers adjustable monitoring zones included with the device. As of right now, the Ring doorbell's Ring Protect plan for cloud storage doesn't include any extra features, but that is changing as Ring continues to roll out a new Snapshot Capture feature, which gives the doorbell the ability to take snapshots throughout the day in between video clips, as well as a "people-only mode" that only sends alerts if a person is detected.
As for the Nest Hello, it additionally gives you person alerts, geofencing (the ability to use your phone's location to enable/disable alerts), and prerecorded messages for visitors included with the device. But three features—facial recognition, package detection, and monitoring zones—require a Nest Aware storage plan.
While both bells hide features behind monthly subscriptions, our experts feel they both offer roughly the same number of essential features, making this round a tie.
Performance
While both models make it into our recommended list, the Nest Hello beats the Ring Video Doorbell 2 in two of our three tests: video quality and response time.
"The Nest Hello offers noticeably better video quality and its response time for smartphone alerts is faster, which is critical when someone is waiting at your front door," says Deitrick.
As for our Smart IQ evaluation, both doorbells receive roughly the same score. (We only factor in features that are included with each video doorbell and do not require an additional monthly fee.)
With two out of three tests favoring the Nest over the Ring, the Nest Hello comes out ahead here.
Cloud Storage Costs
Both the Nest and Ring video doorbells require that you have a cloud storage plan to see the footage they capture. While you can view live video for free, the cloud storage plans are necessary to see anything you miss. Their plans are called Nest Aware and Ring Protect, respectively.
With Nest Aware, the Nest Hello gains monitoring zones, facial recognition, package detection, 24/7 video recording, video clips, and time-lapse videos. The plan comes in three tiers based on the number of days of 24/7 video history you would like: 5 days for $5 per month or $50 per year; 10 days for $10 per month or $100 per year; or 30 days for $30 per month or $300 per year.
Keep in mind a Nest Aware plan can only be used with one Nest camera or doorbell. You'll have to sign up for additional plans if you get multiple cameras, although Google Nest offers up to 50 percent off subsequent plans.
In early 2020, Google Nest will be rolling out new Nest Aware plans that cover all cameras in a single home. There will be a new $6 per month (or $60 per year) plan with 30 days of cloud video storage for video clips triggered by motion or doorbell presses, as well as a $12 per month (or $120 per year) plan with 60 days of storage for video clips and 10 days of storage for 24/7 video. Both plans will also come with e911, allowing you to call emergency services to your home.
Ring Protect comes in two tiers: Ring Protect Basic and Ring Protect Plus. The Basic plan gives Ring doorbells a rolling 60 days of cloud video storage for video clips triggered by motion or doorbell presses, the ability to take snapshots throughout the day in between video clips, and the ability to review, share, and save video clips. It costs $3 per month, or $30 per year, per camera/doorbell.
The Plus plan includes the same functionality for an unlimited number of cameras/doorbells at the same address, as well as professional monitoring for Ring Alarm security system customers, extended warranties for all cameras/doorbells in your home, and 10 percent off Ring.com product purchases. It costs $10 per month or $100 per year.
Ring doesn't currently offer 24/7 video recording, but the company announced in October 2018 that such storage plans would become available for wired cameras/doorbells in 2019. A Ring spokesperson did not provide an updated timeline for the feature's launch.
Ultimately, you'll have to decide what's more important to you: 24/7 video recordings or lower monthly fees. If long-term expense is your biggest concern, the Ring Protect Basic plan costs less than both the Nest Aware 5-day plan and new Nest Aware plan coming in 2020 (although that plan is a better deal if you want multiple Nest cameras). But if you want the peace of mind afforded by 24/7 video recordings, go with the Nest Aware plans—and Nest Hello doorbell.
The Winner
Both video doorbells offer impressive hardware and feature sets, but only one can reign supreme here. And that's the Google Nest Hello.
While the Ring Video Doorbell 2 offers a solid mix of smart features, the Nest Hello's performance—especially with regard to video quality—puts it on top.
If the overall expense over time is your chief concern, the Ring Video Doorbell 2 might very well meet your needs. After all, based on its performance in our tests, it earns a spot on our recommended list. It won't give you 24/7 video recordings, but it should still help you greet guests and thwart porch pirates. And if your home lacks doorbell wiring, it's one of your best options.
For over a dozen other video doorbells tested by our experts, check out our video doorbell ratings.