First Look: Google's New Battery-Powered Nest Doorbell
The new doorbell is a compelling alternative to models from Ring, Arlo, and others The new Google Nest Doorbell (battery), $180, has some big shoes to fill. It's the successor to the Google Nest Hello video doorbell, which has topped Consumer Reports' video doorbell ratings for the past few years despite fierce competition from Amazon-owned Ring, Arlo, and others. The new Nest doorbell does pack some noteworthy improvements, such as a rechargeable battery, built-in object recognition (for detecting people, packages, etc.), and 3 hours of free cloud video storage, all of which could help Google stay on top.
The new doorbell has a 145-degree viewing angle and records portrait-style video, which makes it easier to see packages and people from head to toe, with a claimed resolution of 960p (just shy of full HD) and high dynamic range, a feature that prevents shadows and bright areas from appearing washed out. Thanks to its built-in battery, the new Nest doorbell also gives you three power source options: It can be hardwired, connected to a power adapter (sold separately for $29), or run off its built-in rechargeable battery.
Last, Google improved the doorbell's physical design with a more modern aesthetic and four colors to better match your home: Snow (white), Linen (beige), Ivy (dark green), and Ash (gray).
To get started, Google instructs you to power up the doorbell using the included USB-C cable, download the Google Home app on your smartphone, and start setting up the doorbell in the app. The process was very straightforward, with the app wirelessly finding the doorbell and automatically connecting it to my home's WiFi network because I own other Google Nest products.
But the relative ease of the process was thrown off by a setup screen that requires you to agree to the Google Device Arbitration Agreement in order to continue setting up the doorbell. This agreement forces you to resolve any future disputes with Google related to the doorbell through a legal process called binding arbitration. By agreeing, you can't sue Google in court, nor can you join any class-action lawsuits against Google. (To be fair, at least Google is transparent about the arbitration agreement; with Ring and Arlo, you're automatically opted in to arbitration just by using their doorbells.)
"Arbitration is a black box that takes consumers into a black hole," says George Slover, senior policy counsel at Consumer Reports. "There's no requirement to follow the law. And instead of an impartial judge or jury, there's an arbitrator chosen by the business. That's why we are working to change the law and make sure consumers have a choice."
You have to accept the arbitration agreement in order to complete the doorbell setup, but there is a way to opt out of it later. Google buries it in the agreement text, but you can get to the opt-out form by clicking on this link. Keep in mind that you have only 30 days from when you activate the doorbell to opt out.
Once you're past the arbitration step, you have to choose the doorbell's power source. You have three options: hardwire it (a nonstarter in homes like mine without doorbell wiring), connect it to an indoor power adapter, or let it run off its built-in rechargeable battery.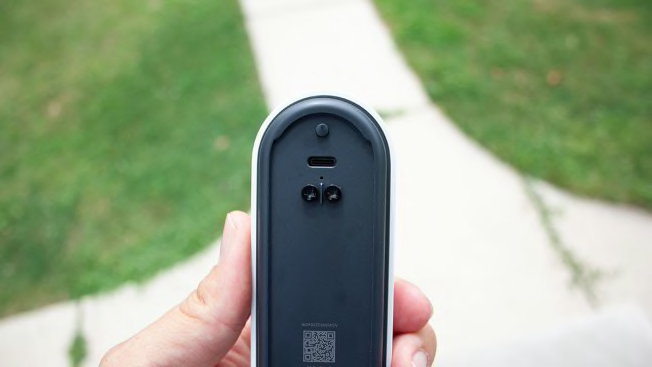 I opted for the battery method, but I was surprised that the app didn't have me wait until the doorbell was fully charged. Instead, it had me proceed with installation when the battery was at 89 percent. The only downside to the built-in battery is that it can't be removed from the doorbell. If you want to charge it, you have to remove the whole doorbell from its mount. That means you can't just swap out the battery with a fully charged spare, a convenient feature of some Ring models, and you'll be without a working doorbell until it finishes charging. Google claims that the battery typically lasts 2.5 months with typical usage (13 to 16 recordings a day).
The obvious perk of using the internal battery is that physical installation is a breeze. All I had to do was mount the doorbell's mounting bracket to the side of my house and attach the doorbell to the bracket.
If your home has doorbell wiring, the installation will be more involved. You'll have to find your doorbell's transformer to make sure it supplies the right amount of electricity, shut off the power, remove your existing doorbell, and connect the wires to the back of the Nest doorbell.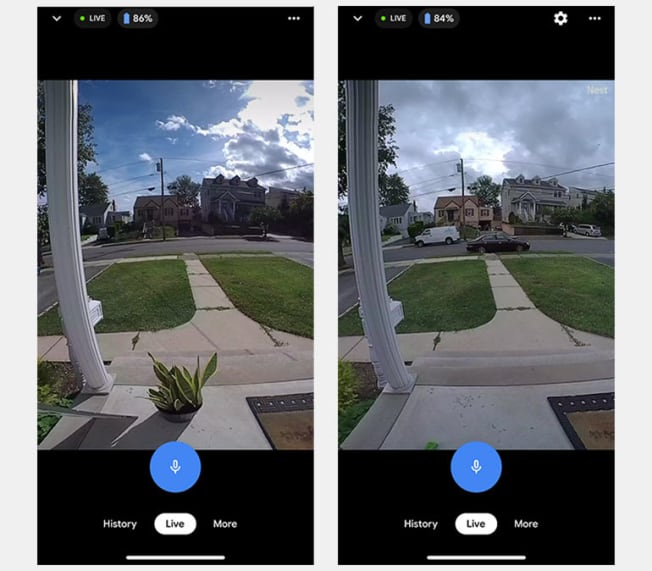 Video Quality. According to Google, the Nest Doorbell (battery) records portrait-style 960p video with high-dynamic range. The portrait-style framing of the video makes it easy to see people and spot package deliveries, but even at its highest quality settings the video itself looks a tad fuzzy, with the edges of people and objects appearing soft and detail noticeably missing in the grass of my front yard. This isn't that surprising, though. We've yet to test a security camera or video doorbell in our labs that lives up to its video quality claims.
Audio Quality. Despite the so-so video quality of the doorbell, its audio quality is terrific. The two-way audio was clear and crisp. I simulated being both the visitor at the door and the person "answering" the doorbell from their smartphone, playing podcasts from my laptop on the end opposite me, and I had no problem making out the dialogue.
Responsiveness. For a battery-powered doorbell, I was impressed by how quickly the Nest doorbell loads live video feeds. I had to wait only about 3 to 4 seconds from the moment I tapped "Live video" in the app to when I saw the live feed. I own a battery-powered (and fairly old) Ring Video Doorbell 2 and it takes much longer to load live videos. Out of curiosity, I connected the Nest doorbell to a power adapter and the load time got even shorter, down to about 2 seconds. That means you shouldn't have a problem catching whoever is at your door before they walk away.
Monitoring zones: Many brands have different names for this feature. Google calls it "activity zones," but its table stakes nowadays for any good-quality video doorbell. The feature allows you to highlight certain areas in the camera's field-of-view to only record motion and receive alerts in those areas. I was able to easily highlight my front yard and driveway to record those areas, while preventing unnecessary recordings and alerts from my busy sidewalk and street.
AI-based object recognition: Many security cameras and doorbells will use artificial intelligence to detect whether motion was caused by certain objects. If a specific object is detected, the camera will record that motion and, if you choose, send you an alert. The Nest doorbell can detect people, packages, animals (dogs and cats), and vehicles. It also has a fifth option called "motion" for other sources of motion that don't fall into those four categories. All of them worked well, with the exception of the package detection. It did successfully detect packages, but it also confused other objects for packages, such as my wife's tote bag and the camera I used to photograph the doorbell. It's worth noting that Google's object recognition is free, while competing doorbells do this by analyzing your video in the cloud and lumping the cost in with their cloud video storage plans.
Local storage fallback: The one standout feature I've never seen on competing doorbells is local storage fallback, which allows the camera to record and store up to 1 hour of video (about one week of motion-triggered clips) in the event of a power or internet outage and upload it to cloud storage once power and internet are restored. I cut power to the doorbell and shut off my home's WiFi network to try it out, and the feature works as expected. When I turned everything back on, the doorbell uploaded the footage and I had no problems viewing it.
Voice control: The new Google Nest Doorbell works only with Google Assistant, which is disappointing because its predecessor also works with Amazon Alexa and Samsung SmartThings. I asked Google about this when I first covered the announcement of this doorbell, but Google wouldn't comment on whether those features are in the works. Still, the Google Assistant integration works well. I had no problems asking the assistant to pull up a live feed from the doorbell on my Google Nest Hub smart display. I was even able to use two-way audio to speak with visitors. The doorbell can also use Google Nest displays and smart speakers as doorbell chimes, which is handy in homes like mine that lack a wired chime.
Three hours of free cloud storage: Though not a smart feature per se, it's worth mentioning that Google gives you a rolling 3 hours of free cloud video storage. That's something Google's biggest competitors, such as Arlo and Ring, don't provide. And for some consumers, it could be enough that you won't need to pay for more storage.
Smart Features That Require a Subscription
While Google throws in plenty of free smart features, there are still some notable ones that require a Nest Aware subscription, which is available in two tiers. The first tier, simply called Nest Aware, gives you 30 days of event video storage for all Nest cameras in your home, facial recognition, Enhanced 911 (e911), and if you own any Google Nest smart speakers or displays, intelligent alerts for the sounds of smoke alarms, carbon monoxide alarms, and glass breaking. It costs $6 per month or $60 per year. The second tier, called Nest Aware Plus, offers all the same features but ups the video storage to 60 days. It costs $12 per month or $120 per year.
Google provides a 30-day trial of the base Nest Aware plan, so you can try out these features and see whether they're worth it. Here's how each paid camera feature works, along with my thoughts on its performance:
Facial recognition: This feature, which Google calls "familiar face alerts," allows you to train the camera to identify familiar faces and alert you if they come by. When it first detects faces, you can name them and add them to your "face library." Once you do that, it will start to recognize the faces and add more images of them to the library to help it improve its recognition algorithm. It may occasionally have trouble recognizing a face, but you can tell the doorbell that the face belongs to someone already in the library. I was able to add myself, my wife, and my toddler, and the vast majority of the time it worked correctly. Keep in mind that if you find this feature creepy, you can disable it.
e911: In the event of an emergency, this feature allows you to call the 911 dispatcher for your home address from the Google Home app, regardless of your physical location. (911 dispatchers differ by town and region.) It wasn't available for me to try out, but I wouldn't want to call first responders to my home without a real emergency anyway.
Should You Buy the Google Nest Doorbell?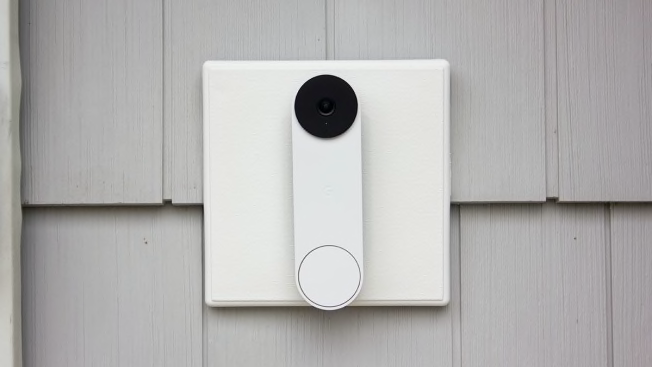 The Google Nest Doorbell (battery) checks all the right boxes when it comes to the features I want in a video doorbell. And in my short time using the doorbell, I found that it performed quite well. I especially appreciated that it could differentiate between objects and faces when sending alerts. Those are key features that I will miss when I go back to using my old Ring doorbell.
The only thing that would hold me back is the lack of support for other smart home ecosystems. Though I own a Google Nest Hub, my family uses Amazon Alexa heavily, and one of its key uses is as a doorbell chime for our Ring doorbell. But if you own other Google Nest devices or this video doorbell will be your first smart home purchase, this won't be a problem.
Of course, we'll have to run the Google Nest Doorbell (battery) through our in-depth lab tests to see how it compares with the competition and whether it can dethrone the Nest Hello, er, Nest Doorbell (wired). Keep an eye on our video doorbell ratings for the full test results.
When you shop through retailer links on our site, we may earn affiliate commissions. 100% of the fees we collect are used to support our nonprofit mission. Learn more.