First Look: Ring Video Doorbell Wired
The latest model costs just $60. One catch: There's no rechargeable battery. The new Ring Video Doorbell Wired looks svelte compared with its bulkier, battery-powered siblings.
But take a look at the specs and not much seems new. It offers 1080p HD video (the Ring Video Doorbell 2 had that), highly customizable monitoring zones (first found in the Ring Video Doorbell Pro), and two-way audio (every video doorbell has that).
So what's its breakout feature? The $60 price.
Other Ring models range from $100 to $350, while the budget smart home company Wyze, which makes a popular $20 security camera, now offers a $30 video doorbell. A cheaper option might help Ring maintain its market dominance in the face of lower-priced competitors.
A nationally representative CR survey (PDF) of 1,142 U.S. adults conducted in January 2020 found that 53 percent of Americans who own a video doorbell own one made by Ring.
The new Ring ships today. To get a first impression of the device, I installed a press sample provided by Ring a week ago and compared it with the video doorbell I've been using in my home—the now-discontinued Ring Video Doorbell 2. Now that the new doorbell is available at retail, we'll purchase one to test in our labs, like all the products we rate.
Installing the Ring Video Doorbell Wired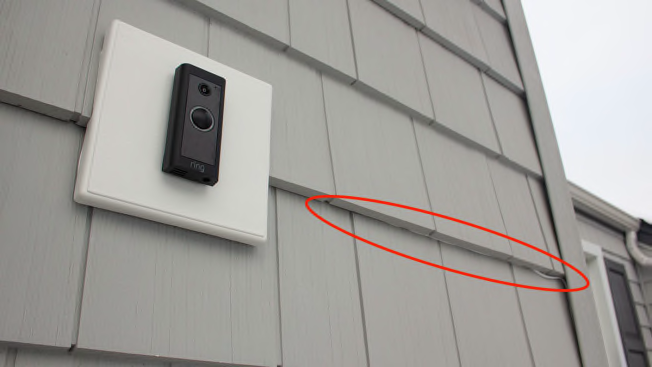 How difficult it is to install a video doorbell varies greatly depending on your home's doorbell wiring (if it has wiring at all).
Battery-powered models are easiest because you just charge them and mount them next to your door. But hardwired models like this one require removing your existing doorbell, rewiring the doorbell chime, and—hardest of all—locating the transformer that powers the doorbell.
If you're not comfortable with wiring projects, we recommend hiring an electrician to install the doorbell for you. (If you're a more adventurous DIYer, see our guide to installing video doorbells.)
My home doesn't have doorbell wiring, so Ring sent me its plug-in power adapter ($30) so I could plug the Video Doorbell Wired into an indoor outlet. All I had to do was connect the wire ends from the adapter to the two terminals on the back of the doorbell and run the thin wires under my home's vinyl siding to an outlet.
That was easy.
Setting Up the Ring Video Doorbell Wired
Once I had the doorbell powered up, I opened the Ring app and scanned a QR code provided with it. The app walked me through the setup process. It involves inputting your home address, connecting the doorbell to WiFi, naming the doorbell, and enabling features like photo snapshots between recordings.
The whole process was quite simple compared with other smart home devices, and there weren't any hiccups. The only thing that slowed me down was a firmware update during the setup process, but that's common when you set up most connected devices.
With setup complete, I was surprised by a notification from the Amazon Alexa app letting me know that the doorbell was connected to the assistant. It turns out that because my existing doorbell was already connected, the new doorbell was added automatically. (For help connecting devices to Alexa, see our guide to using Alexa to control your smart home.)
One note: With any Ring doorbell or camera, you'll need to sign up for a Ring Protect cloud storage plan, starting at $3 per month, to save and view recordings. Unlike some competitors, Ring offers no free cloud storage, nor does it allow you to save footage locally on an SD card or USB stick.
Ring Video Doorbell Wired vs. Ring Video Doorbell 2 Performance
Overall, this doorbell worked quite well when I tried it out at home, but we'll have to get it into the lab to put it through its paces. Here's a closer look at what I found:
Video Quality
Pros: The Ring Video Doorbell Wired records in 1080p HD, and the picture seems relatively crisp and clean. Ring seems to have improved the camera design from earlier models, too. In the video from the Ring 2, you can clearly see the edges of the lens. In video from the new Video Doorbell Wired, the picture fills the whole screen. (See the photos below.)
Cons: The Video Doorbell Wired lacks high dynamic range (HDR), which my old Ring 2 does offer, so shadows and highlights are blown out. You can see it in the clouds in the comparison shot below. It's possible Ring could add HDR via a software update; the company did that with the Ring 2 a few years ago. The Video Doorbell Wired also seemed to have problems adjusting the brightness of the video, with some shots on cloudy days appearing much darker.

Motion Detection
Pros: Because I live on a busy street, good motion detection is a must to cut down on alerts from random cars and pedestrians. Like my old Ring, the Video Doorbell Wired allowed me to draw a monitoring zone around my driveway and front yard, and enable people-only mode to limit alerts when a car drives by my house. That successfully blocked unnecessary alerts from my busy street and sidewalk, as well as from the many squirrels and rabbits that frequent my front yard.
Cons: But I do wish Ring offered more types of alerts. For example, Arlo offers subscriptions with specific alerts for vehicles, animals, and packages in addition to people. Still, Ring's offering should prevent nuisance alerts that might make you want to turn them off altogether, defeating the point of a video doorbell.
Responsiveness
Pros: To me, the most impressive thing about the Video Doorbell Wired is its responsiveness. It was able to load live views from the doorbell in seconds, both in the Ring app and using Alexa on my first-gen Amazon Echo Show smart display. In many cases, the feeds loaded in half the time it took my Ring 2. If you've ever gotten an alert and had to wait and wait for the image to load, you know how annoying—and even nerve-racking—that can be.
I was curious to see if the superior responsiveness of the Video Doorbell Wired was due to the fact that it's hardwired rather than battery-powered. So I hardwired my old Ring 2 for a comparison. While the responsiveness of the Ring 2 improved noticeably, it still wasn't as fast as the new Video Doorbell Wired.
Cons: None.
The Ring Video Doorbell Wired is a compelling option given the features it offers for $60. Its video quality seems solid and its speedy load times are making me think seriously about ditching my old Ring 2. Of course, we'll have to put it through our extensive lab tests to see how it stacks up against the competition.
Keep an eye on our video doorbell ratings to see how the Ring Video Doorbell Wired fares in our tests.