When you shop through retailer links on our site, we may earn affiliate commissions. 100% of the fees we collect are used to support our nonprofit mission.
Learn more.
Volvo is committing itself to an ambitious plan to overhaul the way it powers its cars by introducing only fully electric or hybrid-powered vehicles, beginning in 2019. While Volvo hybrids now are significantly more expensive than their traditional counterparts, the automaker said it can change that, though not for some time.
"We believe that enhancing our cars with electrification will make them more desirable," Volvo spokesman Russell Datz said Wednesday. "People will not want a pure [internal combustion engine] car when they can have one with better efficiency, lower emissions, and more performance, all at an equal or lower cost."
"Pricing for the technologies are coming down, helped by technological advances and considerable investments across the industry," Datz added. Still, he noted, reaching "the break-even between internal combustion engines and plug-in hybrids will take some time and plug-ins will remain a premium option for the near future."
The Price of Electrification
The price gap between Volvo's standard models and hybrid versions is steep now. The company's least expensive hybrid, the XC60 T8 Plug-In Hybrid, carries a substantial entry-level price of $52,900 (including $995 destination fee), compared to $42,495 for the base, non-hybrid model. However, Datz said, federal tax credits have helped lower this price difference to roughly $3,000.
In its release Wednesday, Volvo said it will introduce five new electric or hybrid models by 2021, three under the Volvo name and two under the company's Polestar performance car brand.
"This announcement marks the end of the solely combustion engine-powered car," Hakan Samuelson, Volvo's president and chief executive, said in a statement. "Volvo Cars has stated that it plans to have sold a total of [1 million] electrified cars [worldwide] by 2025. When we said it, we meant it. This is how we are going to do it."
Volvo sold 534,000 of all of its models last year.
The "landscape is right for electrification," said Devin Lindsay, an analyst for IHS Automotive, an industry research firm. These electrified approaches should be more economical for future consumers than they were for early EV adopters, who paid higher prices (compared to conventional engines) and faced more limited driving range, Lindsay said.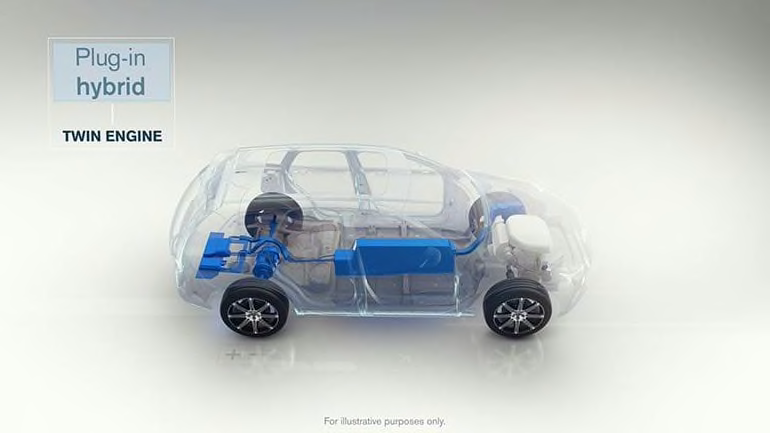 Consumers Union, the policy and advocacy arm of Consumer Reports, applauded Volvo's move.
"This is a bold decision by an automaker that is clearly aiming to be a market leader in meeting emerging demand," said Shannon Baker-Branstetter, policy counsel for Consumers Union. "This is part of a larger trend we are seeing in the marketplace, where consumers who are interested in hybrids and electric vehicles have more choices and a wider variety of options."
Electric Cars 101
Electric cars are bringing some of the biggest changes the auto industry has seen in years. On the "Consumer 101" TV show, Consumer Reports expert Jake Fisher explains to host Jack Rico why these vehicles might not be as newfangled as you think.