When you shop through retailer links on our site, we may earn affiliate commissions. 100% of the fees we collect are used to support our nonprofit mission.
Learn more.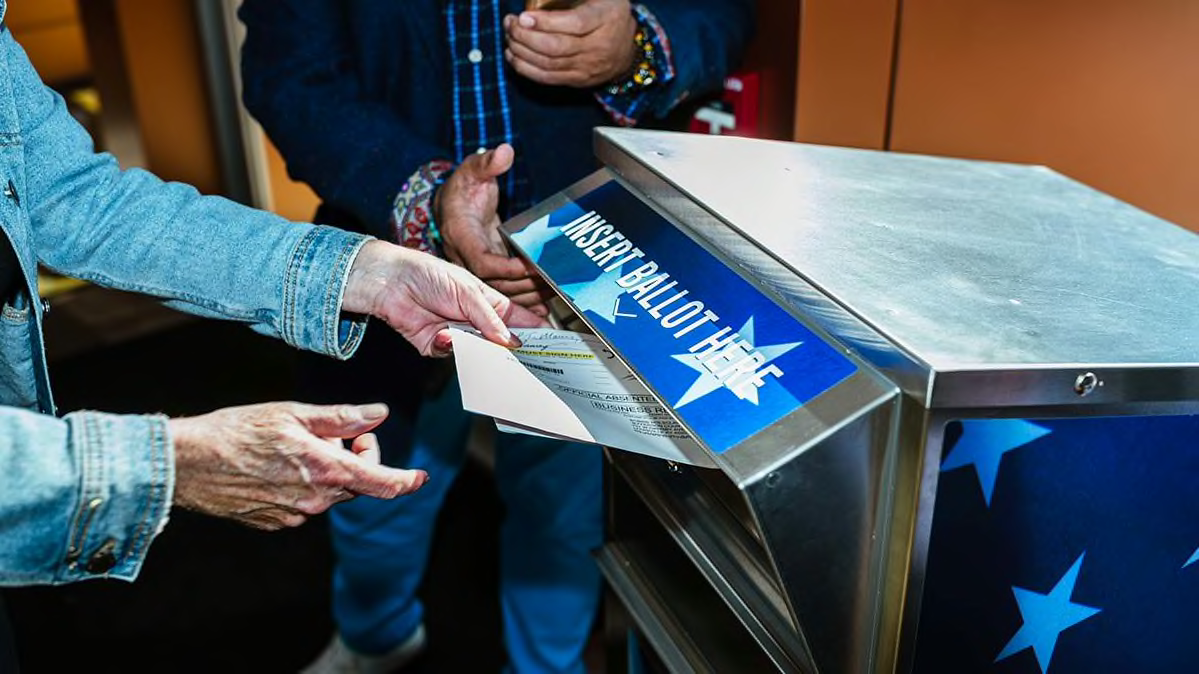 Tens of millions of Americans have so far cast ballots in the U.S. presidential election, a level that could result in the highest turnout rate in over a century, says Michael McDonald, PhD, a University of Florida political science professor who runs the United States Election Project, an initiative to track early voting data.
By McDonald's estimate, there'll be "85 to 100 million people voting before election day at this rate," he says, out of a predicted 150 million total votes. "It's remarkable."
Perhaps you're one of them. The ongoing coronavirus pandemic has prompted many Americans to utilize absentee or mail-in ballots for the first time so that they don't have to walk into crowded polling places. But with the election just days away, experts say now is the time to double-check if your ballot was cast without any issue. The good news is that most states have figured out how to make that process easy.
More on Voting & the 2020 Election
You also might want to think about where you'll get election results. The amount of early voting could mean that it takes officials longer to count ballots. And that amount of mail could take longer getting through the United States Postal Service due to recent reported service slowdowns. The two together could mean results don't come in for days or longer.
"It's going to be a crazy election night, and week probably," says Matthew Weil, director of the elections project at the Bipartisan Policy Center, a think tank based in Washington, D.C.
Rest assured, there are plenty of options to keep yourself calm and collected come election night. To that end, if you're an early voter or you're simply looking for the best ways to avoid the rampant misinformation about the election swirling online, here's what you need to know.
Check the Status of Your Ballot
The practice of casting an absentee or early mail-in ballot can, justifiably, make some voters anxious. Many states and counties have turned to ballot tracking software to provide some valuable insight and confidence on the status of votes.
Ballot tracking offers voters the ability to address some errors on their ballots, says Bree Baccaglini, co-author of a report for the nonpartisan Healthy Elections Project, a joint initiative operated by Stanford University and the Massachusetts Institute of Technology on how to run safe and fair elections amid the pandemic.
States and counties, however, are relying on a "mosaic" of ballot tracking options, one of the reasons that prompted the Healthy Elections Project to create its report, says Baccaglini, a Stanford law student.
"It can be confusing," Baccaglini says.
The Healthy Elections Project provides a way to cut through the clatter: The report provides a summary of options for voters in all 50 states and the District of Columbia. Two of the most used by the states are Ballot Scout and BallotTrax, which provide an overview of your ballot's status and show when it was processed.
But note: Ballot tracking options are "rapidly" expanding at the local and state level, the report says, so double check with your local elections office—typically maintained by the county clerk or, in some cases, township government—if it's not on the list provided in the Healthy Elections Project report.
What to Do If There's an Error
What if you made an error on your ballot? Eighteen states allow for voters to have the opportunity to correct an issue, according to the National Conference of State Legislatures, which provides a list of states that provide the option.
In states that use ballot tracking and allow for amendments to be made, voters should expect to receive an alert if their ballot could not be processed, according to the Healthy Elections Project report, which they may receive by text, email, or phone. This can be helpful because, the report says, "voters can immediately take steps to fix the error and ensure their vote counts."
If you get such a notification, experts say you shouldn't panic, but a response is needed fast.
"At that point, if you get the notification, you don't have a lot of time to act," the Bipartisan Policy Center's Weil says.
"It's going to be a crazy election night, and week probably."
Director of Elections Project, Bipartisan Policy Center
The first thing to do is contact the local election administrator. For most Americans, that'll be their county administration, though in some cases, it could be their township government, notes Weil.
The responsible entity will be able to provide instructions about the error that was flagged, Baccaglini says, and whether it can be fixed by the voter. "In some cases, a mistake is a mistake is a mistake" she says. "If your signature doesn't match what they have on file, for example, that's just the end of it," and your vote wouldn't count in some states.
For those voting at their regular polling place on Election Day, Weil notes that there isn't a way to track your ballot once it's been cast.
On Election Night
If you commit to settle in for a night of watching results, experts advise to be patient: It may take days, if not weeks, for the presidential race to be called.
Charles H. Stewart, professor of political science at the Massachusetts Institute of Technology, offers a simple piece of advice for those watching results come in: trust but verify.
"The national media outlets are very aware of the unusual circumstances of the present election, and so are each using multiple data sources to check against each other," he says.
He suggests consumers pay attention to one traditional broadcast source (such as the major news networks: ABC, CBS, Fox, and NBC), plus a traditional national newspaper (like The New York Times or The Washington Post.)
"In this environment, multiple sources of independent information are preferred over one, even if it's a good source," he says.
Most states have election night reporting systems that distribute results as they come in, as well, Stewart says, and most counties have websites that report tallies in relevant local races. In those cases, Stewart points to traditional newspapers and local news sites, which typically rely on a data feed provided by The Associated Press, "a reliable reporter of election results," he says.
Google also announced on Tuesday it was teaming up with AP to provide real-time election results online. Searching for "election results" on Google will provide immediate results for both federal and state races, available in more than 70 languages, the company wrote on its blog.
Weil agrees the best advice is to be "an educated consumer of the election information." For additional voting resources, he suggests CanIVote.org, a website maintained by the National Association of Secretaries of State that provides a central repository for information on absentee and early voting, among other election-related items.
Additionally, do your best to stay at ease.
"Everybody just needs to stay calm and wait for votes to come in," Weil says.
Editor's Note: This article, originally published on Oct. 28, 2020, has been updated to clarify a quote from Bree Baccaglini on signature-match issues.