When you shop through retailer links on our site, we may earn affiliate commissions. 100% of the fees we collect are used to support our nonprofit mission.
Learn more.
If you have even a slight anti-SUV mindset and miss the wagons of yore, like the spirited Audi A4 and Acura TSX wagons, we suggest checking out the Volkswagen Golf Alltrack and Subaru Outback. These modern wagons combine extroverted styling with all-weather traction, respectable fuel economy, and packaging versatility, conceding precious little to similarly priced SUVs.
Although the Outback has led that anti-SUV brigade for several model generations, the Golf Alltrack debuted just in 2016. With its burly stance, the Alltrack does its best to look like a small-SUV alternative and attract outdoor thrill seekers. It comes with body cladding on the bumpers and fender flares, as well as a slight increase in ground clearance. All-wheel drive is standard. Considering the VW's European lineage, the Alltrack is an intriguing counter to the widely sold Outback.
Because of their similarities, choosing the right one for you can be challenging. As with all comparisons, each wagon has its strengths and weaknesses.
The photos below allow you to drag left or right to compare the cars and reveal the exterior or interior of the Subaru Outback (left side in each photo) and Volkswagen Golf Alltrack (right side).
Read the complete Subaru Outback and Volkswagen Golf Alltrack road tests before deciding. And take our Outback vs. Alltrack poll at the end of this article.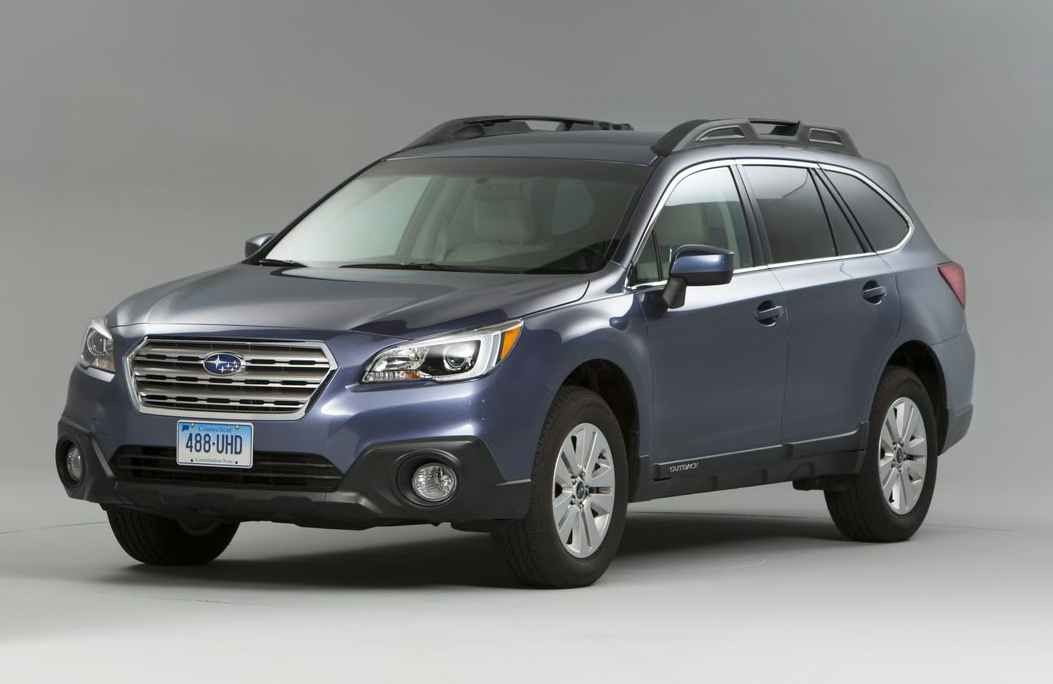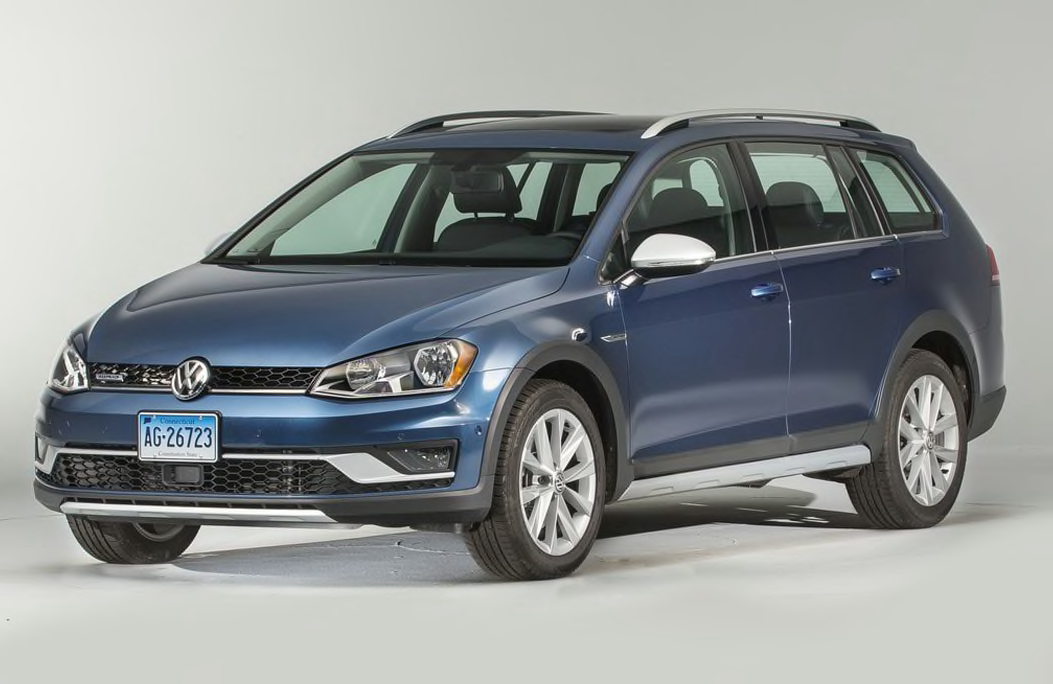 Subaru Outback
The Outback was arguably among the first vehicles to embrace the "outdoorsy" lifestyle market, combining standard all-wheel drive and SUV looks without the heft and fuel-economy penalty. Though the current model may not look all that different from past Outbacks, this Subaru delivers more cargo space than most seemingly larger competitors and has well-designed and readily available safety equipment. Plus it doesn't break the bank in the process.
The four-cylinder Outback has a slight power advantage over the Alltrack (175 vs. 170 hp), but you wouldn't know it by the Outback's slower 0-to-60-mph time of 10.5 seconds. And the Subaru is 1 mpg shy of the Alltrack's fuel economy; we measured 24 mpg overall with the Outback's base 2.5-liter engine. The 256-hp six-cylinder 3.6R versions are much quicker (0 to 60 mph in 7.4 seconds) and quieter, with little penalty in fuel economy. We got 22 mpg overall.
The standard continuously variable transmission doesn't feel like one, which is high praise for a CVT. In most circumstances, it mimics the behavior of a conventional automatic: The right ratio is always on tap, and the drop in revs during upshifts feels natural and smooth. Paddles on the steering wheel facilitate manual overrides and engine braking on a long descent.
Compared with the Alltrack, one area that the Outback dominates is towing. Four-cylinder models can tow 2,700 pounds; 3.6Rs can tow 3,000 pounds. Though that's not as much as with many SUVs, it's more than the Alltrack, which isn't recommended to tow anything.
The Outback's ride comfort and handling are quite balanced, exhibiting minimal body lean in tight corners. It's no sports car, but in normal driving the Outback feels plenty responsive and secure. But the prize for driving fun definitely goes to the Alltrack.
Despite its SUV-like ground clearance, the Outback doesn't require a high step to enter. Doors are large, both front and rear. You barely need to duck to get into the rear seat—an impressive feat.
Like the Alltrack, the Outback's upright greenhouse, big windows, and thin pillars make it easy to see out the back and minimize blind spots. And similar to the VW, a backup camera is standard.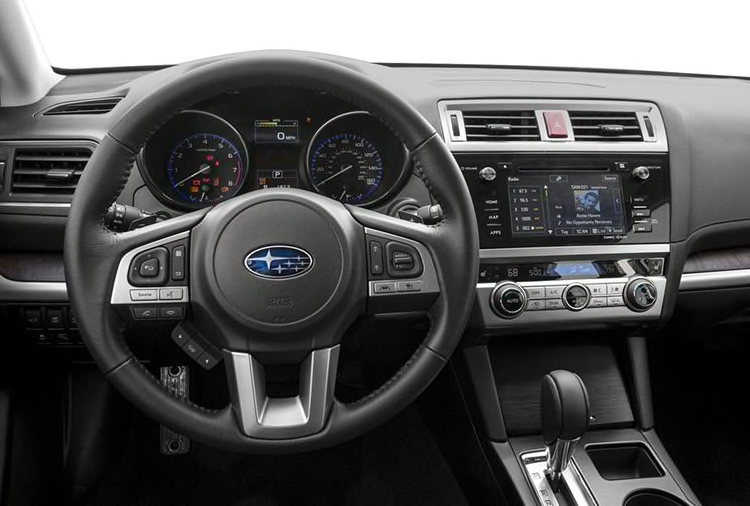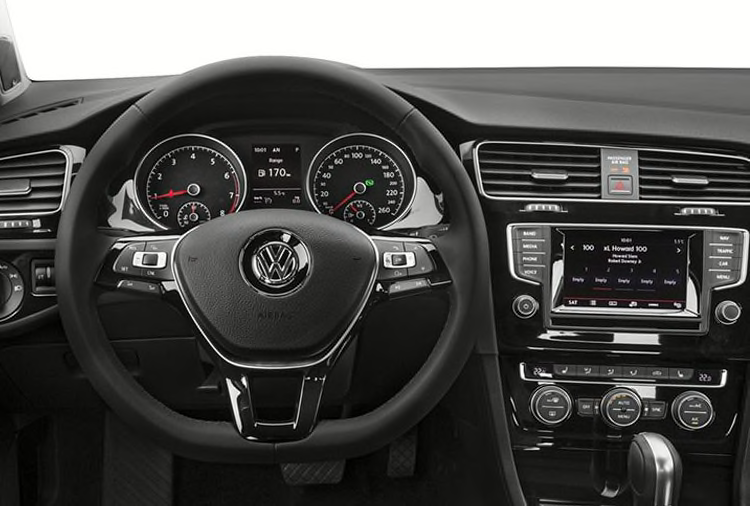 Subarus have long been lauded for their straightforward controls, keeping things simple with good old-fashioned knobs handling the audio system's volume and tuning. One nit to pick, though: The clock and outside-temperature display are tiny.
Another Outback strength is its carrying capabilities. With the 60/40-split rear seats folded, we measured 34 cubic feet of storage. The Alltrack's cargo hold topped out at 30.5 cubic feet.
Subaru's optional Eyesight advanced driver-assistance package includes a comprehensive suite of electronic safety features, such as adaptive cruise control, precollision braking, and lane-departure warnings. There's even a warning to detect when the driver gets fatigued and starts to weave within a lane. And the good news is that Eyesight, blind-spot monitoring, and cross-traffic alert are all available on the lower-level 2.5i Premium, which starts at $28,570.
A base Outback 2.5i starts at $26,520. Going full-boat for the six-cylinder 3.6R Touring—which includes all of the aforementioned safety gear—will set you back $39,070.
So if you're casting your vote for the Outback, it has better predicted reliability and higher owner satisfaction than the Alltrack. The Outback also gives you the option of choosing a smooth and powerful six-cylinder engine and greater access to safety features.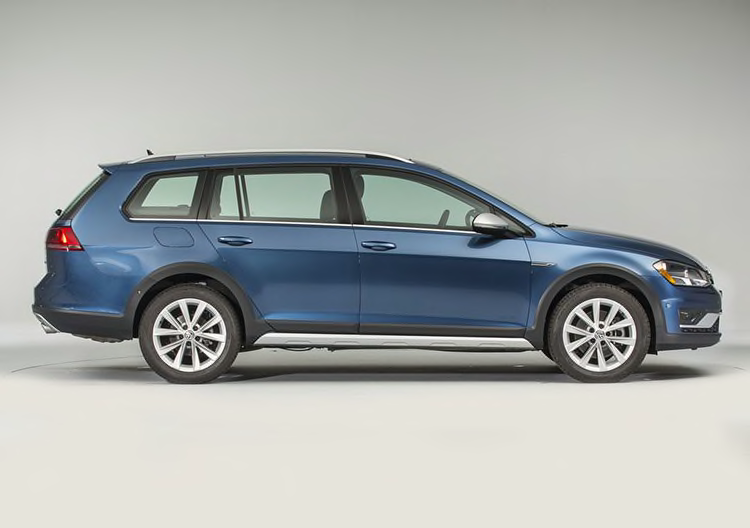 Volkswagen Alltrack
The Golf Alltrack is more of a street machine than a dogged off-roader. One of its true virtues is that it carves up curvy sections of blacktop with the eagerness of a regular Golf, feeling taut and nimble thanks to ideally weighted steering and nicely controlled body roll. It truly is a joy to drive.
Long road-trip highway miles are soothed by firm, satisfying seats and a composed ride, with the Alltrack feeling planted, secure, and substantial. Compared with typical small SUVs, the Alltrack is quieter than a Mazda CX-5 and on par with a Ford Escape and Outback. Controls are simple and well-designed, the infotainment system is intuitive, and Android Auto and Apple CarPlay compatibility come standard.
The 170-hp, 1.8-liter turbocharged four-cylinder propels the Alltrack to 60 mph in a swift 8.5 seconds and still returns 25 mpg overall. The six-speed dual-clutch automated manual transmission works like a regular automatic, delivering quick, timely, and direct shifts. A six-speed manual gearbox is available but not on the top trim SEL model. Hence, choosing to shift gears yourself means you can't get a 12-way power driver's seat, dual-zone automatic climate control, or lane-departure warning with lane assist.
The Outback doesn't offer a manual, making you settle for a continuously variable transmission.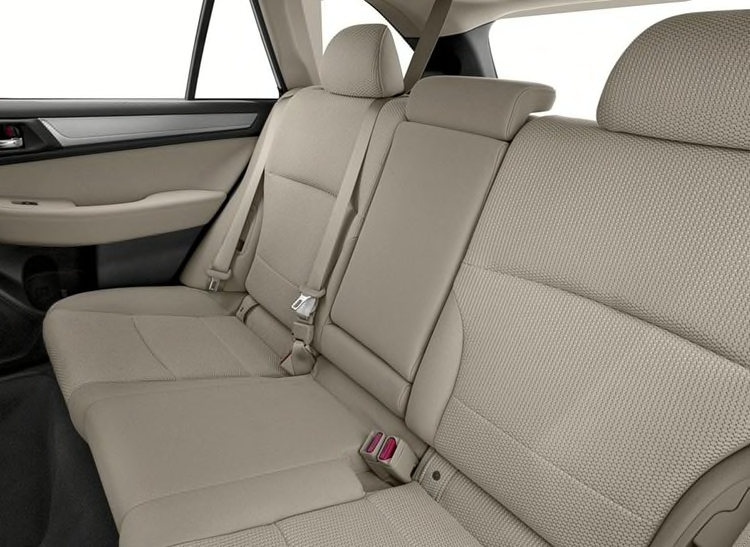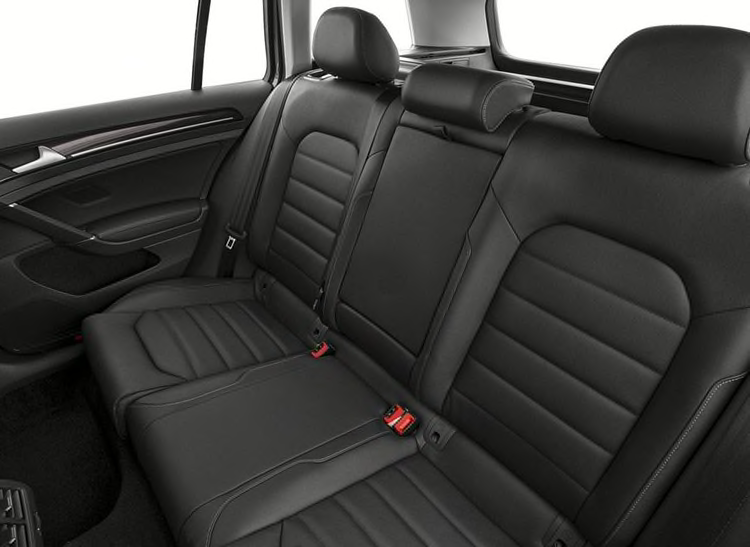 You might find the Alltrack interior a bit more intimate than that of most small SUVs, but there's a reasonable amount of room up front. Adults can fit in the rear seat, but space isn't exactly generous; same goes for the well-finished cargo hold. Big windows and slim roof pillars make for generous outward views, and a rearview camera comes standard.
Forward-collision warning (FCW) and automatic emergency braking (AEB) are included in the optional Driver Assistance package, along with adaptive cruise control. We're puzzled that the regular Golf SportWagen includes blind-spot monitoring in its Driver Assistance package, but that handy feature is not available at all on the Alltrack. That's a big disappointment for a car that typically stickers for above $30,000.
And speaking of price, the base S model starts at $27,770, and tops out at $35,705 for a loaded SEL version.
No question, the VW feels more premium and fun to drive than any of the taller, small mainstream-branded SUVs. And it also bests the Outback when it comes to feeling more upscale—and the Alltrack is quicker and slightly more fuel efficient. But the Alltrack (and most of the VW line) stumbles badly when it comes to predicted reliability and uneven availability of safety gear.
The Outback has lots of loyal followers, so it's a fair argument that the Alltrack has a younger-at-heart, more fun-to-drive bent than the Subaru. Both share the same concept of a tough-looking, all-wheel-drive station wagon standing as an alternative to the herd of small SUVs stampeding the market. While the Alltrack brings a premium vibe to this niche, it's definitely sized for singles and small families, and it doesn't offer the price-to-size ratio of some rivals. Nonetheless, the Alltrack is a compelling package for those who value driving verve over cubic footage.
In the end, the choice between the Outback and Alltrack comes down to driving enjoyment vs. peace of mind. Unlike Subaru, VW most certainly does not have an enviable reliability history. But the Alltrack delivers a most satisfying driving experience with a European flair and sophistication.
Perhaps the answer to which one to buy comes down to how long you typically own your cars. If you change vehicles every few years, we'd get the Alltrack. If you're the type to keep a car a long time, we'd get the Subaru.
Practicality vs. passion is never an easy call.