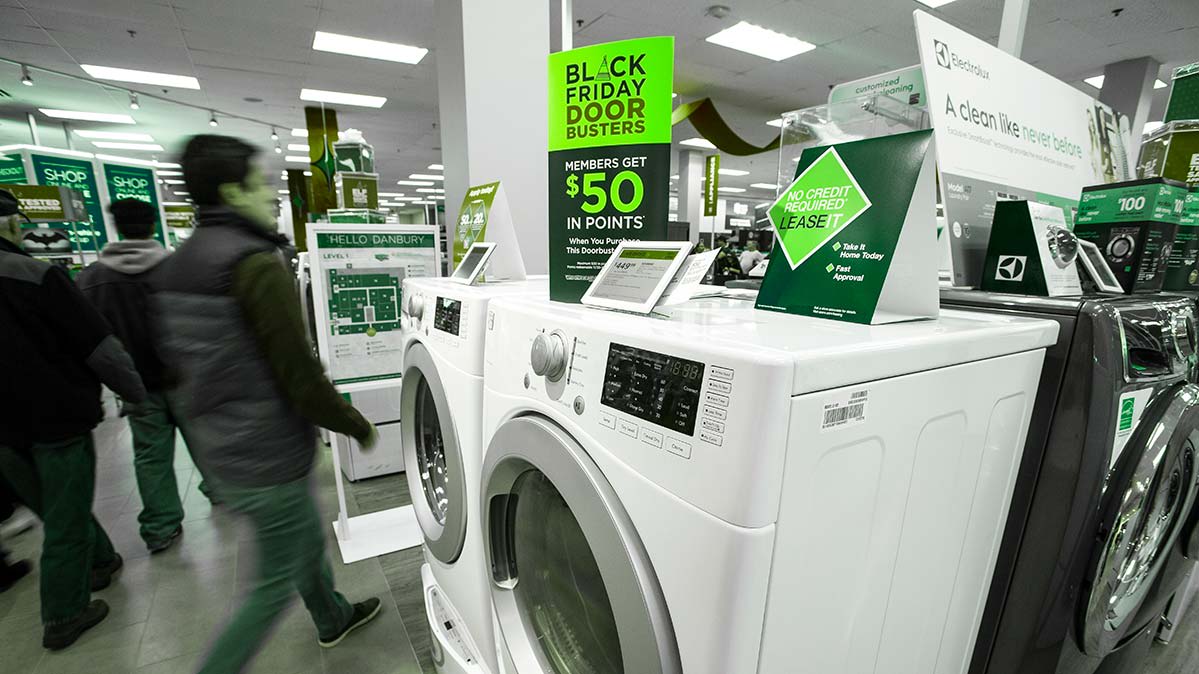 It's never a good time for your washer or clothes dryer to break down beyond repair. But if you had to pick a time, it would be now: Black Friday deals are here.
Since President Donald Trump added steep tariffs to imported washers and raw materials earlier this year, prices for washers and dryers have been steadily rising, according to our analysis of data from Gap Intelligence, a firm that tracks retail pricing.
"In 2018 prices only dropped around holiday weekends, such as Presidents Day, the Fourth of July, and Columbus Day," says Debra Mednick, head of market trends and analysis at Consumer Reports. "With deals starting early this month—as they did last year—expect November to again be the best time to buy."
You don't have to wait until Black Friday or Cyber Monday, she adds, but you might find even greater savings on certain models during those events.
MORE ON LAUNDRY APPLIANCES
CR scoured ads to find sales on the best matching washer and dryer sets at Best Buy, Home Depot, JCPenney, Lowe's, and Sears. You can buy each machine separately, of course, but if you're set on a pair, choose your washer first. (It has the tougher task and is a more complicated machine.) We'll update this article throughout November as more ads appear.
For now, most major retailers are offering similar pricing on sale models. But if you spot a lower price at one store, remember that most major retailers will match the competition's prices. So zero in on the details: delivery date and fees for delivery, hauling away your old appliances, and installation. And check for rebates on the sites of manufacturers and your utility company.
Check our washer and dryer buying guides for the pros and cons of different types of machines and features to consider, then head to CR's complete washer and dryer ratings to see how hundreds of models stack up.
Below is our list. Each retailer link goes to the washing machine. You can find the matching dryer with a quick search on the retailer's site. The savings are based on the highest list price.
Front-Loading Washer and Dryer Sets
LG WM9000HVA Washer and LG DLEX9000V Dryer
The deal: $2,396 at Best Buy, Home Depot, JCPenney, Lowe's, and Sears
Savings: $1,200
This set is usually priced around $3,600, making it one of the most expensive pairs in our ratings. So at about one-third off, this sale is a solid one. The washer rates an Excellent in cleaning, and the dryer garners a Very Good in drying. Plus these machines boast large capacities, meaning you can do more laundry in one load.
LG WM5000HVA Washer and LG DLEX5000V Dryer
The deal: $2,196 at Best Buy, Home Depot, JCPenney, and Sears
Savings: Up to $800
This set performs similarly to the LG pair above and has similar features. But capacities are smaller, though not out of line with the category: 4.5 cubic feet for the washer and 7.4 cubic feet for the dryer. You can stack this set, which you cannot do with the set above.
Samsung WF45M5500AW Washer and Samsung DVE45M5500W Dryer
The deal: $1,400 at Best Buy, Home Depot, JCPenney, and Sears
Savings: Up to $600
Usually these machines go for about $1,000 each. They're solid across the board, scoring well in all lab tests, and they run relatively quietly. Sure, you'll hear them working, but they shouldn't annoy you. Predicted reliability for Samsung front-loaders rates a Very Good, and Samsung dryers rate a Good.
Whirlpool WFW75HEFW Washer and Whirlpool WED75HEFW Dryer
The deal: $1,300 at Best Buy, Home Depot, and Lowe's
Savings: $500
Front-loaders are typically your most expensive type of washer, but at $650, this Whirlpool costs less than the best agitator top-loaders we tested and outperforms those models in most tests. Cleaning rates an Excellent, and drying garners a Very Good.
HE Top-Loader and Dryer Sets
LG WT1501CW Washer and LG DLE1501W Dryer
The deal: $996 at Best Buy, Home Depot, JCPenney, Lowe's, and Sears
Savings: $600
In September this pair sold for $1,200, then prices crept up, so snagging each for less than $500 represents the best price this fall. By LG standards, these are basic machines: no TurboWash option to speed things up, and forget about starting or monitoring them remotely—they aren't WiFi-enabled. But both appliances are impressive at their main task—cleaning and drying. The washer is rougher on fabrics than some we tested, rating only a Fair in our gentleness tests.
LG WT7100CW Washer and LG DLE7100W Dryer
The deal: $1,260 at Best Buy, Home Depot, JCPenney, Lowe's, and Sears
Savings: $340
At $630, this basic HE top-loader is among the least expensive in our ratings, yet it's the only one that rates an Excellent in cleaning. The dryer aces its job, garnering an Excellent rating in drying.
LG WT7600HWA Washer and LG DLEX7600WE Dryer
The deal: $1,600 at Best Buy, Home Depot, JCPenney, and Sears
Savings: up to $600
This set sold for around $2,000 recently, and this sale gets you nearly 30 percent off the list price. The washer's TurboWash options cuts wash time without affecting cleaning. LG is the most reliable brand of HE top-loaders owned by our members, earning an Excellent rating, and its dryers stand out for top-notch reliability as well, also rating an Excellent. The dryer listed above can also be paired with the LG WT7500CW HE top-loader. It performs similarly to the LG WT7600HWA and is on sale for $745, marked down from $1,050.
Agitator Top-Loader and Dryer Sets
GE GTW485ASJWS Washer and GE GTD45EASJWS Dryer
The Deal: $996 at Home Depot, JCPenney, and Lowe's
Savings: $502
This GE pair was priced at $1,350 in September, then the price increased, and now it costs just less than $1,000. The washer delivers the best cleaning of the agitator washers tested, earning a rating of Very Good in washing performance. That means it removes many of the tough stains from our fabric swatches. The companion dryer earns a Very Good at drying. Capacity is 4.2 cubic feet for the washer and 7.2 cubic feet for the dryer.
Before You Buy
How to Choose Washers and Dryers
Consumer Reports is an independent, non-profit organization dedicated to helping consumers. We make it easy to buy the right product from a variety of retailers. Clicking a retailer link will take you to that retailer's website to shop. When you shop through retailer links on our site, we may earn an affiliate commission – 100% of the fees we collect are used to support our mission.
Learn more.
Our service is unbiased: retailers can't influence placement. All prices are subject to change.