When you shop through retailer links on our site, we may earn affiliate commissions. 100% of the fees we collect are used to support our nonprofit mission.
Learn more.
Every day is laundry day at Consumer Reports. We buy and test new washing machines and dryers throughout the year, but not every machine boasts something new.
"Innovations first show up on the higher-end models," says Emilio Gonzalez, the engineer who runs CR's laundry appliance lab. "Some of these changes trickle down to mid-priced models, and while the features may work as claimed, they vary in their usefulness."
Manufacturers tend to update washers more often than dryers, which makes sense given that washers are more complex machines—they offer more potential for innovation. Most new dryers work similarly to ones made a decade ago. Every so often, though, innovation comes in matching pairs.
Here's a closer look at sets from Samsung and Kenmore that stand out, as well as an LG pair that's emblematic of the brand's focus on WiFi-enabled laundry appliances.
Samsung's Dual Washer and Dual Dryer
This innovative duo, pictured at top, aims to solve the problem of multiple loads with different care instructions.
"The majority of U.S. consumers—87 percent—separate their laundry loads according to color, type of fabrics, and so on," says Hyesoon Yang, an engineer at Samsung. "So we focused on how to make the best solution for it."
The $1,700 Samsung FlexWash WV60M9900AV, made up of a mini top-loading washer integrated with a full-size front-loader, allows you to do two loads of laundry at the same time.
So does the $1,700 Samsung FlexDry DVE60M9900V. A small dryer compartment—roughly 6 inches deep—sits above the large electric dryer. The mini dryer circulates heated air to dry items that lay flat. See the video below for a look at this pair in action.
The mini washer is both fast and gentle, but can't match the cleaning power of the front-loader; it's best for lightly soiled items and delicates. The mini dryer, ideal for delicates, uses cooler heat than the full-size dryer.
Our tests found that clothes dry much faster in the mini dryer than air-drying at room temperature. A large cotton sweater, for example, took 55 minutes in the mini dryer, while another sweater was still damp after 24 hours of air-drying.
"The real appeal of each machine is that you can do two loads at the same time," says Gonzalez. "Otherwise, a conventional dryer, for loads big and small, and a good old drying rack does the job."
Kenmore Puts Controls Within Reach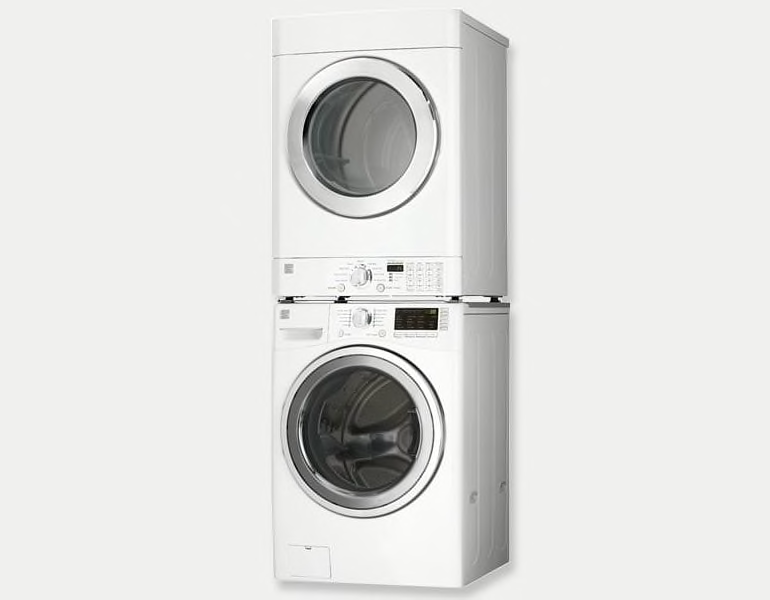 Stacking a washer and dryer saves space, but that arrangement makes dryer controls hard to reach for some. A step stool is one solution, but balancing atop a stool could prove dangerous when loading and unloading laundry.
The Kenmore 81392 Flip Control Dryer, $1,180, offers a one-of-a-kind solution. You can actually move the entire control panel from the top to the bottom of the machine, bringing it within easy reach assuming you stack the dryer above its matching washing machine, the $775 Kenmore 41392 front-loader.
"That makes it much easier to access the dryer controls when the washer and dryer are stacked," says Gonzalez. "This innovation solves a real problem, and it's simple to implement."

In our dryer lab, a petite staffer moved the dryer panel in about 15 minutes, using a Phillips screwdriver to unscrew the panel, then clicking it into place. The video below takes you into our lab for a look at this pair.
An LG Connected Laundry Duo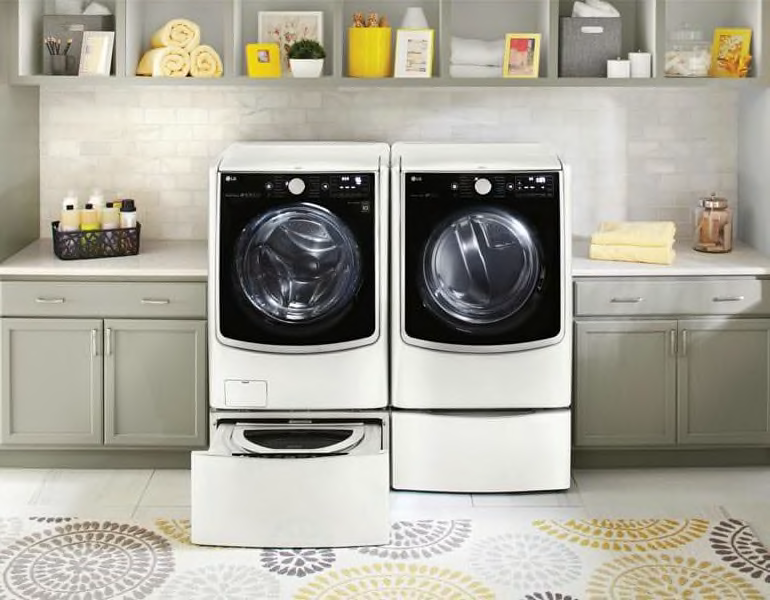 We've seen a few manufacturers slowly moving to add WiFi connectivity to their appliances.
"And some manufacturers say that over 50 percent of their high-end models will have WiFi in the next year," says Mark Allwood, a senior market analyst at Consumer Reports.
LG, though, has jumped in head first. The brand announced earlier this year that all washers and dryers introduced in 2017 will have WiFi capabilities. (In fact, LG claims to offer the most WiFi-enabled appliances for the entire home, all of which use one app, called LG SmartThinQ.)
LG also tops our reliability charts for washing machines and electric dryers, based on CR's 2016 reliability survey, in which we asked 33,000 readers about their washing machines and some 42,000 about their dryers. The overall reliability of LG's laundry appliances gives us confidence when considering new technology.
The affordable LG WM5000HWA front-loader and its matching electric dryer, the LG DLEX5000W, are both WiFi enabled. Each is around $1,000. The duo is shown above, with the washer set atop LG's $700 mini washer, called a SideKick.
With the WiFi feature, you can start, monitor, and stop washer and dryer cycles from your smartphone. You can also download new cycles over time, adding more functions to a machine you already own.
Where is all this going? "WiFi-connected appliances will also allow a manufacturer to run diagnostics on your machine from afar," says Allwood. "And notify you if a problem is detected."