When you shop through retailer links on our site, we may earn affiliate commissions. 100% of the fees we collect are used to support our nonprofit mission.
Learn more.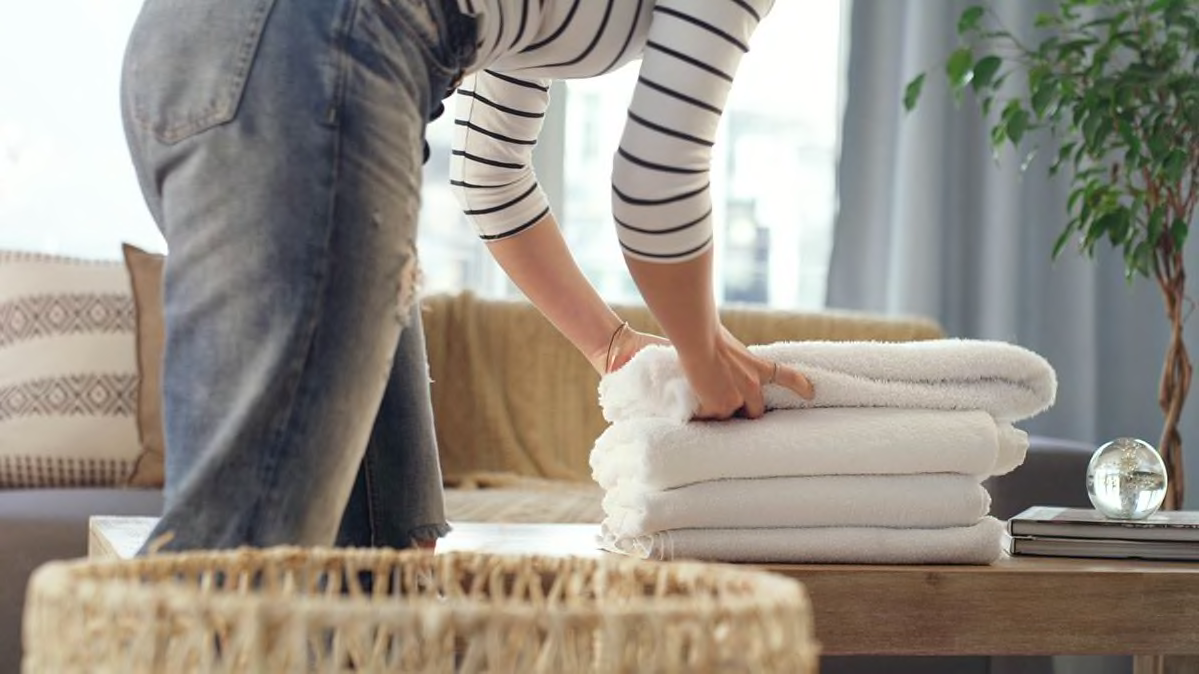 There's no escaping dirty laundry. Mountains of jeans, T-shirts, kids' clothes, workout gear, clothes for staying in, clothes for stepping out (yes, please), not to mention tangled towels and sheets, hiding the stray sock. Laundry keeps coming, but a washer with a large capacity can minimize the chore of cleaning it.
Tub capacities of models in our washing machine ratings range from 3.2 to 6.2 cubic feet. Here's what that means:
Small: 3.2 cubic feet can hold 12 to 14 pounds of laundry, or roughly nine thick full-size bath towels
Medium: 4.5 cubic feet can hold 14 to 16 pounds of laundry, or about 11 towels
Large: 5 to 6.2 cubic feet, the largest of which can do 20 to 25 pounds of wash, or roughly 17 towels
Manufacturers have been increasing capacities for years, as federal standards for water and energy efficiency became more stringent and wash times got longer—it takes more time to clean clothes with less water. And these changes have other practical implications.
"There are only a few ways manufacturers can increase capacity," says Rich Handel, the CR test engineer who runs our washer lab. "You either make the tub deeper or wider—or both—and it may not be obvious when you're shopping. You'll want to reach all the way in to make sure you can pick laundry off the bottom."
Handel cautions that the washer might also be wider than the standard 27 inches, so you'll want to factor that in. Measure the space you have to work with before choosing a model (you'll see the dimensions noted in our washing machine ratings). Allow at least 6 inches behind the washer for plumbing hookups, and about an inch between the washer and dryer. You'll also want to measure the doors to your home—and along the route from there to the laundry room—to be sure a new machine fits through them.
What to Know About Washer Capacities
Doing full loads is a great way to save energy, but overstuffing your washer isn't the answer. Your laundry needs some room to move around to be cleaned properly so check your manual for guidance on load sizes. Here's what else to consider:
Capacity varies by washer type. Agitator top-loaders typically have the smallest tub capacities, as little as 3.2 cubic feet for the Speed Queen models in our ratings. But some manufacturers now offer agitator top-loaders that have bigger capacities, like the top-rated Maytag—it boasts 6 cubic feet. Capacities for HE top-loaders, the type without an agitator, and front-loaders are often around 4.5 to 5.4 cubic feet.
Cleaning comforters. Instead of lugging your king-size comforter to the laundromat, you can wash it in any washer with a claimed capacity of at least 4.6 cubic feet, according to our tests.
Large capacities, small loads. All of the front-loaders and HE top-loaders in our washing machine ratings have a sensor that adjusts the amount of water based on the weight of the load. Most of the agitator washers do, too. So yes, you can wash any size load in a large washer.
Washer vs. dryer capacity. Matching washer and dryer sets remain popular, and when shopping you'll notice that the claimed capacity of the two machines is different—the dryer's is larger. That's so you can fit the wash in the dryer; clothes expand as they dry and need the added space to tumble around.
CR members with digital access can read on for ratings and reviews of six full-sized washers, two picks for each type, with capacities of at least 5 cubic feet.