When you shop through retailer links on our site, we may earn affiliate commissions. 100% of the fees we collect are used to support our nonprofit mission.
Learn more.
Smaller spaces demand smaller appliances and as young people set up their first home and retirees downsize, compact washer and dryer sets are slowly growing in popularity. Manufacturers took note and in recent years some stackable laundry appliances have become more stylish and have larger door openings for easier access. Faster cycles and specialty options were added, with prices for a matching compact washer and dryer set running $1,800 to $3,500. Here's what you'll want to know before you choose.
The Washers Vibrate
None of the compact front-loaders did very well in Consumer Reports' washer vibration tests. They spin fast to extract more water, cutting dryer time, and that high-spin speed causes vibration. This isn't a problem anymore for most full-size front-loaders we test, so we had to find out how stacking the compact dryer atop the matching washer affects vibration.
We tested the LG WM1377HW, Asko W6424W, and Blomberg WM98400SX front-loaders with their matching dryers stacked on top. Stacking did not lessen vibration significantly. We're testing the other front-loaders and will report back. When your compact washer is installed make sure it's properly balanced. And if vibration becomes an issue, use a lower spin speed to see if that helps.
Stacking Kits May Not Be Included
In this way compacts are similar to full-size machines, but it's something to keep in mind when shopping. The three washers mentioned above came with the parts needed to stack a dryer on top. But for the other tested washers we had to order kits. Kit prices vary from $32 for the Electrolux to $200 for the Miele.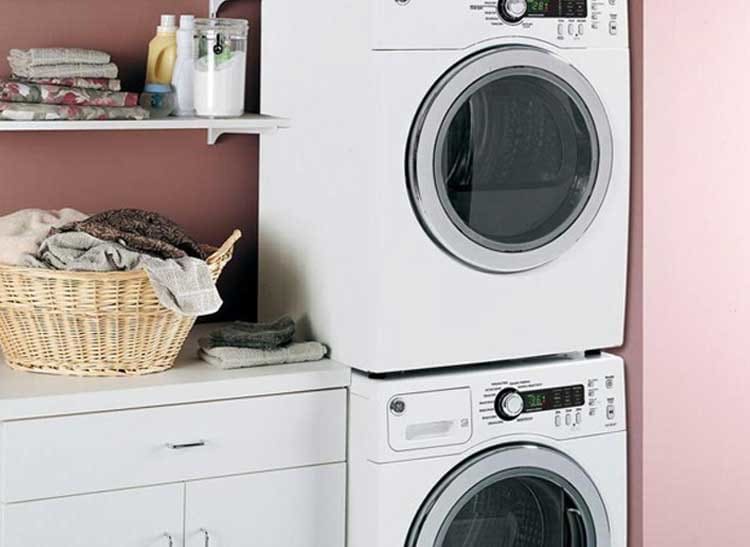 Using Bleach Can Be a No-No
Most compact front-loaders sold outside the U.S. do not offer bleach dispensing, says Ken Rudolph, product manager for GE's laundry products. The GE WCVH4800KWW is designed for the U.S. market and has a bleach dispenser. Our top-rated Bosch 800 Series WAT28402UC stackable front-loader does not. "Chlorine bleach can negatively affect some internal rubber and plastic parts of the washer," says Alex Sheehan, a spokesperson for Bosch, which is headquartered in Germany. Detergents and bleaching agents that boast of oxi or oxy, a color-safe bleach made from sodium percarbonate, are safe to use, he adds.
Both of the Asko washing machines we tested, including the Asko XL Series W8844XLW, come with manuals that recommend not using chlorine bleach. Asko, which is based in Sweden, recommends keeping the use of chemicals to a minimum, but bleach can be used in these washers, says Sjovill Carina, a company spokesperson. There's no dedicated bleach dispenser, but a piece of rigid plastic comes with the washing machine and can be used to divide the detergent dispenser in two.
Ventless Dryers Usually Take Longer
Our tests found that vented dryers are often faster—the top three compact dryers in our ratings are vented, including the Samsung DV22K6800EW. Ventless may be the only choice you have, so be sure to look at the washer cycle times in our compact washer Ratings—they range from 60 to 145 minutes—to get a sense of total time needed to do one load. In Europe 3- to 4-hour cycle times are common for compact machines, says Dean Brindle, vice president of product marketing for Samsung. Compacts are the norm there, and patience is always a virtue.
Compact Dryers Are Only Electric
Gas compact dryers haven't been made for more than five years, say manufacturers. That's why you'll see 10 electric dryers in our compact dryer Ratings. They require a 240V connection. And note that the Bosch, Asko, and Blomberg washing machines we tested can plug into the dryer. The dryer feeds the power to the washer. This helps if you have only one outlet.
See all your stackable options in our compact washing machine and dryer Ratings. Email questions to kjaneway@consumer.org.