Should You Buy Apple's MagSafe Charger?
CR's testers say it's easy to use and provides quick power—if you have an iPhone 12 If you're shopping for an iPhone this year, you may be thinking about buying Apple's new MagSafe wireless charger, too.
Harnessing technology once found in the company's laptops, it spares you the hassle of using a power cord to plug the phone into an outlet—particularly one of Apple's latest smartphones. You simply set the device down on the charging pad and it pumps up to 15 watts of power into the battery via a magnetic link.
That's twice as much power as the iPhone 11 Pro could support.
The magnetic connection also makes it less likely that your phone gets bumped off the contact point, disabling the charge.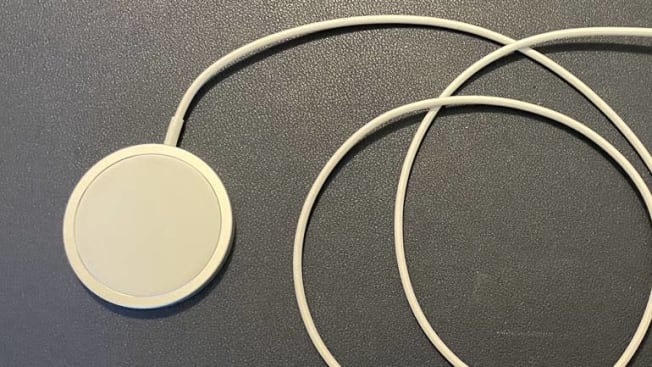 As noted above, the MagSafe charger, which can kick out a maximum of 15 watts when connected to Apple's 20-watt wall adapter (sold separately for $20), managed to take an iPhone 12 Pro from completely dead to fully charged in 2 hours and 37 minutes.
It's worth noting that the charger performs faster right out of the gate; filling the battery up 50 percent in an hour flat. After that, the process slows down a bit, likely to put less strain on the battery and prolong its life.
To get a comparison, our experts recharged the phone using a Samsung stand charger, $80, that we had tested earlier this year. Like the MagSafe, it can produce up to 15 watts of power, but it's designed to work with any Qi-compatible smartphone.
Qi (pronounced "chee") is an almost universal charging standard developed by the Wireless Power Consortium.
The Samsung charger was just a touch slower than the MagSafe, fully powering the 12 Pro in 2 hours and 45 minutes. And after the first hour of charging, it also had the phone's battery up to 50 percent.
The upside of Samsung's device is that you can easily use it to charge myriad phone models. While the MagSafe technically can do that, too, as Apple admits, it's not nearly as fast at refueling anything outside the iPhone 12 family.

It took our testers a total of 5 hours and 22 minutes to fully charge the 11 Pro Max and 5 hours to power up the S10. By comparison, the Samsung charger fully powered the 11 Pro Max in 2 hours and 15 minutes and the S10 in 2 hours and 45 minutes.
What Else Should You Know?
In true Apple fashion, the design is clean and simple. The MagSafe's charging bed is the size and shape of a decent-sized cookie (bigger than an Oreo but smaller than anything I'd bake at home) and permanently connected to a cable a little over 3 feet long.
That's good news if you're looking to cut down on clutter or searching for a device that's easy to pack for travel. The charging surface is so small that the diminutive iPhone 12 Mini completely eclipses it.
But, unlike some wireless chargers, this one doesn't have a colored LED-light status indicator that lets you know when your phone is fully charged. So you have to keep an eye on the phone's battery indicator.
And just like the new iPhones, it doesn't include the wall adapter required to plug the cord into an outlet. If you don't happen to have a spare USB-C adapter from another device laying around the house, you have to pay $20 extra for that.
And because there's no way to disconnect the cord from the charging bed, you have to replace the whole device if the cord gets nicked.
As the name implies, the charger attaches magnetically to all four iPhone 12 models, so you don't have to worry about getting the contact points of your phone and charger lined up perfectly. They just find each other.
You also don't have to worry about a bump in the night breaking that connection, causing you to wake up to a dead phone the next morning.
But you do need to be careful with that magnet. Apple warns that you should keep credit cards, security badges, passports, key fobs, and any other item that might have a magnetic strip or RFID chip away from the charger, because the magnet could damage them.
That's particularly important to keep in mind if you buy one of Apple's MagSafe wallets, which uses the same magnetic connection to attach your ID, banking cards, and whatever else normally goes into your wallet to your phone.
Of course, that magnetic connection goes out the window if you are using the MagSafe on something other than an iPhone 12. And it can be tough to get the contact points on other phones lined up just right when you don't have the magnetic connection to help you. Keeping the phones in the proper position is a challenge, too.
One of the things I like best about the Samsung charging stand is that it cradles your phone in an upright position, helping ensure that the contact points line up regardless of the phone's size, as well as making it easier to check the time or your notifications if you happen to wake up in the middle of the night. That's just not the case with the MagSafe.
Obviously, you're not likely to buy Apple's charger if you don't already own, or plan to buy, an iPhone 12. But the lack of flexibility is something to consider if you have a variety of wireless-charging-capable devices to keep powered up.
Given the fact that my night stand houses a variety of CR test phones, not to mention my children's aging devices, plus smartwatches, a smart speaker, laptops, a stack of books, and other random internet of things items, I like anything that cuts down on clutter and the rat's nest of cords plugged into the jumbo-sized power strip on the floor.
With the combination of tiny size, solid performance, and $40 price, the MagSafe provides some practical help with that.
But because it really works only with certain iPhones, I've reserved some of my coveted night stand space for my trusty 15-watt Samsung stand charger, along with traditional plugs for a Lighting cable and USB-C cords. And that's not going to change anytime soon.
The MagSafe charger is available at Amazon, Apple, Best Buy, Target, and Walmart.
Samsung's 15W Fast-Charge 2.0 Wireless Charging Stand can be purchased at Amazon, Best Buy, Samsung, Target, and Walmart.
When you shop through retailer links on our site, we may earn affiliate commissions. 100% of the fees we collect are used to support our nonprofit mission. Learn more.