When you shop through retailer links on our site, we may earn affiliate commissions. 100% of the fees we collect are used to support our nonprofit mission.
Learn more.
When my wife and I built an addition on our home about 30 miles north of New York City in 2006, we had what at the time was considered a state-of-the-art WiFi system. Now, a decade later, our wireless Internet wasn't the envy of anyone, and lately our WiFi problems had been earning the outright enmity of our game-playing, 11-year-old son. Clearly it was time for us to upgrade.
While having an older router was one of our WiFi problems, its distance from some of the rooms in our house was another issue. When we wired the new rooms, the router was installed in the old basement, next to the fairly complicated audio/video and broadband distribution system where the Verizon FiOS network terminal was also located. Even though the Internet router was a top-performing model at the time, we found that we had lousy wireless speeds in some of the more distant rooms in the addition, such as our upstairs master bedroom.
While the details might vary, WiFi problems are something that many homeowners face. Like others in our situation, we had a few options. One was buying a new, faster wireless router and placing it in a central location. But most routers are pretty ugly, and we didn't really want one prominently located in our main living space. Another was buying a WiFi extender, but since most extenders have a single radio for sending and receiving data, we'd lose half our broadband speed.
That's why I was excited when I heard about Eero, which promises a simple-to-install WiFi system that eliminates dead spaces, even in a sprawling house.
Consumer Reports bought a set of Eero routers, and like other models in our wireless router Ratings program, testers put it through a rigorous set of lab tests. But to fully evaluate its claims, our engineers also wanted to install the Eero in a typical home.
I was happy to raise my hand as a volunteer.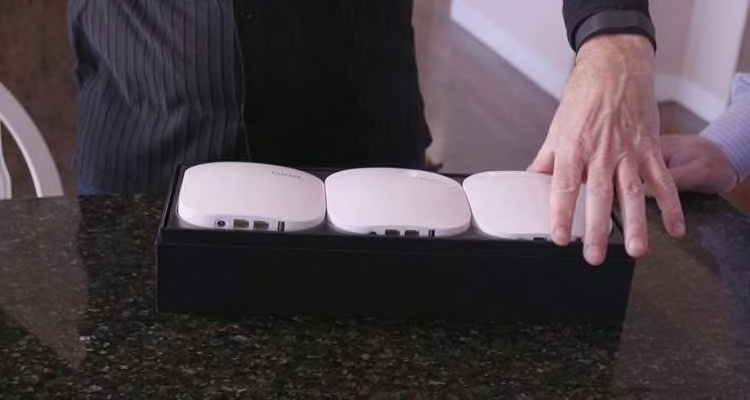 What the Heck is Eero?
Perhaps the easiest way to describe Eero, at least to music fans, is that it's the Sonos of routers. Like the Sonos wireless speaker system, multiple Eero units in your home communicate with each other, forming what's called a mesh network, except this one is for WiFi rather than music.
One of the main benefits is that your devices—laptops, phones, smart TVs, and so on—can simply connect to the nearest Eero, and benefit from the full speed that the network can handle.
Given that they take their name from Finnish-American architect Eero Saarinen, it's not surprising that the Eero units are sleekly styled; each is a palm-size square with curved edges and a glossy white finish. (They remind me a bit of Apple's Airport Express Internet router.) Beneath each unit's stylish exterior is the technology you'd expect from a top-end home router, including support for the latest (802.11ac) WiFi standard. (Specs are at our Eero model page.)
For the test in my house, we used an Eero three-pack, which costs $499; individual Eero units cost $199. Included in the package were the routers, AC adapters for each, and a fairly thick Ethernet cable that connects to your modem.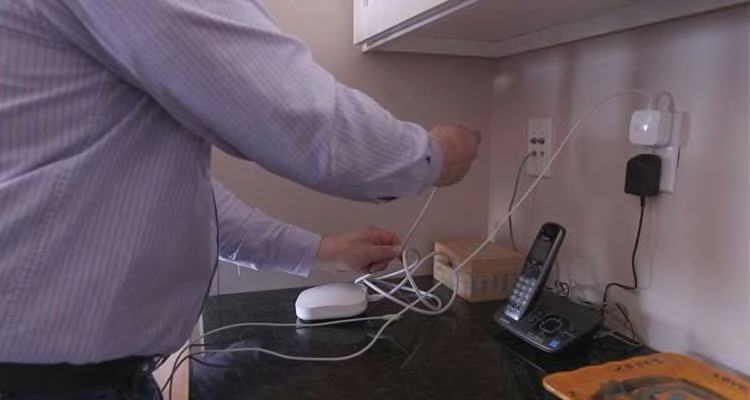 Simple Setup
I found one of Eero's most appealing features to be ease of set-up. While I know a lot about TVs, streaming media, and audio, I'm still a neophyte when it comes to networking.
Most wireless routers require you to use a computer and browser to configure the system. With Eero, I simply downloaded a free app to my Android phone—an iOS version is also available—and followed the on-screen prompts. Your phone connects to Eero via Bluetooth for the initial setup.
You do have to register your device, entering your name, email address, and even your cellphone number to receive a text with a passcode. That's a lot of information to give to the company, but it's required for the system to work. After that, all you really need to do is connect the power cord to an AC wall outlet, plug one Eero unit directly into your router, and wait for the blinking blue light.
I connected the first Eero to a wired Ethernet jack in my kitchen, which is more centrally located than the basement and connected to my modem. Once the Eero was connected, I created a network name and password, plus a name for the Eero (I used the location). Then I was asked whether I wanted to set up additional Eero units.

Eero says that its routers have about a 40-foot range, and can operate through doors and walls. To provide full coverage in my home—about 2,600 square feet across three levels—we set up two additional Eeros, one in the living room on the main floor, and one in an upstairs room adjacent to my wife's home office. Once powered up, they connected to the other Eero units in my house wirelessly, but I also could have connected these units through wired connections.
Using the Eero app, you can see if your network is online, check upload and download speeds you're getting from your ISP, and see how many devices are connected to the network. In all it took less than 15 minutes to set up the three-Eero system in my home. To me, that was a really big win.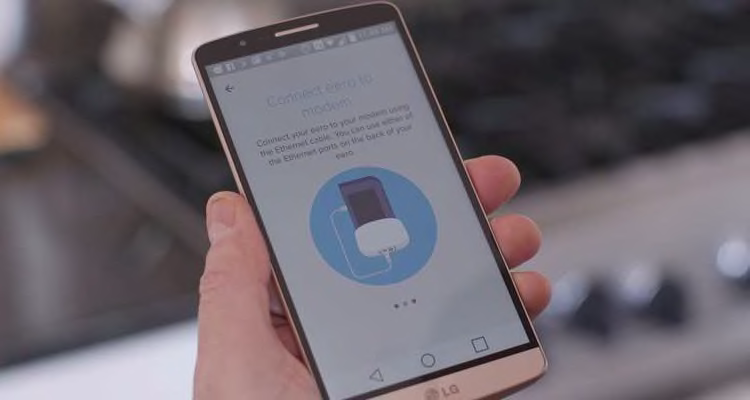 Eero in Operation
Once the Eero system was set up, it provided full coverage throughout my home, even in the master bedroom where WiFi had been so spotty that we'd given up on using a streaming media player to watch Netflix. My WiFi problems were gone.
Since my old Wi-Fi network was still operational, I used a WiFi analyzer to compare the two, and found that the Eero signal strength was about double what I was getting from the old network. But the difference in speeds was even greater, averaging about 58Mbps (megabits-per-second) compared to 2 to 3Mbps on the old network.
According to my son, who regularly plays "Minecraft" on a PC in his bedroom, coverage there was also much better, with fewer lags in onscreen action. Speeds in his room averaged between 55Mbps to 60Mbps on the Eero network, compared to 10Mbps or less on the old network.
One of the best features of our home is that it's located on the Hudson River, but our WiFi had never been strong enough to let us sit out on our deck and go online. With Eero, the signal was strong enough for me to stream music and videos on my iPad out to the edges of the deck. And I was also able to stream movies in HD quality in the dedicated theater in the basement of our addition.
One other benefit worth noting, especially for families like mine with kids who invite their friends over to play videogames or watch YouTube videos, is that Eero lets you quickly set up a guest network with a separate password, and invite them to join it right from the app.
Regarding security, the company says it uses WPA2 encryption, which is also used by other top-rated routers. One unusual element of Eero is that the system is constantly communicating with the company's servers, so it can regularly push out bug fixes and security updates or patches.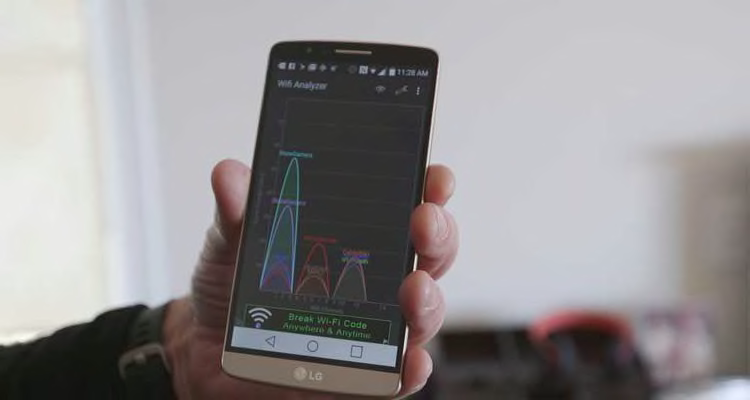 The Bottom Line
Based on both our in-lab testing and what I experienced in my own home, Eero delivers on its promise of being an easy-to-assemble WiFi system that eliminates dead spots. Setup really couldn't be much easier. I found the mobile app to be well thought out and it worked without any hiccups during our trials.
The big question is whether Eero is worth the price. At $499 for a three-pack or $199 for a single unit it's expensive, especially considering that several standalone routers in our Ratings performed just as well, or better by some measures, and cost less. In fact, if you get great Wi-Fi coverage from a single router, there's little reason to move to Eero. It's also probably not the best option for tech-savvy homeowners who want more configuration options during setup.
Eero, of course, will be even more compelling if the price drops once other mesh-style WiFi systems became available. Luma, for example, is promising to launch a very similar Wi-Fi system next month, with a few more features, such as parental controls.
But if you need any further evidence that I think that Eero is a product worth owning, here it is: Right after the test was finished and the Eero system went back to our labs, I went out and bought an Eero three-pack for myself.
And so far, everyone in my family has been happy that I did.

Home WiFi Mesh Networks
Can't get a decent wireless internet connection in your home? On the 'Consumer 101' TV show, Consumer Reports' expert Nicholas De Leon explains to show host Jack Rico how mesh networks provide faster speeds and better coverage.