We Tested 19 Yoga Mats. Here's What We Found.
Whether you want a super-cushy mat, a lightweight mat that's easy to tote around, or just a simple mat that won't slide all over the floor, we have a pick for you A yoga mat is a key component of a home gym. Even if yoga isn't your speed, a mat is still a useful tool for all kinds of floor exercises.
But with dozens of options available, it can be hard to tell which one you should choose.
Consumer Reports evaluated 19 yoga mats to help you figure out which mat is best for your needs—depending on whether you're toting a mat back and forth to the gym, practicing on a carpeted floor at home, rolling your mat out on a hard surface, or using it in some other way.
There's no one yoga mat that's best for everyone. Different features will be more important in different scenarios.
That's why we're not presenting an overall ranking of the yoga mats we tested. Instead, we're showing how they scored in four key metrics: drying time, cushioning, how well they grip the floor, and how well they grip your hands and feet.
"Each of our tested mats would likely be the perfect mat for somebody out there, so we are not providing Overall Scores," says Bernie Deitrick, who led CR's testing of yoga mats. "Our tests were designed to show the differences in performance that a user can expect."
Here, you'll find more information on how we tested these yoga mats, what you can expect out of six mat categories, and CR's take on each model.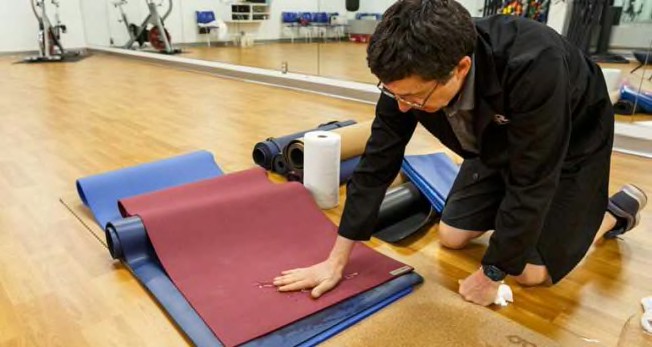 To test drying time, cushioning, floor grip, and top grip, we put each yoga mat through a series of standardized laboratory tests.
"Choose a mat that provides the properties that will make your yoga session better, rather than one that detracts from your session," Deitrick recommends.
For example, a more cushioned mat may be preferable for people who have certain kinds of back pain or who find it painful to lie on the ground, says Rita Burlingame-Toppen, OTD, an assistant professor of occupational therapy at Mount Mary University in Milwaukee, Wis., and a certified yoga instructor.
On the other hand, more cushioning also generally means less stability for standing poses, so someone who has difficulty balancing or who prefers standing poses rather than kneeling or lying down may want a mat with less give.
A more cushioned mat may also not be the best for someone who struggles with wrist pain, Burlingame-Toppen says. When you're in a pose that places weight on your wrists, a firmer mat will help you engage the muscles of your hand, more evenly distributing the weight.
More cushioning will cause more weight to be borne by the wrist alone. (Burlingame-Toppen suggests that folks with specific health concerns speak with a doctor or occupational or physical therapist about what poses and equipment may be best for them and which movements or positions to avoid, and to seek out an instructor who has experience with their specific limitations or needs.)
Generally speaking, a mat that will strongly grip your body while you're using it is best for most people, to keep you from slipping. Still, some more advanced yoga practitioners who tend toward a more athletic practice or particular poses—like upward bow pose—may find a mat with a lot of grip to be an obstacle to fast transitions between poses, Burlingame-Toppen says.
Travel mats are designed to be taken on the go. They're easy to roll up and roll out, and they're thinner and lighter weight than regular mats made with similar materials.
They have less cushioning than standard mats, but if you're taking one to a yoga class, you can also consider rolling your personal mat out on top of a mat from the studio or gym. That way you get extra cushioning, while avoiding contact with a mat that may have been used by many other patrons.
This practice can also help add grip, Burlingame-Toppen says, because the quality of studio yoga mats can be unpredictable.
This category is probably what you think of when you picture a yoga mat. These mats offer firm cushioning—generally just enough to be comfortable—and have top surfaces that absorb water and sweat. They may take a while to dry and be more difficult to clean, but the absorbency helps you maintain your grip when your hands and feet are sweaty.
Nonabsorbent Cushion Mats
Similar to the absorbent cushion models, these mats also offer firm cushioning. The key difference is that these have nonabsorbent top surfaces that dry quickly and are easier to clean. The ones we tested also had strong gripping abilities when dry, and didn't become noticeably more slippery when we tested out their grip using a damp hand. Still, they might become slippery to your hands and feet if they were to get significantly wet, possibly in a setting like a hot yoga class.
Cork-Topped Firm Cushion Mats
These mats also offer a similar amount of firm cushioning to the absorbent cushion mats and the nonabsorbent cushion mats, but the top surface is made of a thin layer of cork. The cork surface is easy to clean, but when dry, it can be a bit slippery.
In our wet-grip test, however, the mats with cork tops grip more strongly on moist hands. These may be best for people who tend to sweat a lot, or practice in environments like a hot yoga class or outside on a humid day. (To make sure you start your session with good grip, you can also dampen your hands and feet or give the top surface of these mats a quick spritz of water.)
These mats offer the most cushioning. They have nonabsorbent top surfaces that dry quickly and are easy to clean. Because of their softness, they are very flexible and stretchy, but they may provide a less stable platform for standing poses. They may be good for people who prefer more ground-based exercises, such as mat Pilates. They also tend to not grip smooth surfaces well.
This last type of mat provides plenty of cushioning, and it is technically not a yoga mat—it's a gym mat. It's a good option for anyone needing extra protection, and it can be useful for a variety of exercises. ProSourceFit, which makes the only mat we rated in this category, says the mat could be used for martial arts, kids' gymnastics practice, and core and strength training.
CR members can read below to find a breakdown of the features and specs of each mat we tested, plus CR's take on each of the products. The models we tested range in price from $20 to $140.
Become a member to read the full article and get access to digital ratings.
We investigate, research, and test so you can choose with confidence.