When you shop through retailer links on our site, we may earn affiliate commissions. 100% of the fees we collect are used to support our nonprofit mission.
Learn more.
More on the Chevrolet Bolt
Bolt Sets CR's Electric-Vehicle Range Record
This affordable electric hatchback runs for 250 miles, beating all other models we've tested.
It used to be that admirers of electric cars who wanted a 200-miles-plus range had to get in line for a Tesla and spend upward of $70,000. The new Chevrolet Bolt changes all that.
At the heart of the Bolt is a large 60-kWh battery pack sitting under its floor, helping it to achieve a 250-mile cruising range in our tests. With pricing starting around $37,000 (before tax incentives), it costs far less than any Tesla on sale today.
The Bolt is fun to drive, to boot. With 200 (electrified) horsepower, this hatchback accelerates from 0-60 mph in just 6.8 seconds.
The Bolt's heavy, low-mounted battery allows the car to turn easily and with confidence. But be warned: The ride can get choppy on uneven pavement.
It takes a long time to charge that big battery. In our tests, it took 10 hours on a 240-volt connector to charge from empty. (There's an optional DC fast-charging capability that promises up to 90 miles of range with 30 minutes of charging.) Most drivers won't need that for daily use because of the Bolt's long range and easy nightly charging at home.
We're not fans of the front seats—the lack of support reminded us of a vinyl lawn chair. The gear selector moves in an unusual 7-shaped pattern, which makes it tricky to put the Bolt in Reverse.
Those minor complaints aside, if you ever thought about going electric, you'd be nuts not to consider the Bolt.
Read the complete Chevrolet Bolt road test.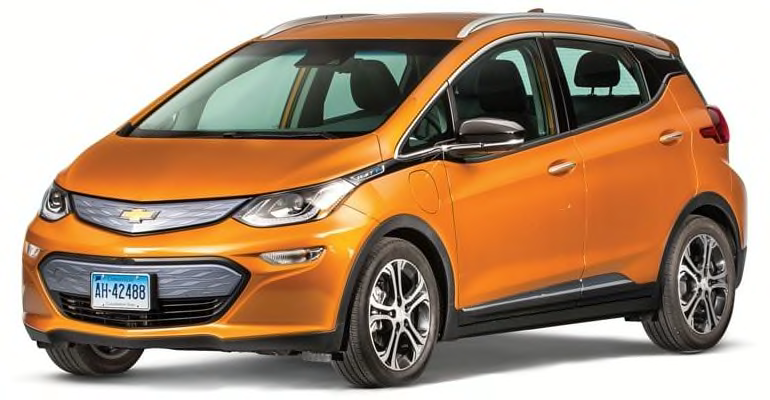 HIGHS: Long range for an EV, acceleration, agility, quietness
LOWS: Charging times, brake-pedal feel, ride, seat comfort, gear selector
POWERTRAIN: 200-hp electric; 1-speed direct drive; front-wheel drive
FUEL: 250 miles/10 hrs. to charge on 240 volts
PRICE AS TESTED: $43,155
More Recent Reviews
Editor's Note: This article also appeared in the September 2017 issue of Consumer Reports magazine.