The Chevrolet Bolt electric vehicle has set the mark for all-electric-vehicle range in Consumer Reports' testing, reaching 250 miles on a single charge.
The Bolt is estimated to reach 238 miles by the Environmental Protection Agency. In our testing, electric vehicles tend to fall short of their EPA-estimated range, including the:
2016 Tesla Model S 75D, 235 miles achieved vs. 259-mile EPA estimate.
2016 Tesla Model X 90D, 230 miles achieved vs. 257-mile EPA estimate.
In our electric-vehicle range test, we put the Bolt head to head against our 2016 Tesla Model S 75D. The Tesla ran out of juice at 235 miles, while the Bolt motored on for another 15 miles. (Learn how Consumer Reports tests cars.)
The Latest in Automotive Technology
The Positive Impact of Advanced Safety Systems for Cars
The latest car-safety technologies have the potential to significantly reduce crashes.
Tesla has upgraded the Model X 90D to a longer-range 100D. A new Tesla Model S or X 100D would probably beat the Bolt's range, but you'd have to pay $100,000 or more for one of those cars. CR has not yet tested the range on those versions.
CR's electric-vehicle range test involves some mixed driving, but much of it is done by driving a constant 65 mph on a highway. If you were to meander on country roads at 45 mph, you might get even more range. To ensure repeatability, the CR tests are done with the air conditioning and heater off. Hard acceleration and running the HVAC system can cut the range significantly, as can driving in very cold temperatures.
Of course, no car is chosen for its range alone. The Bolt EV did so well in CR's testing that this recommended vehicle now ranks No. 2 among all-electric vehicles, trailing only the far more expensive Tesla Model S. The Bolt gets good marks for range (of course), agility, and its quiet cabin. It gets dinged for its overly squishy brake-pedal feel, long charging time, choppy ride, and uncomfortable seats.
And when it comes to price, you could just about buy two Bolt EVs (starting at $37,495, including $875 for the destination fee) for the price of that Tesla Model S 75D (which starts at $75,700, including destination and documentation fees). Both are eligible for the $7,500 federal tax credit. Our Bolt Premier cost $43,155 and our Tesla cost $85,670, which includes the cost to upgrade from the 60D to the 75D.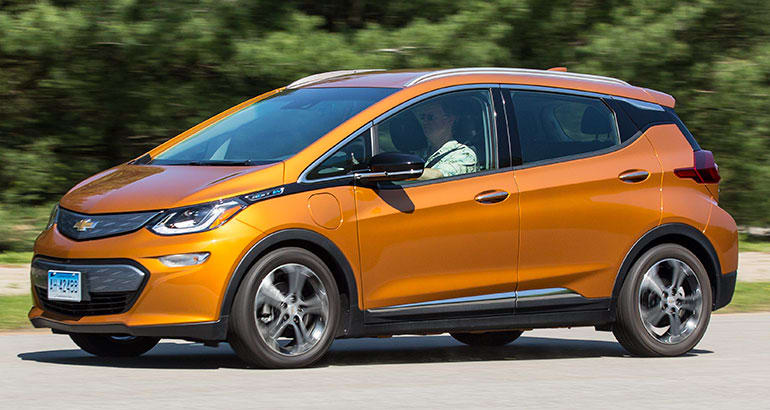 Consumer Reports is an independent, non-profit organization dedicated to helping consumers. We make it easy to buy the right product from a variety of retailers. Clicking a retailer link will take you to that retailer's website to shop. When you shop through retailer links on our site, we may earn an affiliate commission – 100% of the fees we collect are used to support our mission.
Learn more.
Our service is unbiased: retailers can't influence placement. All prices are subject to change.