When you shop through retailer links on our site, we may earn affiliate commissions. 100% of the fees we collect are used to support our nonprofit mission.
Learn more.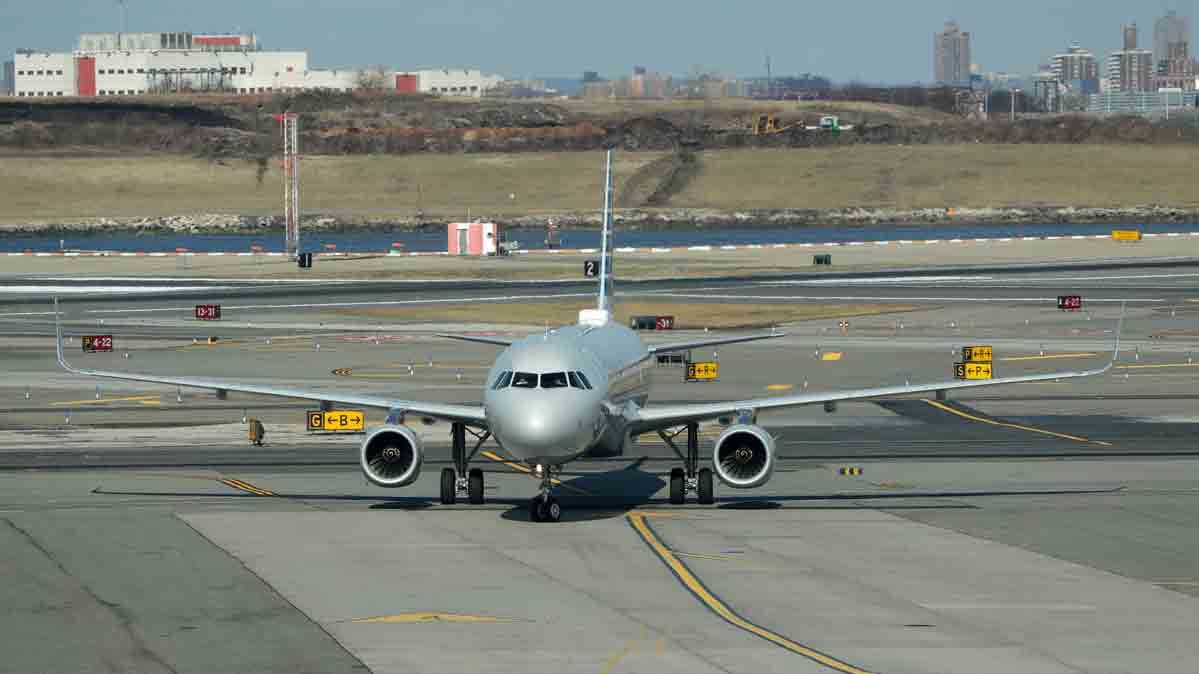 Aviation experts and federal inspectors warn that five weeks of severe staffing shortages from the longest U.S. government shutdown in history might already have compromised passenger safety, even if all workers return to jobs on Monday, according to a Consumer Reports investigation.
On Friday, congressional leaders and President Donald Trump announced a deal to temporarily reopen the government for three weeks while they continue negotiations over border-wall funding.
Earlier in the day, flights were temporarily delayed at LaGuardia Airport in New York City, Philadelphia International Airport, and Newark Liberty International Airport in New Jersey, because of air traffic control staffing shortages, according to the Federal Aviation Administration.
Despite the planned return to work, FAA inspectors and other airline industry workers told CR they're worried about a backlog of inspection work and its impact on safety. They stress that flying currently remains safe.
Those interviewed cited deferred maintenance on aircraft and the shutdown of an anonymous tips system that FAA inspectors rely on to uncover hidden safety concerns.
Perhaps most telling is a dramatic decrease since the shutdown of FAA Airworthiness Directives, which the agency describes as "legally enforceable regulations" to correct unsafe conditions in aircraft, engines, and propellers. These are the orders that can ground planes and force repairs.
Since Jan. 1, the FAA has published just two directives, compared with 19 during the same stretch last year.
That decrease worries Rich Wyeroski, a former FAA operations inspector and whistleblower interviewed by CR for this report. "That could be very dangerous," he says.
These directives, in normal times, are generated from the daily work of FAA inspectors in partnership with airlines and their maintenance supervisors. But for much of the shutdown, the flying public has had to rely mostly on airlines policing themselves, flagging problems, and making appropriate safety decisions.
Inspection Catch-Ups
By Friday, the 35th day of the shutdown, about 1,700 FAA inspectors had been called back to work, less than half of the total of 3,500.
The backlog of inspection work that must now be completed, and the prioritizing of immediate problems over the daily and weekly cadence of inspections, worries experts and FAA and airline employees interviewed by CR.
"The further we get away from our standards the more we're holding the system at risk," says Michael Gonzales, regional vice president at Professional Aviation Safety Specialists, which represents FAA inspectors.
During this inspection catch-up time, aircraft or personnel problems could go unnoticed and/or unaddressed. A return to full staffing next week could mitigate this inspection backlog, but there's no guarantee that workers will stay on past Feb. 15 if legislative leaders and the president can't come to an agreement.
Front-line inspectors, speaking anonymously, also told CR that while they've needed to focus on investigating known problems over the past month, they've been unable to engage in two other primary tasks: checking up on mechanics, pilots, and dispatchers; and certifying airplanes, repair facilities, airline operations, and aviation personnel.
John Goglia, the only FAA-licensed aircraft mechanic to have served as a National Transportation Safety Board member, said, "Inspectors haven't been able to touch anything but safety issues, with no routine office work."
In addition to industry experts and former FAA employees quoted in this report, CR also spoke to five FAA inspectors and three airline employees currently in jobs critical to flight safety and with the expertise and knowledge to assess the potential risks from the shutdown. These workers did not want their identities revealed because they're not authorized to speak publicly about these problems and they fear being reprimanded or fired.
On any given day, FAA inspectors double-check that maintenance "work orders" have been completed, meaning that needed repairs to aircraft were actually done. They also run down anonymous tips left on the automated system, and they respond to reports of personnel issues, such as errors by pilots, mechanics, or dispatchers, though such problems are rare.
FAA inspectors also answer questions of deferred maintenance in real time. These are concerns that might fall into operational gray areas, such as knowing whether a warning light pointing to a potential problem with landing gear requires a plane to be grounded, or if it could be allowed to fly more routes before the repair is completed. Airplanes have multiple backup systems on board, called "redundancies," for safety's sake, and sometimes questions of deferred maintenance are judgment calls, experts tell CR.
In normal times, an airline maintenance supervisor might double-check with an FAA inspector to see whether the plane should fly or to see if there are reports of similar problems at other airlines that might point to larger problems that should be addressed.
Sen. Edward Markey, D-Mass., who last week wrote the FAA asking what steps are being taken to maintain aviation safety, told CR that the situation has been "unacceptable," adding: "As the agency entrusted to 'provide the safest, most efficient aerospace system in the world,' it is imperative that the FAA use all of the tools and resources at its disposal to maintain the integrity and safety of our national airspace, even if this partial government shutdown is ending."
The FAA has publicly assured Americans that there is no reason for concern, and a spokesman said, "Overall, the traveling public can be assured our nation's airspace system is safe."
Air Safety Needs Paper Trails
Agency staffing and morale have been a problem at many of the nation's large airports. These staffs include the FAA's vast air traffic control network of 14,000 controllers, who oversee 43,000 flights daily, and the Transportation Security Administration's 43,000 officers, who screen 2 million passengers daily. Screeners have been calling in sick in record numbers.
FAA inspectors are different because their work is not always confined to daily interaction with flights or the flying public, like with air traffic controllers and TSA screeners. Instead, their backlogged work—in the form of unread emails, and unreviewed work orders and other paperwork—could hold the evidence of a safety problem that should be addressed.
Effective federal oversight of the nation's fleet of planes relies on a constant review of paperwork that provides data and can point to potential safety problems, experts tell us.
"The backlog takes many forms, so it's not just inspections but data that isn't being entered," says Mary Schiavo, an aviation attorney and the former Department of Transportation inspector general who gained nationwide attention when she publicly criticized the FAA's oversight of airline safety in the 1990s.
"What I worry about is the important paperwork that must follow every aircraft and every airline and every pilot," she says. "If the right data aren't entered, some things will not be addressed. The FAA is greatly hindered in monitoring safety."
Watching the Pilots
Schiavo and others say the FAA has broad responsibilities for overseeing not only airlines and air traffic control but also charter carriers, general aviation (private aircraft), helicopters, drones, instructors, flight schools, aircraft repair stations, and tens of thousands of licensed aviation personnel. Front-line FAA inspectors overseeing the airlines are expressing concerns about catching up on work not done, even with the partial recall.
One furloughed inspector says, "After the [16-day] shutdown in 2013, it took a couple of weeks for things to get back to normal."
Gonzales now estimates the current shutdown has doubled that time frame, even with the deal struck Friday. He says such a backlog "just builds tenfold" as the weeks pass.
Among the many functions not addressed have been "check rides" by the FAA to certify and recertify pilots, which Schiavo says could eventually lead to crew scheduling shortages, even for the largest airlines.
She's echoed by Bob Mann, an industry analyst and head of R.W. Mann & Co., who explains how long-term effects have piled up. He says the lack of FAA approval is hampering Southwest's launch of service to Hawaii, Delta's introduction of the new Airbus A220, and Alaska Airlines' inaugural flights to Paine Field in Seattle. But Mann also says airlines are coping with delays in training and certification of pilots and mechanics, which could affect crew shortages: "This can already take weeks, [but] now it may take months to work through the backlog, just as pilot retirement starts to peak."
Schiavo says all previous violations brought by the FAA against airlines or other aviation companies that are pending in federal courts have been suspended.
"A month of work is not something they will be able to catch up with easily or ever," says Loretta Alkalay, an instructor at Vaughn College of Aeronautics in East Elmhurst, N.Y. "My understanding is that investigations are not universally being followed up on now. And few, if any, FAA attorneys are working on cases resulting from new or prior investigations. So if the attorneys aren't prosecuting the most serious cases, there's not much point in inspectors investigating. But in any event, surveillance of air carriers, repair stations, etc., is one way inspectors discover safety problems. So it is a tremendous safety concern if the inspectors are not doing surveillance."