When you shop through retailer links on our site, we may earn affiliate commissions. 100% of the fees we collect are used to support our nonprofit mission.
Learn more.
Choosing tires has become more confusing over time for many consumers. Tires traditionally have been distinguished as either for cars or trucks, making it a tough choice for millions of car-based SUV owners.
The introduction of SUV-specific tires, however, promises to help. Because SUVs are now more popular than cars, it seems appropriate for them to have their own tires.
To see how these new tires measure up, Consumer Reports thoroughly tested a group and added them to our comprehensive ratings.
It's true that all-season car and truck tires often fit crossovers, including the Subaru Forester, Toyota RAV4, and Honda Pilot. But the new all-season SUV tires are designed specifically for the performance, weight, light-duty towing, and mild off-roading capability of those vehicles.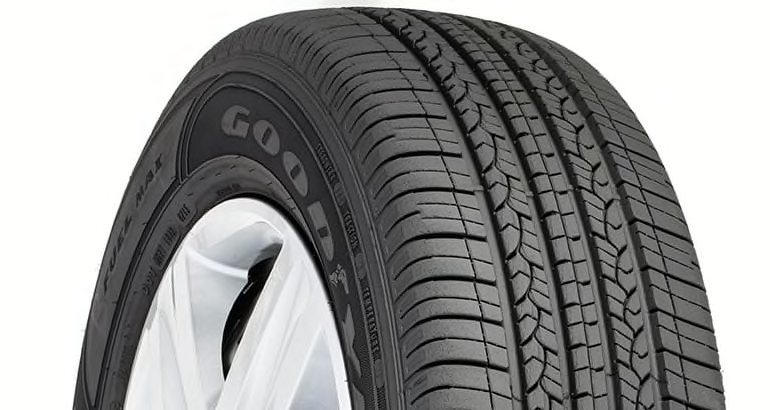 Highlights from the SUV Tire Tests
Here we share notable takeaways from our testing (the tires are listed in alphabetical order). Click through to the model pages for complete ratings, including scores for dry and wet braking, handling, hydroplaning, snow traction, noise, rolling resistance, predicted tread life, and projected cost per mile.
Bridgestone Dueler H/L 422 Ecopia has outstanding low-rolling resistance for fuel efficiency without sacrificing all-season performance, and it has a lengthy predicted tread life of 65,000 miles.
Goodyear Assurance CS Fuel Max has well-balanced all-weather performance and impressively low rolling resistance for good fuel efficiency. Tread life disappoints, with just 40,000 miles projected based our test. Add in the relatively high purchase price paid, and the Goodyear ends up with the highest cost per 100 miles.
Hankook Dynapro HP has impressively long tread life of 75,000 miles. But it has just a mid-pack ranking with fair wet grip and stopping ability on icy roads.
Kumho Crugen Premium offers well-rounded performance and long tread life at an economical price. The downside is it does not excel in any category.
Sumitomo HTR Enhance C/X is best for areas where icy conditions are rare. It is distinguished by strong hydroplaning resistance and solid tread life of 60,000 miles. When you consider its low purchase price, this tire offers impressive value.
Nitto NT 421Q is an average performer with balanced all-season traits, long tread life, and impressive hydroplaning resistance. However, relatively high rolling resistance may impact fuel economy.
Toyo Open Country Q/T performs well in most tests, with impressive hydroplaning resistance and long tread life of 65,000 miles. However, stopping distance on wet roads trails some competitors.
Toyo Celsius CUV offers sound winter traction, but it's at the expense of wet grip and rolling resistance. Excellent hydroplaning resistance and a 60,000-mile life, projected from CR's tread life test, are positives.
Yokohama Geolandar G055 has impressively long tread life, estimated to be 75,000 miles. Average braking distances on dry roads and fair stops on wet and icy roads position this tire near the bottom of our rankings.
How We Test SUV Tires
The tests were performed using a popular small SUV, a 2016 Toyota RAV4. All tested tires were fitted in the original equipment size of 225/65 R17.
The scoring system on the tire model pages places emphasis on safety-related performance tests including braking, handling, and resistance to hydroplaning.

Braking tests were performed from 60 mph on dry and wet pavement with antilock braking, and 10 mph on ice without antilock braking.

Snow traction was appraised by recording the distance to accelerate from 5 to 20 mph on moderately packed snow. Tires that grip well require less distance to accelerate to 20 mph.

Emergency handling simulates a maneuver to avoid an unexpected object entering from the roadside. Traffic cones outline the course, requiring a quick turn to the left, right, and left again. The emergency handling rating combines the maximum entry speed and the driver's subjective rating for ease of negotiating the course.

Wet handling is completed on CR's autocross circuit and assessed by multiple drivers.
A combined handling rating encompasses emergency and wet handling, and subjective steering feel.
A tire's tendency to hydroplane, or skim over standing water, increases with speed, leading to a loss of steering control and traction. The SUV was driven repeatedly through a wide curve over a pool of water about 10 mm deep, increasing speed each time until the SUV started to veer off course.

Rolling resistance force was measured directly using an industry approved test standard on an indoor dynamometer.

Ride comfort, noise, and steering feel were evaluated subjectively. Treadwear testing was performed over the government's treadwear course to 20,000 miles. CR rates tread life on the projected mileage to wear-out obtained in this test.
Hydroplaning
Hyrdroplaning is one of the scariest experiences a driver will face. Consumer Reports expert, Ryan Pszczolkowski, reveals to 'Consumer 101' TV show, Jack Rico, how to regain control of a car when its wheels have lost traction with the wet road.