Multi-cookers are souped-up slow cookers, and perfect if you're planning your Super Bowl strategy. Early in the day you can brown ingredients in the cooker and then switch to slow cook, with no extra pots and pans to clean up. The keep-warm setting lets you kick back and watch the game.
Beyond slow cook, browning, steaming, baking, and keeping food warm, some multi-cookers can cook rice. All five multi-cookers recently tested by Consumer Reports were good at what they claim to do, except roasting, which two claimed to be capable of. The differences between the multi-cookers are mostly tied to how quickly the cooker heats the food. The more powerful ones did a better job at searing, browning, and cooking at high heat.
Here's a look at the multi-cookers we tested, appearing in descending order of overall performance. We've broken them into two categories: models that cook rice, and models that don't. Depending on the multi-cooker, we cooked stir-fried Kung Pao chicken; slow-cooked beef stew; roasted chicken breasts; steamed broccoli, and made brown rice, white rice, risotto, quinoa, and yogurt. To test speed of heating, we measured how long it took each multi-cooker to bring a quart of water to a near boil.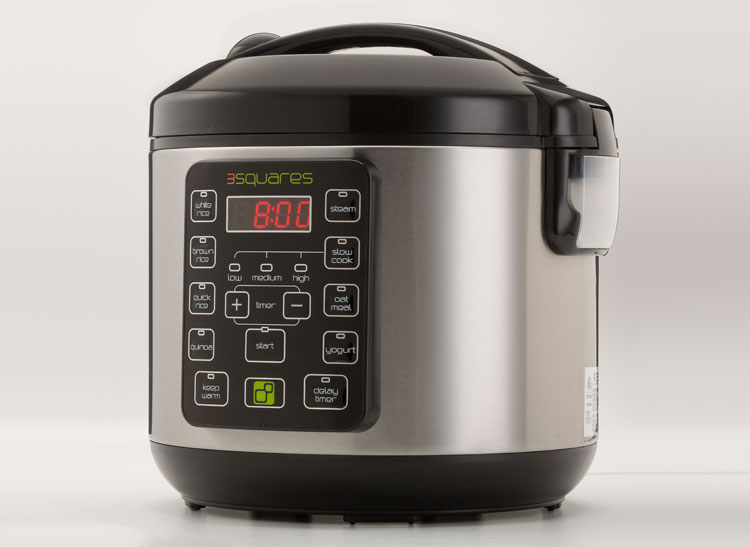 Multi-Cookers That Make Rice
Both cookers have removable metal pots with nonstick cooking surfaces. The lids are hinged and stay with the cooker. Removable steaming baskets can be positioned above the rice while it cooks.
T-Fal 10-in-1 Rice & Multi Cooker RK705851, $100
This cooker has a pot with a 2.5-quart capacity. There are 10 preset programs, including slow cook, steam, risotto, oatmeal, browning, and baking. A programmable timer lets you set cooking functions up to 24 hours in advance. The T-Fal was more powerful and offers a browning function that the 3 Squares multi-cooker doesn't, so it was better at stir-frying and browning the beef for stew. The T-Fal made excellent rice and quinoa, and the yogurt was creamy and delicious, although you have to heat the milk on a stove then add it to the cooker. Warranty is one year.
3 Squares Tim3 Machin3 3RC 3010S, $60
Boasting a 4-quart capacity, this cooker has 10 functions, including a delay timer that can be set for up to 15 hours. The 3 Squares can slow cook, steam, and make oatmeal, yogurt, quinoa, white and brown rice. Our white rice and quinoa were excellent. There's a quick rice function that can be used when dinner's ready but you forgot to start the rice. The yogurt turned out thin, not creamy, as it never reached a high enough starting temperature. Warranty is one year.
Update: In October 2016, this multi-cooker was recalled by the Consumer Product Safety Commission because the wiring can cause an electrical short, posing a shock and fire hazard. The recall affects machines with fixed power cords. If you own one, stop using it and contact 3 Squares for a free replacement. For full details read the recall notice.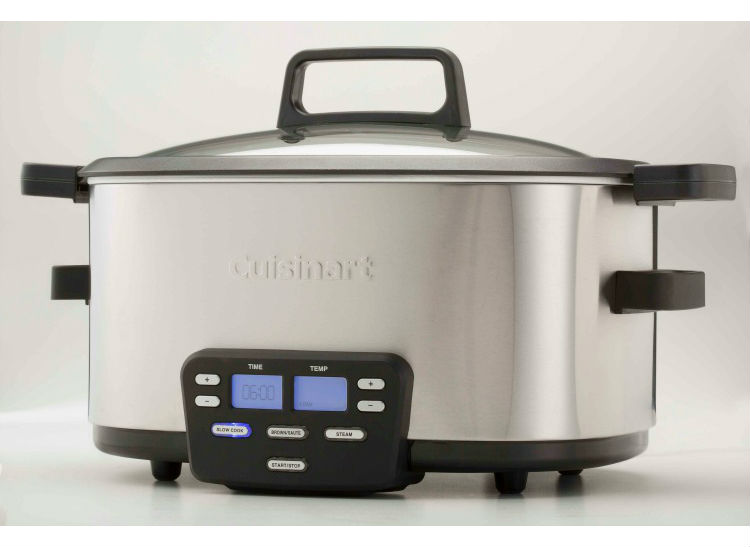 Multi-Cookers That Don't Do Rice
These cookers have removable metal pots with a nonstick coating, and glass lids that stay with the pots.

Cuisinart 3-in-1 Cook Central MSC-600, $159
This multi-cooker was the best in this group at stir frying and making beef stew. It was the most powerful of the three and better at searing, browning, and sautéing. The Cuisinart has a 6-quart capacity. You can slow cook on high or low, simmer or warm up to 24 hours, cook at high heat up to 400° F, and steam food for up to 90 minutes. Warranty is three years.
Black & Decker MC1100S, $130
The pot has a 6.5-quart capacity. You can sear and cook at high temperatures then lower for slow cooking. Temperatures range from 200° to 450° F. There's a roast and bake function too. Our tests found the Black & Decker was slower at heating and less powerful than the Cuisinart, so the food didn't turn out as well and took longer to cook. Roasting was disappointing. The chicken was not browned and tasted steamed, since the juices had boiled off. Warranty is two years.
Oster One Pot Multi CKSTSCMC6-SHP, $85
With a 6-quart capacity, functions include steam, bake, roast, brown, sauté, and slow cook. Similar to the Black & Decker, the Oster was slower at heating and less powerful than the Cuisinart so the food took longer to cook and didn't turn out as well. Roasting was unimpressive and the chicken wasn't browned and tasted steamed. Warranty is one year.
Stirring the Pot (for more money)
The KitchenAid KMC4241 multi-cooker has the optional Stir Tower KST4054, which is supposed to free you from stirring risotto, caramelized onions, and other stir-intensive dishes. We paid $400 for the pair. Here's what our past multi-cooker tests found.
Consumer Reports is an independent, non-profit organization dedicated to helping consumers. We make it easy to buy the right product from a variety of retailers. Clicking a retailer link will take you to that retailer's website to shop. When you shop through retailer links on our site, we may earn an affiliate commission – 100% of the fees we collect are used to support our mission.
Learn more.
Our service is unbiased: retailers can't influence placement. All prices are subject to change.