Laundry Detergent Buying Guide
Our tests of dozens of laundry detergents show that there are real differences from one formula to the next—and that some detergents barely clean better than running a cycle with water alone. 
When you're shopping the detergent aisle, though, there's no easy way to tell which formulas deliver. A vast range of products come with promises that they'll fight stains, keep colors vibrant, brighten whites, eliminate odors, or be gentle on your skin and the environment.
In terms of sales, three manufacturers clean up, tallying up almost three-quarters of the money consumers spend on getting their laundry clean, according to IRI, a market research firm. Procter & Gamble leads the pack, and its lineup includes Cheer, Gain, and Tide. Henkel follows and is best known for Persil, and Church & Dwight sells Arm & Hammer and Xtra detergents.
Liquid detergents remain the most widely sold type. Although pods, also called laundry packs, are convenient to use, they present very real dangers if you have children in the house. (See our cautions about detergent pods, below.) Also, even the best pods, also known as packs, can't match the cleaning power of CR's top-rated liquid detergents. Some pods are more expensive per load, too.
How about powders? Sales have dissolved, and you'll find very few brands on store shelves. Instead, a niche market of biodegradable laundry sheets (also known as detergent strips) are greening up laundry aisles as an eco-friendly choice. They're plastic-free, low-sudsing, and dissovable, and they help prevent detergent overuse. But our tests reveal that they're less effective at removing stains than traditional liquid detergent.
Detergent formulas today are highly concentrated. This helps to reduce the amount of plastic or cardboard needed to make the containers. But old habits die hard, so be sure you're following the directions and measure the detergent—no more free-form pouring.
By the way, if you're here because you suspect it's not your soap but your washer that's failing to get your clothes clean, check out our comprehensive washing machine ratings and buying guide for our recommendations of full-sized and compact machines. And if you're concerned about the impact your laundry chores may have on the environment, read our guide to the greenest washing machines.
How We Test Laundry Detergents
We tested over 60 detergents, liquids, pods, and sheets, some of which are claimed to be gentle on sensitive skin or friendly to the environment, as you'll see in our laundry detergent ratings. 
First, we launder fabric swatches that are saturated with blood, body oil, chocolate, coffee, dirt, grass, and salad dressing. We use stains that are exceedingly hard to remove so that we can detect real differences among detergents. Even the best detergents can't remove every stain completely.
Today's water- and energy-efficient washers are designed to operate using cooler water than traditional top-loaders of decades past. As wash cycles got cooler, the chemistry of detergents had to change in order for them to clean effectively. That's why we test using cool water. We wash swatches in two identical washers with each detergent, then allow the swatches to air-dry. (We don't use a dryer because the heat can alter the stains.)
Testers use a colorimeter, a device that measures color intensity, to see how much of the stain remains on each dry swatch, compared with stained swatches that have been laundered using only water.
The best detergents we've tested earn an Excellent rating for removing body oil and dirt—common stains—but they can also tackle tougher ones, such as grass and blood. Hard water, which has a high mineral content, can reduce the effectiveness of some detergents. We test for that, too, as you'll see in our ratings. 
The worst detergents? They're barely better than water when it comes to removing most stains. See our updated ratings of the worst detergents, and also of wasteful washing and drying habits that could be costing you money. 
Laundry Detergent Types
Here is what you will see in the detergent aisle.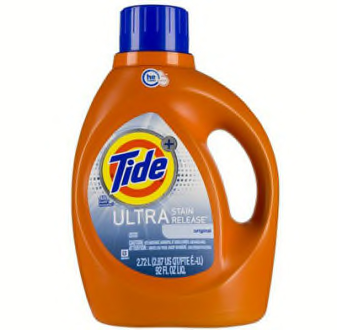 HE Laundry Detergent
"HE" refers to "high-efficiency," and these detergents have pretty much replaced regular formulas. HE detergents are sold as liquids, powders, and pods, and can be used in any type of washer.
Washer manufacturers recommend these low-sudsing detergents for front-loading washers and high-efficiency top-loaders (the type without an agitator) because they use significantly less water than washers did a decade or so ago. Even new agitator top-loaders use less water than they once did, and many now come with instructions to use HE detergent.
Need to know: Regular detergent produces too many suds in a water-efficient washer and can cause the machine to repeat rinse cycles—a waste of water and energy.
Laundry detergents Ratings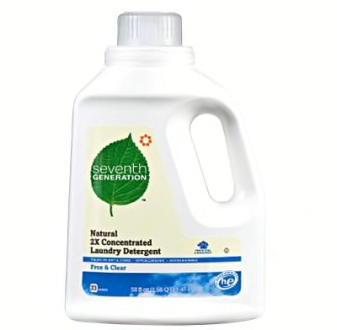 Environmentally Friendly Laundry Detergent
Sales of detergents that come with green claims represent a small part of the market, and CR's tests over the past decade have found that these detergents do not deliver the same cleaning power of the top-rated products. One possible factor is that they may lack the enzymes and other chemicals that give many regular detergents their stain-fighting power. This includes liquidless laundry detergent sheets—eco-friendly dissolvable strips of concentrated detergent that prove to be ineffective for stain removal in our tests.
Need to know: The names of these detergents may include "green," "eco," or "natural," but there's no federal standard and no required verification for these terms. A label that says "organic" is meaningful if the product also has the USDA Organic seal. That seal indicates that the product was made using methods set and approved by the Department of Agriculture, received third-party verification, and contains at least 95 percent organic ingredients. The remaining ingredients that aren't organic—up to 5 percent—should pose no risks to human health or the environment.
Note that in our current ratings, just a handful of the detergents come with green claims.
Laundry detergents Ratings
Workout Clothing Detergent
If you've noticed that your workout gear still smells funky even after going through the wash, the problem is that your detergent wasn't specifically formulated to rid the clothing of body oils that can build up in these highly synthetic fibers.
Read our guide on how to wash Lululemon and other synthetic workout clothes to get a comprehensive understanding of which wash mode to use and how to treat these relatively delicate and frequently expensive items.
Also, head to our ratings of all detergents and click the "Rated Best For" button, then check the box next to Body Oil, and click Apply. This will show you detergents that are safe for all your laundry but that will specifically attack sebum, the kind of body oil that clings to fitness wear and doesn't release as easily without properly formulated soap chemistry. 
The Trouble With Pods and Fabric Softeners
CR's recommended list doesn't include any of the detergent pods or packs in our ratings. Why? We don't recommend them at this time because of the risk they pose to young children and adults who are cognitively impaired.  
These highly concentrated single-load detergent packets are convenient to use, but between 2013 and August 2021, the American Association of Poison Control Centers received an estimated 103,607 calls related to liquid laundry packet detergent exposure in children younger than 6. So far in 2022, centers have received more than 2,800 calls. Exposure can occur in several ways: ingestion or inhalation, getting the detergent in the eyes, and absorbing it through the skin. CR doesn't recommend the use of these liquid detergent packets in homes where children younger than 6 may be present. 
The Consumer Product Safety Commission is aware of eight deaths related to ingesting liquid laundry detergent packets in the U.S. between 2012 and early 2017: Two were young children, and six were adults with dementia. As a result of this data from the CPSC highlighting the potential risks of laundry detergent packets to adults with dementia, we also recommend that family members caring for anyone who is cognitively impaired not keep these packets in the home. To learn more, read "Liquid Laundry Detergent Pods Pose Lethal Risk for Adults With Dementia."
And as part of a 2018 social media trend, teens put pods into their mouths, even biting into them. Of course, that's not safe. See "What Eating a Laundry Pod Can Do to You" for all the details. 
Further, since our own most recent reporting on the subject, the American Association of Poison Control Centers reported to the CPSC in 2020 that they saw no decline in the rate of reported cases, although there were fewer hospitalizations. The CPSC may update the guidelines around packaging of these pods, but to date, the agency hasn't changed regulations. You can reach your local poison control center by calling the Poison Help hotline at 800-222-1222.
Did You Know?
As early as 2012, Consumer Reports called on manufacturers to make pods and packets safer. Since then, many responded by switching from clear to opaque plastic containers, and now packaging on all major brands has child-resistant latches or closures. 
We're also part of the committee that set a voluntary standard for the industry, which includes adding a bitter-tasting substance to the outer film of the detergent packets and ensuring that the packets are tougher to burst when squeezed by young kids.
Softener is added to some detergents, with manufacturers claiming that these combination products clean and soften clothing in a single step. A caveat: We have long advised against the use of liquid fabric softener on children's sleepwear and on any clothes that have been treated with fire retardant. Softeners have been shown to reduce flame resistance.
Even the best detergent can't make up for bad laundry practices. Here are four rules to live by when you do the wash. 
Life can get messy, and stains are part of it. That's why manufacturers market stain removers that promise a brighter future—a few sprays before washing, and your favorite shirt comes out of the washer looking fresh again. 
CR tested six top-selling prewash stain removers—spray-ons from OxiClean, Shout, and Spray 'n Wash—and found that OxiClean Max Force is the best. Check out "Best Laundry Stain Removers From Consumer Reports' Tests" for all the details. 
Interpreting the Labels
Choosing a detergent should be easy, but labels can be confusing. Here's what you'll want to know.
Available in liquid, powder, and single-load packs. All detergent is sold in retail chains across the U.S. Henkel is the manufacturer.
Arm & Hammer detergent is available in liquid, powder, and single-load packs, and is sold at discount, food, and drugstore retailers nationally. Church & Dwight makes this brand of detergent.
Introduced to the American market in 1950, Cheer quickly became Procter & Gamble's second-leading brand of laundry detergent, after Tide. Since then, Cheer has been repositioned as P&G's lower-priced brand. It's available through mass retailers nationwide.
Another Procter & Gamble brand, Gain is best known for its fragrant laundry detergent and complementary clothing-care and cleaning products. Gain is available in liquid, powder, and single-load packs.
One of Europe's leading brands of laundry detergent, Persil was introduced to the American market in 2015. Manufactured by Henkel, which also makes the All and Purex brands of laundry detergent, Persil is available in liquid and single-load caps, and is sold in a wide range of stores.
Manufactured by Dial, a subsidiary of Henkel (which also makes All and Persil), Purex is available at many national stores.
Seventh Generation, a major brand in the green product category, has plant-derived cleaning agents and enzymes. Its lineup includes Free & Clear Liquid for Sensitive Skin.
Tide, manufactured by Procter & Gamble, is the leading brand of laundry detergent and is sold at many national retailers. Tide makes a wide variety of detergents.
Stain Secrets: How to Remove Ballpoint Ink
Thanks for sharing.
Oops, we messed up. Try again later
More From Consumer Reports