When you shop through retailer links on our site, we may earn affiliate commissions. 100% of the fees we collect are used to support our nonprofit mission.
Learn more.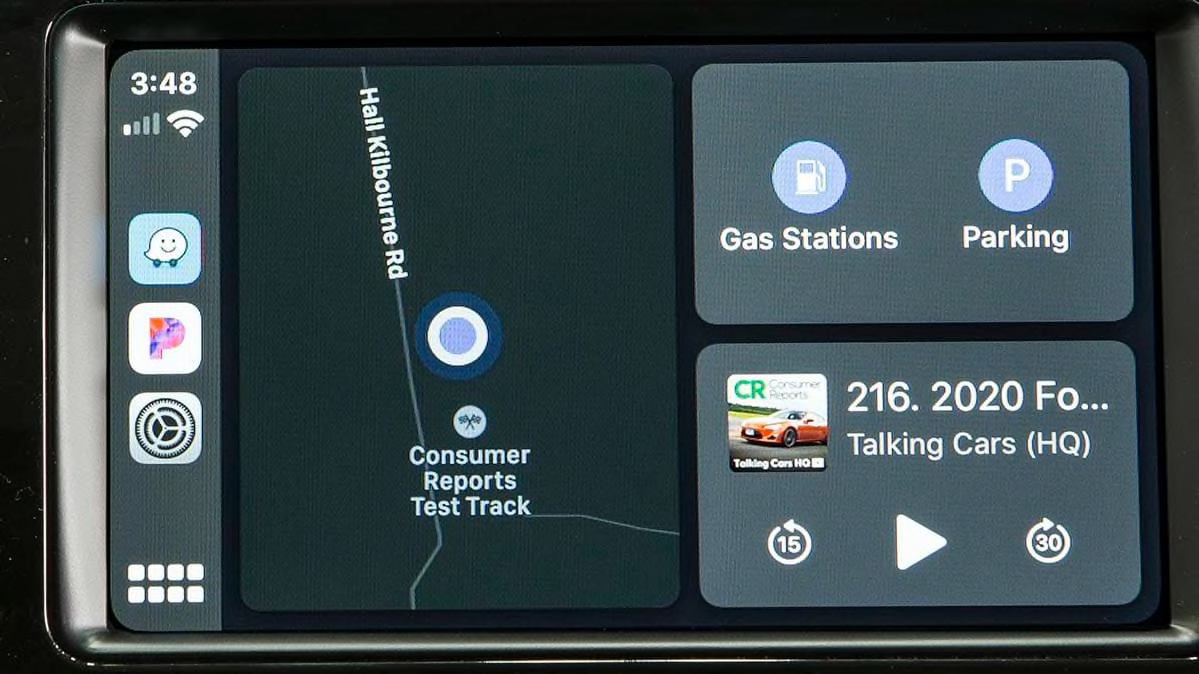 The screen on your dashboard might look a little different soon if you're using Android Auto or Apple CarPlay. That's because both smartphone-based infotainment systems are getting updated, and that'll change the way you interact with navigation, audio, and phone features.
Below, we explain what's changing and what those updates mean for you.

Both Apple CarPlay and Google's Android Auto systems put familiar smartphone interfaces on your car's dashboard screen. Instead of having to learn an entirely new built-in system, you can plug in your phone (or connect it wirelessly, in a few cases) and access the same navigation, streaming audio, and phone interfaces you can find on your smartphone. Both systems use large icons and slimmed-down functionality to minimize distractions while you're driving.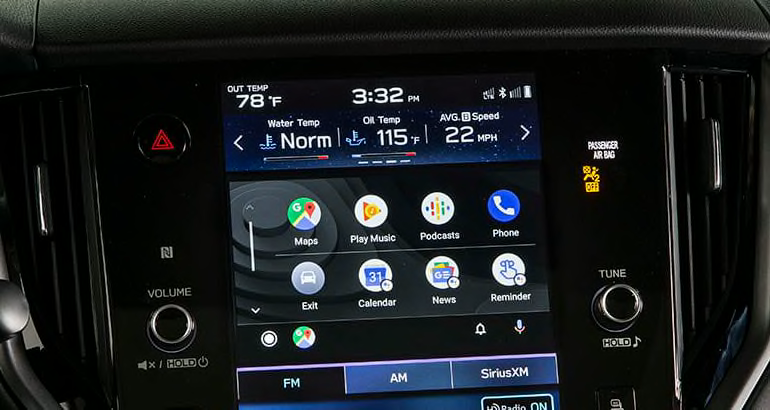 CarPlay is available on almost all new cars, and Android Auto is currently unavailable on many vehicles—most notably anything made by BMW and Toyota. The new version of Android Auto is already out; the CarPlay update will come with iOS 13, a new operating system that Apple will release for iPhone 6S and later phones on Sept. 19.
What Has Changed?
In a nutshell, the latest version of Android Auto is more like the outgoing version of CarPlay, while the updated CarPlay took a few notes from the outgoing version of Android Auto.
Overall, we're pleased with the changes to both systems, although it appears that Android Auto has become simpler while CarPlay has grown more complex. Here are the specifics.
Android Auto
To enable the newest Android Auto interface, you may have to turn on a feature called "Try the new Android Auto" on your phone's Android Auto Settings menu.
The first thing we noticed when we plugged an Android phone into one of our test vehicles is that the old home screen is gone. A colorful clock and app information used to be front and center, but that has been replaced with a grid of apps, very similar to what's on your phone's screen. If an app's icon has the Google Assistant logo underneath it, that means you can only use it with your voice. For example, if you tap on the Calendar app, it will read out your upcoming appointments, but it won't let you look at them.
Old vs. New: Home Screen
This is a welcome change. Launching an app from the old Android Auto interface often required double-tapping a menu button, which was distracting and hard to accomplish on bumpy roads.
"The new interface keeps the important apps front and center instead of buried in menus," says Kelly Funkhouser, head of connected and automated vehicle technology testing at Consumer Reports. "Hopefully this will result in drivers spending less time looking at the screen."
More on infotainment Systems
A new menu bar now sits permanently at the bottom of the screen and gives you limited controls for certain apps that can run in the background. For example, you can pause a podcast or skip a music track even if you have navigation showing on the main screen. One of few problems we saw in some cars was how much of the screen the menu bar takes up. On screens that aren't very tall, it leaves very little space for maps or other information to be displayed.
Google also said in a press release that the new Android Auto system would scale to the size of a vehicle's screen. In other words, it will show more data on wider screens. We did not experience this in the two cars we tested, a 2019 Kia Niro Electric and a 2020 Subaru Outback.
Old vs. New: App Selector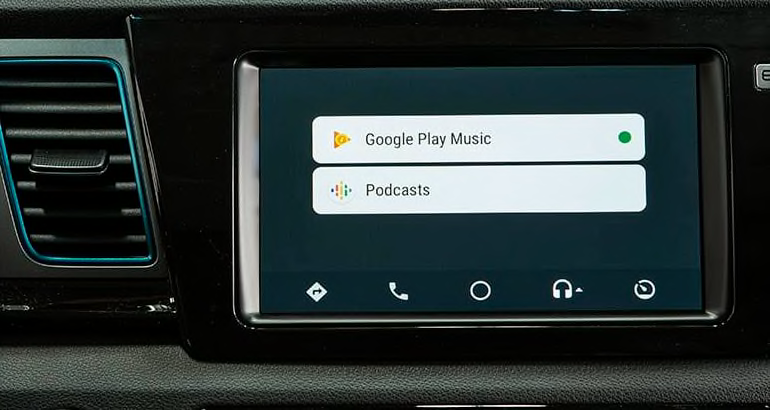 Old vs. New: Maps and Menu Bar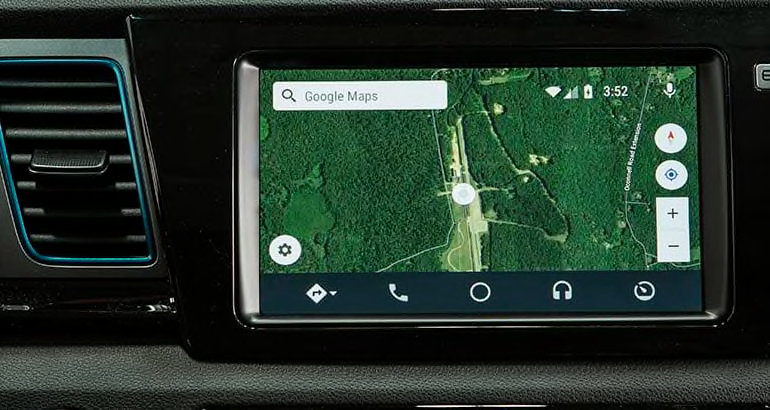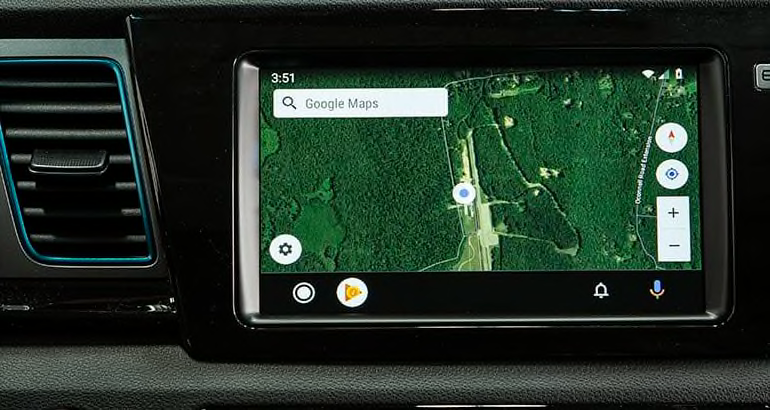 Apple CarPlay
The latest version of CarPlay is built into Apple's latest version of its mobile operating system, known as iOS 13. It will be preloaded on new phones and available for download later in September, but for early adopters who don't mind if software still has a few kinks that need to be worked out, a beta version is already out. That's how we tested it.
We noticed a big change as soon as we plugged our updated iPhone into a car's USB port. Instead of defaulting to a grid full of apps when it's launched, CarPlay now shows a home screen that Apple calls the Dashboard. It's divided into three windows: On the far left are icons for frequently used apps. In the middle is a big Apple Maps screen, and on the right are audio controls and other app displays based on the features you use most often.
Old vs. New: Home Screen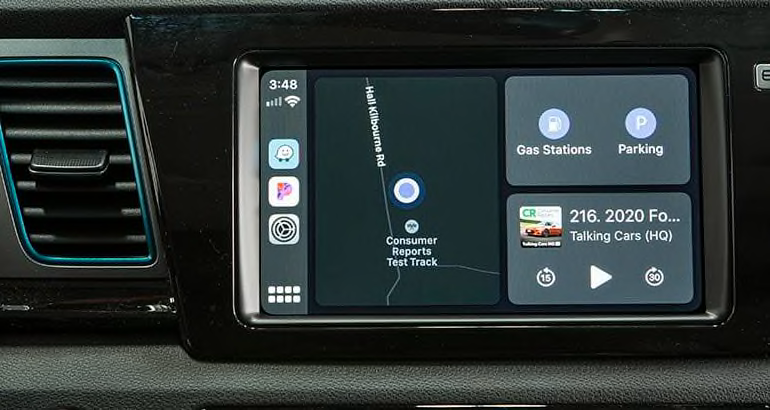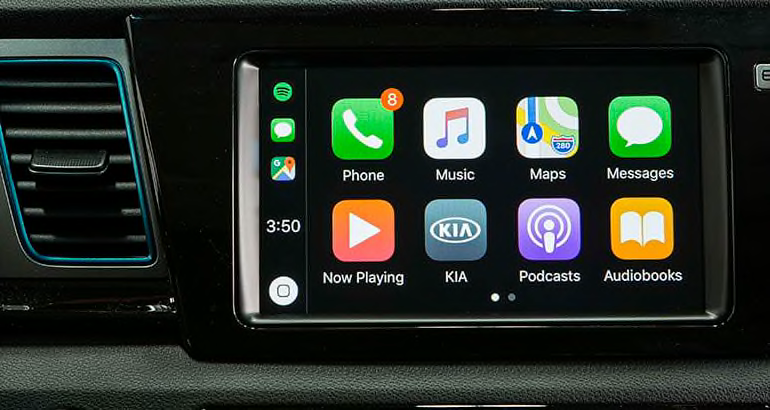 Apple said in a press release that CarPlay would scale to fit more information across wider screens. But there's a problem: On cars with narrow screens, the new Dashboard looks cramped, the fonts are too small to see at a glance, and icons are too tiny to easily aim for and touch while the car is in motion. That was true even for screens that are tall, like the screen on the 2020 Subaru Outback we tested. Additionally, the Dashboard will show navigation only from Apple Maps—not the very popular Waze navigation app or Google Maps. Those two apps are available in only full-screen mode.
"The split-screen allows drivers to see multiple apps simultaneously, but that also means everything is a lot smaller now, and it requires very precise touches on the screen," Funkhouser says. "The combination of more information to look at and longer time making sure your hand is steady when clicking might be a step backward."
Old vs. New: Maps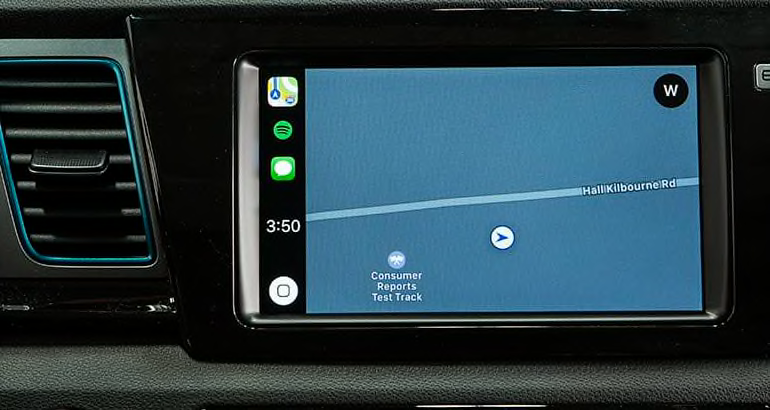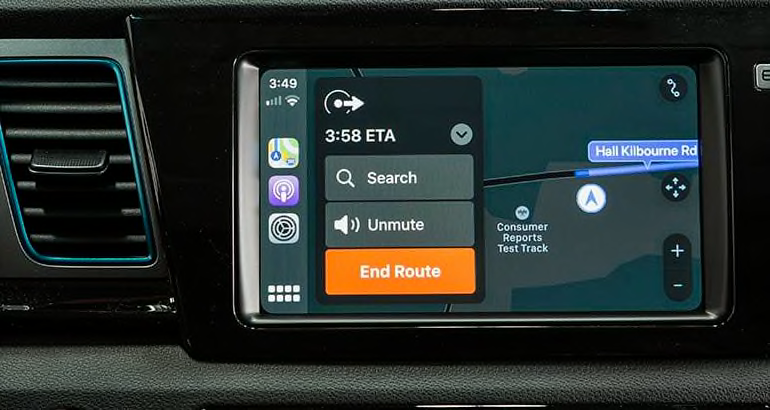 A new settings app gives drivers some ability to customize what they see. This move might seem to increase driver distraction, but CR's exclusive survey data show that drivers often pick up their phones when they can't access a feature from the car's dashboard. Offering more choices on a larger screen is less distracting than sending drivers to their phones, and it reflects the modern reality that drivers expect to be able to complete certain functions from behind the wheel.
"Drivers like the familiarity of using media and navigation apps from their phone instead of fumbling with the sometimes complex and unintuitive built-in systems," Funkhouser says. "Using Android Auto or CarPlay is better than picking up your phone, so any way to make that easier and more appealing to drivers is always a good thing."
There are other CarPlay changes: There's a new Calendar app, the Siri voice assistant no longer covers the entire screen when it's activated, and users can choose to keep CarPlay in "dark mode" during the day.
Previously, the phone would lock and display a CarPlay logo on its screen when CarPlay was running. Unlocking the phone would cancel CarPlay on the dashboard. Now, the phone can be used even when it's projecting data onto the car's screen. This is good news for passengers who want to control the playlist from the phone that's connected to the car while the driver concentrates on the road.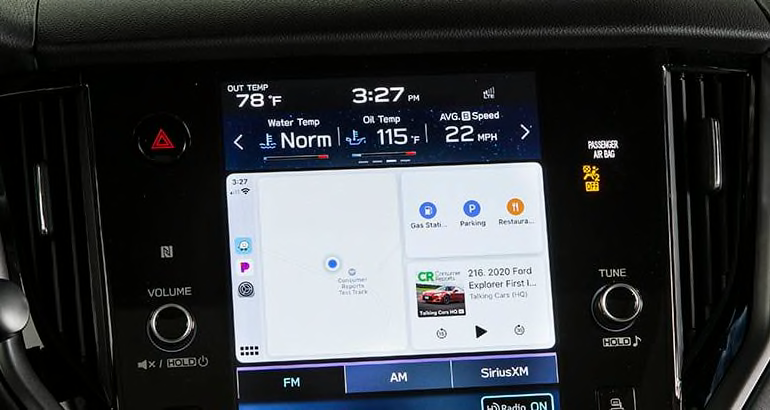 The Verdict
We think the latest versions of Android Auto and Apple CarPlay give drivers a better experience than they may find from their vehicle's built-in infotainment systems. However, Google's updates to Android Auto are better at diminishing driver distraction than Apple's updates to CarPlay.
We believe both systems do a pretty good job at keeping apps from being distracting by limiting their functionality. Ultimately, as more apps are modified for Android Auto and CarPlay use, drivers may be less likely to pick up their phones while driving.