When you shop through retailer links on our site, we may earn affiliate commissions. 100% of the fees we collect are used to support our nonprofit mission.
Learn more.
What they offer now: Most new vehicles allow you to wirelessly pair—or connect—your phone to your car's audio system by using a Bluetooth system. Not only does this let you talk without handling the phone, but many systems will also display contacts, favorites, and recent calls.
CR's take: The best systems allow you to make or accept phone calls without taking your eyes off the road or your hands off the wheel. The acid test for any Bluetooth system is that it consistently reconnects with your phone every time you get back in the car; failure to do so can be a source of major driver frustration.
MORE ON INFOTAINMENT SYSTEMS
Beyond that, the better systems let you dial by voice command and sync your phone contacts to the car, and some systems can even read text messages for you and let you reply using voice commands. These systems can vary quite a bit in terms of call quality. On the best ones, the person you're talking with won't even know you're in your car.
What happens when people get frustrated with their Bluetooth system? They simply pick up their phone, defeating the whole hands-free concept.
What owners say: Bluetooth was the only feature that, on average, more than half of the owners said they were very satisfied with. So what makes for a good Bluetooth system? Some Ford owners said they were impressed with how quickly Sync 3 paired, with one saying, "Connecting to devices is simple and fast." BMW also scored well, with an owner praising the iDrive Touch for its "easy-to-use Bluetooth phone integration." Chrysler and Dodge owners also said the Uconnect system (with an 8.4-inch screen) made for easy hands-free connections.
Some people were bugged by a cumbersome pairing process and dropped calls. An Acura owner complained that the Bluetooth in the AcuraLink system was "very clumsy and takes a lot of time and patience to make work." Another complained that Bluetooth "drops calls on an intermittent basis," and constantly disconnected phones. And some Subaru owners had complaints with the Starlink system, including connection inconsistency and poor sound quality. One owner summed up the feeling of many by saying, "Almost everyone complains they can't understand me while on [my] hands-free phone."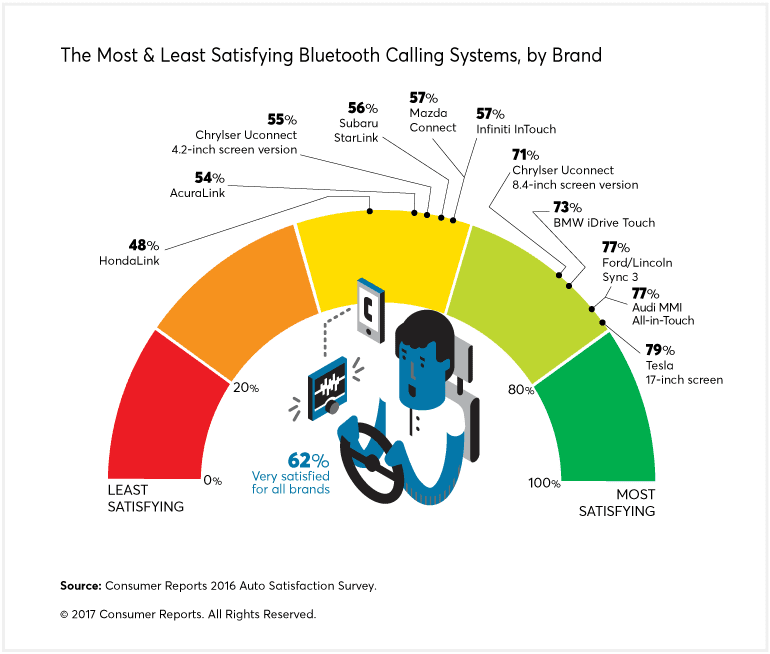 Illustration: Michael Brandon Meyers
Editor's Note: This article also appeared in the October 2017 issue of Consumer Reports magazine.