When you shop through retailer links on our site, we may earn affiliate commissions. 100% of the fees we collect are used to support our nonprofit mission.
Learn more.
What they offer now: With GPS built into smartphones and many cars, it's almost impossible to get truly lost anymore. Built-in navigation systems can give options and let you choose which route you'd like (for example, the quickest route or one that skips toll roads), and many provide real-time traffic information. Although each manufacturer's system is different, screens typically run from 5 inches to more than 10 inches wide, and Tesla has a giant 17-inch touch screen. The systems are controlled by touch screens, knobs, touchpads, voice commands, or a combination of these technologies. Of course, think twice before buying an in-car system, because your smartphone probably has a system that's just as good and won't cost you hundreds or thousands of dollars more. But for your phone to be a good alternative, it must integrate well into your infotainment system.
MORE ON INFOTAINMENT SYSTEMS
CR's take: A good navigation system should allow you to set your route by simply saying the name of your destination, just as you can with your smartphone. Some systems let you program your destination by using an app before you get into the car. Real-time traffic capability is a must-have; your phone has it, and your in-car navigation should, too. A big, clear screen is important, as is the ability to access your music while also staying current with turns on the route. And you should have access to up-to-date maps without being charged a high price to keep them current, as some manufacturers do.
Navigation systems often falter when it's difficult to input the destination, turn off the guidance instructions, or cancel the route. Of course, they're at their worst when they direct you to the wrong place altogether. A bad system might entice the driver to use his phone instead, which can lead to more distracted driving.
What owners say: Tesla owners were by far the most effusive about their car's navigation system, particularly praising the 17-inch screen and intuitive interface, saying such things as, "the easiest to use in-dash navigation of any manufacturer." Audi buyers were also impressed, with one owner applauding the "amazing futuristic technology" in the car, including the ability to get dramatic aerial views of areas from Google Earth and to put a large version of the navigation map directly in front of the driver, between the speedometer and tachometer.
Drivers get annoyed when they can't input destinations easily. This was especially troubling for Mazda owners, with one saying, "The user interface for the navigation system is ridiculously slow," and another saying, "The voice operation of the navigation is worthless." Honda owners weren't much happier, complaining that the HondaLink system was overly complicated, with one owner pointing to "menus, then submenus, and then submenus of the original submenus." Other Honda owners said it was awkward and time-consuming to set a destination, with one suggesting that "the ability for users to key in the complete address at a single prompt would be a huge improvement."
Lexus owners were unsparing in their distaste for the Remote Touchpad system, a small pad that's located just forward of the cup holders between the front two seats. "The navigation is hard to use when trying to slide your finger on the pad," one owner said. Another said the touchpad was so sensitive "that it's almost unusable."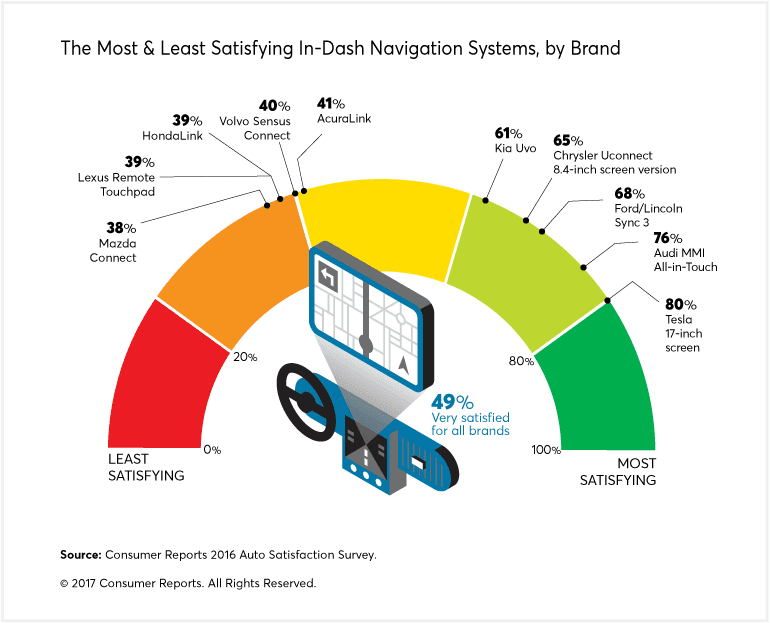 Illustration: Michael Brandon Meyers
Editor's Note: This article also appeared in the October 2017 issue of Consumer Reports magazine.