When you shop through retailer links on our site, we may earn affiliate commissions. 100% of the fees we collect are used to support our nonprofit mission.
Learn more.
What they offer now: Voice commands attempt to let you perform tasks while keeping your eyes on the road and your hands on the wheel. But this functionality tends to be hit or miss. When the systems don't understand what you're saying or take a long time to process, it can cause distraction leading to lots of frustration, as seen by the abysmal satisfaction scores in our survey.
"While voice commands allow drivers to keep their eyes on the road and hands on the wheel," says Jake Fisher, CR's director of auto testing, "if the system doesn't immediately understand your command, it can still be a frustrating, lengthy, and distracting process."
MORE ON INFOTAINMENT SYSTEMS
CR's take: The systems that do it right don't make you memorize special commands. Some systems work as well as today's smartphones, interpreting your natural conversational speech. Voice commands can be very useful for making phone calls and setting destinations in a navigation system, but manufacturers shouldn't intend them as a crutch to make up for poorly designed car functions.
What owners say: An average of only 28 percent of owners were very satisfied with voice-command systems. The top-rated Ford/Lincoln Sync 3 was lauded by certain subscribers for its ability to understand more common phrases. Others said that Sync 3 was very easy to use compared with the previous versions, and one owner said "the voice activation works very well." Tesla's system also rated comparatively high. One owner said, "Best feature: Voice control that's responsive and works."
Other voice-control systems had trouble understanding spoken commands, many survey respondents said. Several Acura owners lodged complaints (some filled with expletives), with one saying "the voice input system is incredibly frustrating and is more distracting than the keyboard." Other owners complained that the system was easily affected by the climate system's fan noise, and one owner simply gave up using the voice-command feature because "it does whatever it wants, no matter what you say." Mini owners vented, too, about voice-control tech, using such words as "horrible" and "poor."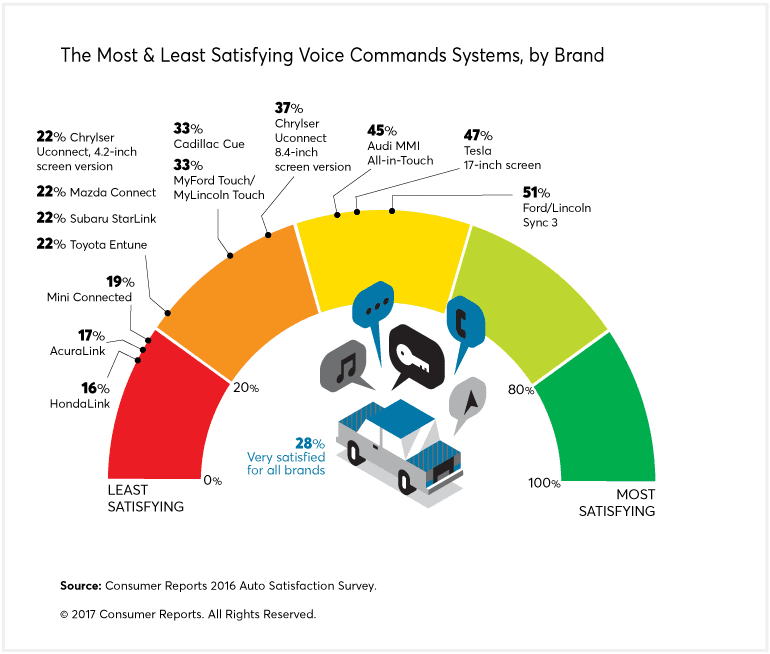 Illustration: Michael Brandon Meyers
Editor's Note: This article also appeared in the October 2017 issue of Consumer Reports magazine.