Best Mattress Cooling Pads From Consumer Reports' Tests
Find out if pads from BedJet, Chili, Mattress Cooler, and Perfect Sleep Pad can keep your bed at the ideal temperature for you If you think you've tried everything to get a good night's sleep, you might want to consider using a mattress cooling pad. They typically go under your fitted sheet and chill water before sending it through tubes in the pad to maintain the temperature you set. Some use a fan to blow air in your bed to cool you off, and some can also heat up your bed for those cold winter nights. Prices for the models we tested range from $155 to $1,500 for a dual-zone California king.
Why does it matter if you have a cool environment? Science says that many people sleep better that way. The National Sleep Foundation recommends keeping your room temperature around 65° F.
But the ideal temperature varies from person to person. "We know you get the most deep sleep in a cool bedroom—not cold, but cool," says Philip Richard Gehrman, PhD, an associate professor of clinical psychology at the Hospital of the University of Pennsylvania in Philadelphia. "The problem is what's cool to one person is not cool to another person."
Mattress Cooling Pads From CR's Tests
In all, we tested five popular pads. Read on to see which are the best at helping you keep your cool at night and have the features you want. For more on bedding, check our ratings and buying guides for mattresses, pillows, and sheets.
Chili Ooler
Price: $699 to $1,499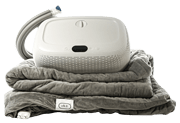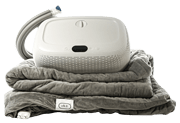 CR's take: If you want a top-performing mattress pad with all the latest tech, this is the model for you. The Ooler uses water tubes to cool or heat the water in a reservoir before sending it through tubes in its pad to maintain your desired temperature. It earned an Excellent rating in our cooling tests and a Very Good rating for heating.
The Ooler costs $200 more than its more basic brandmate, the ChiliPad (see below), but comes with some nice features. It has a soft top layer of fabric and a water-resistant bottom fabric. You get a smartphone app that connects to the unit via Bluetooth, so it's easy to set the temperature, and you can schedule it to precool and preheat the pad so that you don't have to remember to do it every night.
It also has a low-profile cooling tank and a UV light that sterilizes the circulating water, which, according to the company, means you don't have to clean it as often. Chili gives you a 90-day sleep trial and a two-year warranty for this pad.
ChiliPad
Price: $499 to $599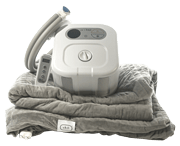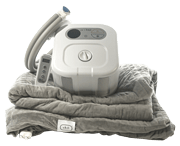 CR's take: Like the Ooler, the ChiliPad uses cooled or heated water to maintain a set temperature, and also earned an Excellent rating in our cooling tests and a Very Good rating for heating. Its settings range from 55° F to 113° F. Unlike the Ooler, you get a remote instead of a smartphone app to work the unit. You can precool and preheat the ChiliPad by pressing a button on the water tank or by using the remote that comes with it. Our testers found this model's padding to be thick enough that you won't notice any of its tubing (though the Ooler has a softer top fabric). Like the Ooler, you get a 90-day sleep trial and a two-year warranty.
Perfect Sleep Pad
Price: $649 to $1,499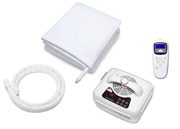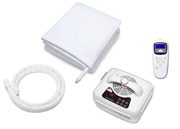 CR's take: The Perfect Sleep Pad and the ChiliPad performed similarly in our tests. It earned an Excellent rating in our cooling test, a Very Good score in our heating test, and a Good rating for precooling and preheating. All of this makes it almost as perfect as its name suggests, except that this model is slightly more noisy than the ChiliPad and uses a bit more power to cool and heat. You can purchase a vest, knee pad, foot pad, or lumbar belt that also has water tubes that can be cooled or heated. You get a 90-day trial period, a 90-day warranty on the pad, and a two-year warranty on the control unit.
BedJet 3 Climate Comfort System
Price: $499 to $999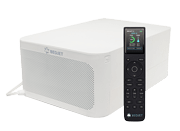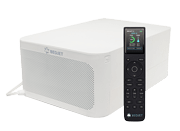 CR's take: Unlike the other coolers we tested that feature a pad you place under your fitted sheet, the popular BedJet is basically a tube you put at the end of your bed that blows air from a fan. BedJet offers a lightweight, double-layer sheet (sold separately) to help distribute the air, but you can also simply use the hose on its own.
Because it uses just a fan to cool, the BedJet's ability to lower your bed's temperature depends on your room's temperature, and in our tests, it earned only a Fair rating for cooling. However, its heat function worked well, earning an Excellent rating.
Though Deitrick found this model to be as comfortable as a blanket, he had a caveat: "It was annoying feeling the air hitting my chin while I was sleeping, so that might be an issue for other people, too." Also, the airflow can be blocked if, say, your dog decides to sleep on top of your covers.
This was also the noisiest bed cooler that we tested, especially at the higher fan speeds (like a normal fan in your ear); that might be more white noise than you bargained for. It has a remote but not a scheduling feature. You get a 60-day "No Sweat" return policy to try it out, during which you can return it for a full refund. It also comes with a two-year warranty.
Mattress Cooler
Price: $155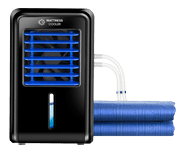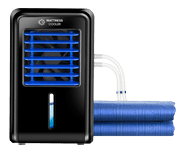 CR's take: The Mattress Cooler is the least expensive pad on this list, and in this case you get what you pay for. Deitrick said it wasn't very comfortable to lie on—there was no padding, just a plastic mat, so it's no surprise that it earned the lowest rating of the bunch for comfort, a Good. This model relies on a fan to cool water before it's fed through tubes in the mat, so, like the BedJet, how well it cools depends on the temperature and humidity in your room; it earned a Fair rating in our cooling tests. One concern to note, though, is that the fan is fitted over an open water tank, so water could spill. This pad does not have a heating function, and it is available only in one size (about half of a queen bed, 27x63 inches). You get a 90-day warranty.