CR Recommended Lets You Get Consumer Reports' Ratings While You Shop for a New Car
This new, innovative program brings CR's expert recommendations and guidance to all consumers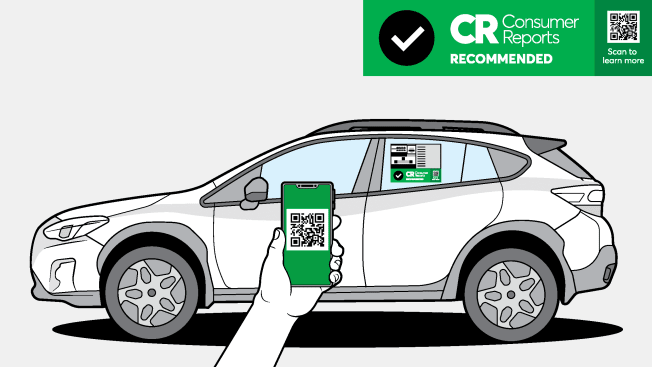 With so many product reviews and ratings online these days, it's increasingly difficult to know which are unbiased and truly independent. Indeed, Consumer Reports found in our nationally representative survey of 2,223 U.S. adults last spring that about 4 in 10 Americans who buy a product based on an online review later find that the performance and quality don't live up to the review. Enter CR Recommended (CRR), a new program that gives you easy access to our expert-based recommendations when and where you shop.
We've already launched CRR for many household products—refrigerators and mattresses, to name a few—and soon you'll see CRR for cars, SUVs, and trucks. When you see the CRR logo online, you can click to see the Overall Score for that particular vehicle and learn about our extensive testing that's behind the rating. At a dealership, you can use your smartphone to scan a special QR code (see below). You won't see CRR in any paid advertising.
The program is a way to increase the visibility of our recommendations, so more car shoppers can benefit from our unbiased vehicle ratings. But it's only after we give our recommendations that manufacturers have the option to display the CRR designation on their websites, on other dealer sites, and at dealerships, provided they agree to our strict usage guidelines.
CR charges manufacturers a fee to display the CR Recommended mark, which helps fund our program's operating costs, including administering and monitoring of the mark to assure proper usage. For products that have a significant health or safety impact, CR may waive this fee.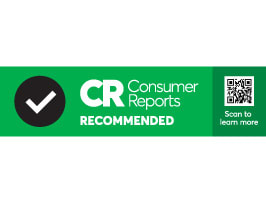 Where You'll See
CR Recommended
When shoppers come across the CRR logo at a store or dealership, they can point their smartphone camera at the QR code and see the product's Overall Score, highs and lows from our review, and a video about our independent testing program.
Editor's Note: This article also appeared in the April 2021 issue of Consumer Reports magazine. For more information, go to our 2021 Autos Spotlight page.