How to Buy a Car in Today's Challenging Market
Continued vehicle shortage makes finding the right model difficult, but not impossible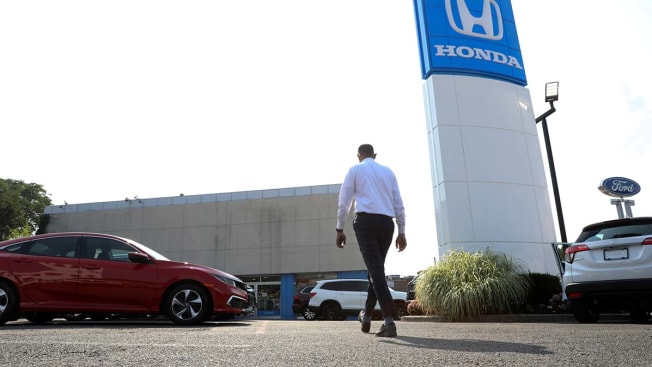 After eight years with no car, Mary Alice Hamnett decided a few months ago that she wanted one.
She found there wasn't a lot out there. She wanted a Toyota Corolla Hybrid, but there just weren't any available near where she lives in Washington, D.C. She considered the Toyota Prius instead but couldn't get the lease terms she wanted. She wasn't sure what to do.
"I was looking for answers, and the dealer didn't have any," Hamnett says. "I was about to walk out when the salesperson thought I might like the fully loaded gas-only Corolla hatchback."
That's what she ended up getting, along with lease terms she could live with and a color she liked. She even ended up falling in love with the car, which she says suits her needs perfectly.
How to Find the Car You Want
As Hamnett's experience shows, there's most likely a car out there somewhere if you're looking, even if it's not exactly what you want. And sometimes, it just comes down to having patience and being ready to buy as soon as you find something you like.
Fred Ashmore, who lives in Stillwater, Okla., says he needed a new pickup truck to replace the high-mileage one he was driving. He ended up buying a 2021 Ford F-150 FX4 at the end of May, but he says he was only able to get it because he was in the right place at the right time.
"Trucks are really popular here, and there was zero availability," he says. "I just happened to be the first one there with the money when the dealer got that truck."
Ashmore says the dealer paid him more than $27,000 for his old truck, a regular-cab 2017 Ford F-350 with almost 200,000 miles on the odometer, clear evidence of the upside of the current used-car market. By June, used car prices had jumped almost 30 percent over a month earlier, and 45 percent higher than the year before. That spike has helped consumers with a car to sell or trade to meet the higher prices they're expected to pay for most used and some new cars.
You might want to wait to buy a new car if you can; now is not the best time to get one. But sometimes, you just need something now, like Monica Berger, who recently moved from Hawaii to California for a job. Although she had wanted to buy a new Toyota Tacoma in Los Angeles, her search ended up taking her almost 100 miles north, to Santa Barbara, where she found what she was looking for.
Our advice for buyers in this unusual market: Act quickly and negotiate from an informed perspective. That can make the difference between getting a fair deal and leaving with no deal.
Prearrange financing. Figure out your budget and get financing based on what you can afford to pay monthly, and as a down payment. It's always a good idea to get financing set up through your bank or credit union before going to the dealership to look at cars because it gives you a baseline against which you can compare the terms of dealer financing, which may or may not be a good deal.
But it's especially important to prearrange financing now, when new cars are in such short supply. If a dealer has a car you like today, it's probably a good idea to purchase immediately before someone else grabs it.
See what's available. If you're shopping for a new car, dealers near you may not have exactly what you're looking for. Instead of going to the dealership to see what it has, look on its website or call first. You may need to search several dealers to find something that's close to what you're looking for.
Expand your geographic search. If dealers where you live don't have the car you want, try sellers outside your area. Be cautious about casting your net too wide, though. You want to be able to go see the car and test drive it before signing a sales or leasing contract—especially for used cars—and with the market being as hot as it is right now, the car you're looking at might not be there if you have to travel too far to get to it.
Do your research. Whether buying new or used, consult Consumer Reports' road tests and ratings, looking at reliability, owner satisfaction, and safety.
You want a short list of contenders to test-drive, and even more than before, you want a good understanding of the various trim versions and features because you might not find your dream configuration at the dealership. Print material from CR.org and the manufacturer websites so that you have it with you.
Buy something reliable. If you're forced to pay more than usual for a new car, your best bet is probably going to be to keep it for the long haul. Consult CR's reviews and ratings to make sure you buy something reliable that won't give you problems later on.
Compromise to a degree. Even if the dealer has the model you want, the car might not have some of the features you were looking for. Decide which options are really important and whether a vehicle not having all of them means you should consider a different car. As for price, large pickup trucks and SUVs have seen the biggest increases, while smaller cars, sedans, hatchbacks, and front-wheel drive SUVs have had smaller price hikes.
Don't borrow too much. If you're paying 18 percent over MSRP for a Kia Telluride today, for example, consider what it will be worth when you trade it in. In other words, if you're paying over MSRP today, consider how that might affect your future trade-in.
For example, if you buy an SUV that depreciates $15,000 off the sticker price in three years, but you paid $10,000 over MSRP this year for it, that means it cost you $25,000 to own it for that short period. Cars are depreciating assets; overpaying for a new car is likely to compound your long-term losses.
The same goes for a used car that costs almost as much at 2 years old as it did when it was new. You don't want to get a loan on a car that's going to lose a lot of value over the next couple of years, or you may end up underwater on the loan, where you owe more than the car is worth for an extended period.