Ford Mustang Mach-E Electric Vehicles Recalled for Power Loss While Driving
Owners of recalled vehicles will have to download an over-the-air software update to fix the problem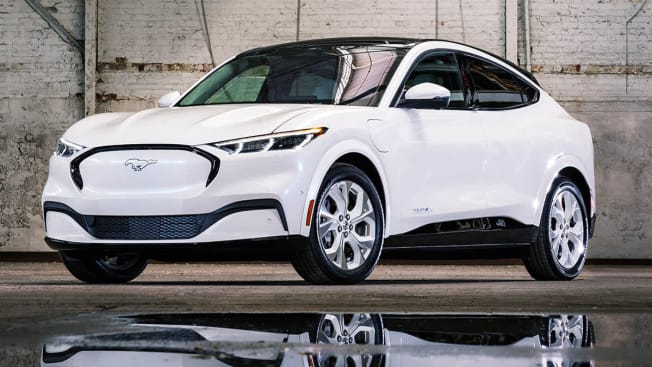 Ford is recalling 48,924 Mustang Mach-E electric vehicles because they may lose power while in motion or they may not start.
The problem has to do with the vehicle's battery contactor, which is a kind of switch that determines which vehicle components the battery sends power to. The battery contactor may overheat after the vehicle has been plugged into a DC fast charger and/or what Ford calls "wide-open pedal events" (i.e., putting the accelerator to the floor for quick acceleration). If the contactor overheats, it could remain open, and as a result the vehicle could lose power while driving and potentially cause a crash. If this happens, a powertrain malfunction warning light will illuminate on the dashboard, and the vehicle will display "Stop Safely Now' in the gauge cluster behind the steering wheel.
A Ford spokesperson, Dan Barbossa, told CR that the company expects to send out an over-the-air (OTA) software update for various vehicle components in July. Owners will also be able to get the software update at a Ford dealership.
According to the automaker, there are no open investigations with the National Highway Traffic Safety Administration (NHTSA), and there have been no crashes or injuries related to this recall.
OTA updates are becoming more common as new vehicles increasingly feature built-in wireless connections. In addition to Ford, Mercedes-Benz, Tesla, and GM have previously used over-the-air updates to address product recalls as well.
Vehicles recalled: 48,924 Ford Mustang Mach-E electric vehicles
The problem: After DC fast charging or heavy acceleration, the vehicle's battery contactor may overheat, which may lead to arcing and deformation of electrical contact surfaces. If this happens, the contactor could remain open or weld closed. If it remains open while driving, it could result in a loss of power, which could cause a crash.
The fix: Ford will send an OTA software update for the Secondary On-Board Diagnostic Control Module (SOBDMC) and Battery Energy Control Module (BECM) software. This update should be available by next month.
How to contact the manufacturer: Owners may call Ford customer service at 866-436-7332. Ford will also contact owners of affected vehicles by mail.
NHTSA campaign number: 22V412
Check to see whether your vehicle has an open recall: NHTSA's website will tell you whether your vehicle has a recall that needs to be addressed.
If you plug your car's 17-digit vehicle identification number (VIN) into NHTSA's website and a recall doesn't appear, it means your vehicle doesn't currently have one. Because automakers issue recalls often, and for many older vehicles, we recommend checking back regularly.
Stay informed about recalls that might affect your vehicle using our Car Recall Tracker.
Create a free account now to become a CR member.