Hyundai Sonata Sedans Are Recalled Again to Address Fuel Leaks and Engine Fires
A remedy for the first recall didn't properly prevent fuel leaks Another recall is being issued for 2013-2014 Hyundai Sonata sedans, this time for more than 215,000 cars to fix a low-pressure fuel hose that may cause a fire. This is the second time that this particular group of Sonatas has been recalled.
Not all of the vehicles in the initial recall (20V121) are part of this new one. In the first recall, vehicles that had a damaged fuel hose or had evidence of fuel leaks had the fuel line replaced with a new one. Vehicles without a leak had heat-resistant tape applied to prevent a future leak.
But according to documents from the National Highway Traffic Safety Administration (NHTSA), the tape used in the previous recall may not prevent a leak. Now, all vehicles repaired under 20V121 that didn't receive a new fuel hose need to have this new fix.
Vehicles recalled: 215,171 Hyundai Sonata sedans.
The problem: Heat-resistant tape that was installed during a prior recall may not prevent leaks from the fuel hose, which could result in a fuel leak and increase the risk of a fire.
The fix: Hyundai dealerships will replace the low-pressure fuel hose at no cost to the vehicle owner.
How to contact the manufacturer: Owners of affected vehicles may call Hyundai at 855-371-9460. Hyundai will notify them via mail starting July 5, 2022.
NHTSA campaign number: 22V312. These same cars were previously repaired under recall number 20V121. Hyundai's number for this recall is 227.
Check to see whether your vehicle has an open recall: NHTSA's website will tell you whether your vehicle has any open recalls that need to be addressed.
If you plug your car's 17-digit vehicle identification number (VIN) into NHTSA's website and a recall doesn't appear, your vehicle doesn't currently have one. Because automakers issue recalls often, and for many older vehicles, we recommend checking back regularly.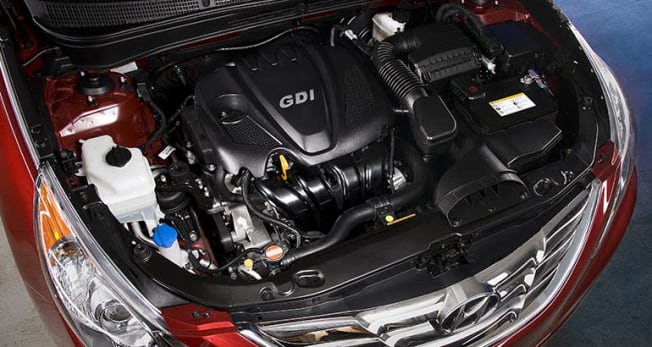 What to Do If Your Car Catches Fire
If any vehicle you're driving catches fire, here's what to do, according to experts CR has consulted with:
• First, pull over and shut off the engine. This stops the flow of fuel.
• Get yourself and your passengers out of the car as quickly as possible. Make sure to stay a significant distance away—100 to 150 feet or more—and never go back into the vehicle to retrieve personal property.
• Call 911 or have another motorist make the call to get emergency services on their way as soon as possible.
• Attempt to put out the fire only if you have clear access to the source, have a suitable fire extinguisher, know how to use it correctly, and can maintain a safe distance from the car. Only use an extinguisher approved for Class B or Class C fires. A label on the extinguisher will identify which kind of fire it's suitable for.
• Never open the hood or trunk if you suspect there's a fire there. The additional air flowing in could cause the fire to enlarge.
• Be aware of your surroundings. Never stand on an active roadway. If you're parked by the side of the road, stay far behind the vehicle to avoid being hit if another car strikes your vehicle.