When you shop through retailer links on our site, we may earn affiliate commissions. 100% of the fees we collect are used to support our nonprofit mission.
Learn more.
Automakers are making significant progress deploying advanced safety features, a shift illustrated by a doubling in the past year of the number of models with automatic emergency braking as standard equipment, according to a Consumer Reports analysis.

The accelerated adoption is driven in part by an agreement last year among the National Highway Traffic Safety Administration (NHTSA), the Insurance Institute for Highway Safety (IIHS) and 20 major automakers to equip nearly every passenger vehicle sold in the U.S. with standard forward crash-prevention systems by 2022. Forward-collision warning and automatic emergency braking are the two systems at the heart of this agreement. The two use cameras, radar or both to watch for cars ahead that are too close to your car, and then issue a warning and possibly take over and hit the brakes.
Some automakers already are leading the way on this front. Mercedes-Benz has made automatic emergency braking standard across most of its vehicle lineup for this model year. Toyota and its luxury subsidiary Lexus are in the process of installing forward-collision warning and automatic emergency braking as standard equipment across their model lines.
Most other manufacturers offer these systems in 2016 and 2017 models as optional equipment that—all too often—consumers can't buy except as part of an expensive trim package that boosts the price with unrelated, non-safety features.
With more than 1.7 million rear-end crashes a year, these technologies are expected to prevent thousands of crashes and injuries. According to the IIHS, vehicles equipped with forward-collision warning and automatic braking see incidents of rear-end collisions reduced by 40 percent, with bodily injury claims cut by 30 percent.
Consumers have wanted these systems for some time now. Forward-collision warning and automatic emergency braking were on the top of the list as systems consumers desired on their next vehicle, according to a nationwide survey conducted by Consumer Reports in 2015.
Consumer Reports feels that this technology is so important that we award bonus points as part of our Overall Score to car models that have forward-collision warning and automatic emergency braking as standard across a vehicle's model line. And we encourage shoppers to choose models equipped with this technology.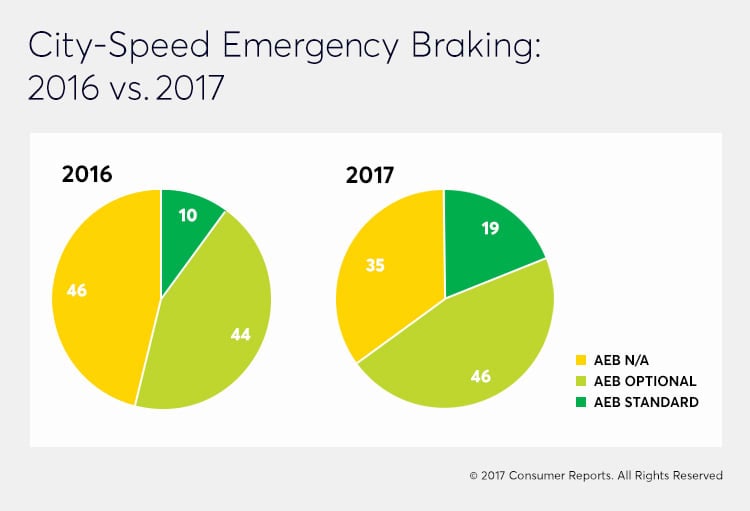 CR categorizes automatic emergency braking based on two speed thresholds -- city speed, and highway speed. While many cars are equipped with both city and highway speed automatic emergency braking, some have only one. And each manufacturer decides what constitutes each speed catagory.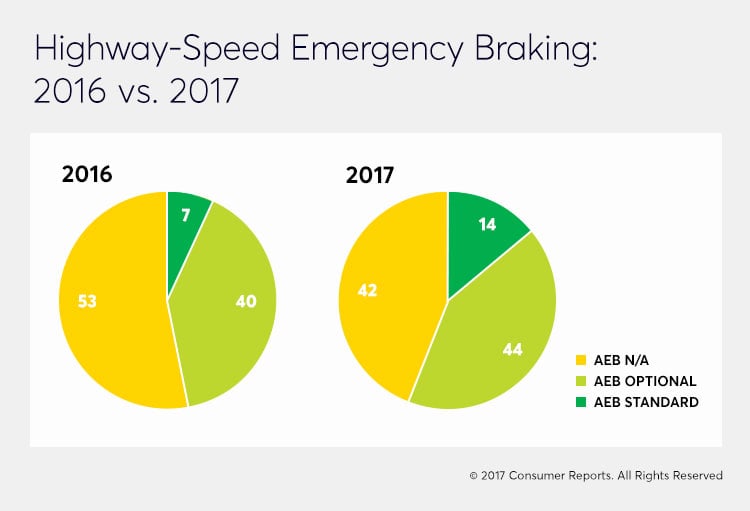 Thanks in large part to the efforts by Toyota and Lexus, the year-over-year data shown in the graphs marks a significant increase. Forward-collision warning went from 4 percent standard in 2016 to 14 percent in 2017. In addition, the vehicle population with standard equipped automatic emergency braking shows City Speed went up from 10 percent to 19 percent, while Highway Speed increased from 7 percent to 14 percent.
We maintain a list of models that offer advanced safety features. This information is included on our car model pages, along with test results.