When you shop through retailer links on our site, we may earn affiliate commissions. 100% of the fees we collect are used to support our nonprofit mission.
Learn more.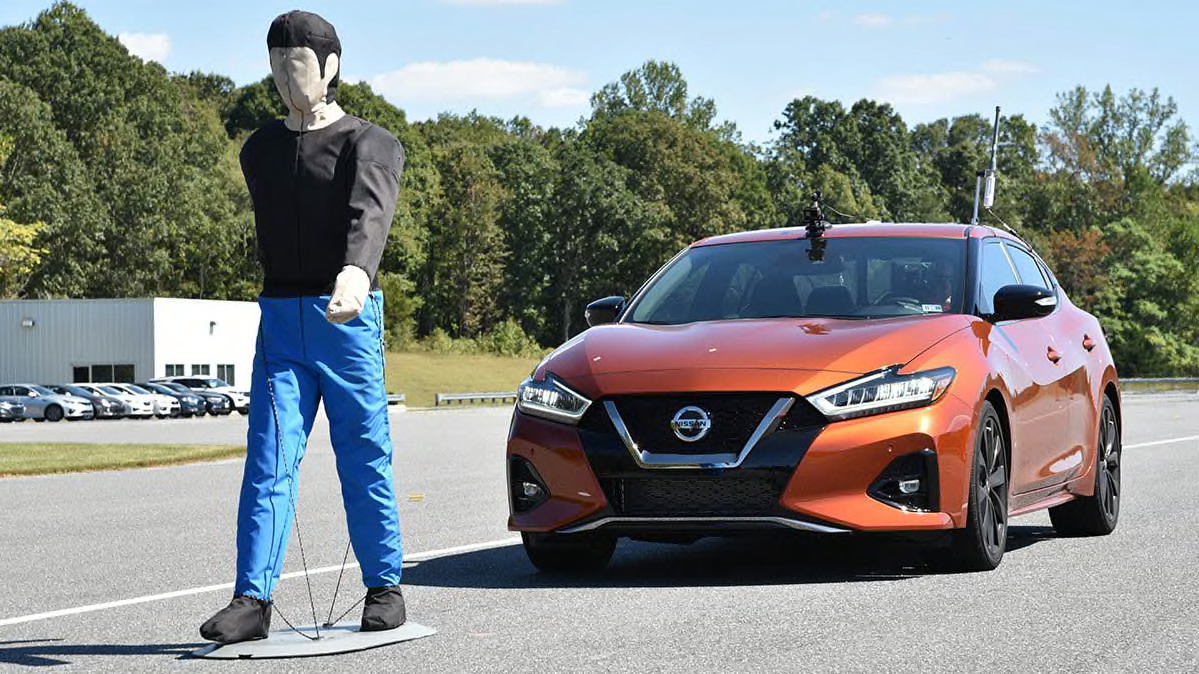 Automakers are making progress on technology that may someday counter the alarming increase in pedestrian fatalities, new crash tests by the Insurance Institute for Highway Safety show.
Six midsized-car models got top "superior" marks in the latest IIHS pedestrian-detection tests, and an additional seven were awarded the second-best score of "advanced." Only three of the 19 models tested got the lowest mark of "no credit."
Consumer Reports supports pedestrian-detection technology as a way to improve road safety. We believe automakers should include proven life-saving features as standard equipment, not part of an optional package of luxury items. CR includes extra points in its vehicle scores if pedestrian detection is standard equipment.
As adoption and the performance of the technology increases, pedestrian detection could save thousands of lives every year, says Jake Fisher, senior director of auto testing at Consumer Reports.
"With over 100 pedestrians killed daily on our roadways, it's encouraging to see more automakers including this technology," Fisher says. "While not all systems are equal, any system that brakes at all could potentially save lives or reduce the severity of injuries."
More pedestrians died on U.S. roadways last year than at any time over the past three decades—continuing a troubling trend even as more cars come with advanced crash avoidance systems.
Last year's pedestrian death tally was 6,283—a 3.4 percent increase over 2017, the National Highway Traffic Safety Administration said Oct. 23. The increase came as the overall number of highway fatalities declined by 2.4 percent. There were 53 percent more pedestrians killed last year than in 2009.
About two-thirds of vehicles rated by IIHS come with pedestrian detection, and many of those models have it as standard equipment, the Virginia-based research and testing organization says. Of the 16 midsized sedans tested in the latest results, 12 included pedestrian-detection technology as standard equipment.
IIHS pedestrian-detection tests involve three scenarios: an adult walking in front of a vehicle traveling at 12 mph and 25 mph, a child darting between parked cars, and an adult walking on the shoulder of the road. The tests are done in daylight and on dry pavement. The tested cars have 1 or 2 seconds to detect the pedestrian and slow down.
The six cars to earn top marks: the Audi A4, BMW 3 Series, Mercedes-Benz C-Class, Nissan Maxima, Subaru Outback, and Volvo S60. These vehicles dramatically reduced their speed in all six trials, and in most cases avoided hitting the pedestrian dummy. According to IIHS calculations, the cars in these simulated crash situations would have either eliminated or greatly reduced the likelihood of a severe injury.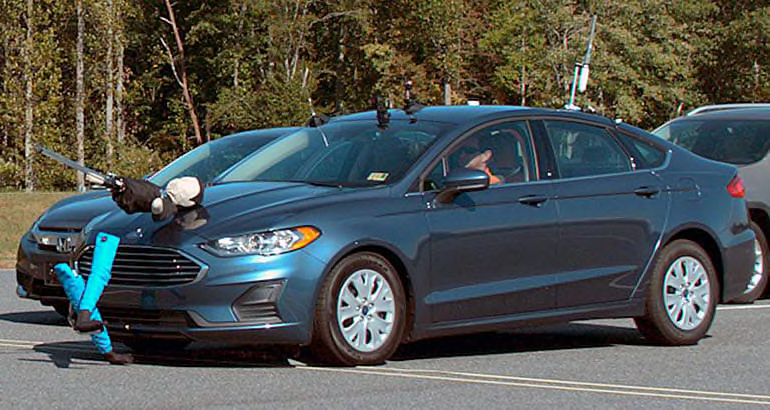 Three Models Lag
But not all models tested worked well. Three vehicles earned no credit in the tests, because they failed in multiple crash scenarios: the Ford Fusion, Hyundai Sonata, and Kia Optima. The Fusion didn't slow at all in a test simulating a child darting across the road, and it slowed only slightly in a test of an adult stepping onto the street.
"The child dashing out from behind parked cars is a very challenging test," says David Harkey, president of IIHS. "It was one of the main things that separated the top systems from the rest of the pack."
Indeed, in a similar set of tests released earlier this month by AAA, 89 percent of the cars failed to detect a darting child at 20 mph, and none of them passed the test at 30 mph.
Cars with pedestrian detection features use cameras, radar, and other sensors to detect people coming into a vehicle's path, even if a driver doesn't see them. If the driver doesn't react quickly enough, the car can brake itself to either avoid the collision or slow down enough to reduce the severity.
More pedestrian detection systems are coming to market, both as standard equipment and as part of luxury-option packages, according to data compiled by Consumer Reports. In 2019, 38 percent of models sold in the U.S. had pedestrian detection as a standard feature, up from 19 percent in 2018.
The latest IIHS tests show that advanced safety technology can help reduce pedestrian deaths, and the different performance levels are a good reason to push the auto industry to meet minimum targets—through government standards or crash-test ratings programs, says Ethan Douglas, senior policy analyst at Consumer Reports in Washington, D.C.
"As pedestrian-detection systems continue to improve, they shouldn't be restricted to more expensive models or trim lines," Douglas says. "All pedestrians, including this week's trick-or-treaters, deserve the protection these systems can provide—not just those in neighborhoods with a lot of luxury vehicles."