When you shop through retailer links on our site, we may earn affiliate commissions. 100% of the fees we collect are used to support our nonprofit mission.
Learn more.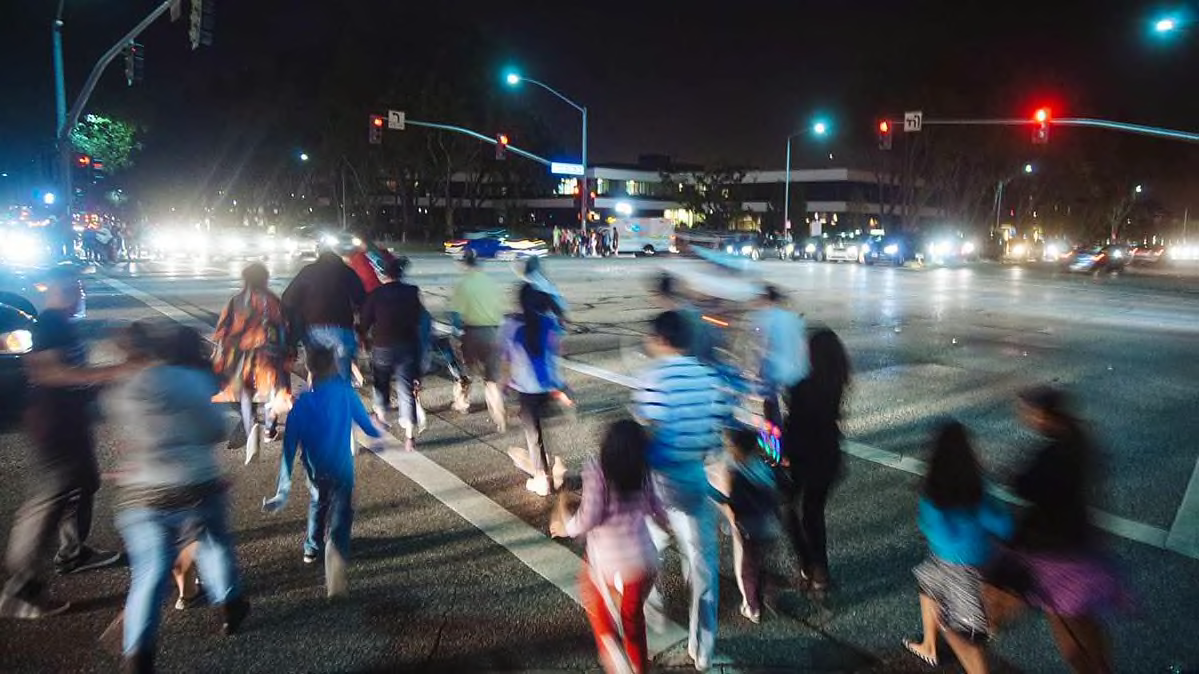 As pedestrian fatalities have increased at an alarming rate over the past decade, car safety systems designed to detect and avoid pedestrians have made significant technological gains.
But an AAA study released today concludes that the detection systems, paired with automatic emergency braking (AEB), still have a ways to go to reliably detect humans in all situations.
AAA tested four 2019 model-year sedans—the Chevrolet Malibu, Honda Accord, Tesla Model 3, and Toyota Camry—all equipped with AEB and pedestrian detection. AAA found that pedestrian detection systems were "significantly challenged" in several of its simulated test scenarios that use dummies representing adult- and child-sized pedestrians.
More on Advanced Car Safety Systems
Still, a car equipped with AEB with pedestrian detection has the potential to identify a person who is unseen by the driver, then issue an alarm. If the driver fails to react quickly enough, the car can brake to avoid the person or at least reduce the severity of injuries by slowing down the car before impact. Pedestrian detection systems are standard on about one-third of new vehicles and available as an option on about 30 percent more.
CR gives credit in our Overall Score to tested vehicles that offer proven safety features as standard equipment.
"We believe in the potential of pedestrian detection systems enough that we no longer give models credit to their Overall Score for having city speed AEB (systems that work at lower speeds as opposed to highway speeds) unless they also include pedestrian detection," says Jake Fisher, CR's director of auto testing.
Consumer Reports recommends that car shoppers seek proven safety features, such as forward collision warning (FCW), AEB with pedestrian detection, and blind spot warning (BSW), on their next car.
"This research shows why effective pedestrian detection should come standard in every new car," says Ethan Douglas, senior policy analyst at CR. "There's a long history of groups like CR and AAA calling for proven safety features to be standard equipment, from seat belts to rearview cameras. Technology that saves lives shouldn't be just a luxury add-on."
Car 'Eyes' Can See Pedestrians
The statistics are alarming. Almost 6,000 pedestrians were killed in traffic crashes in the U.S. in 2017, up from 4,109 in 2009, according to the National Highway Traffic Safety Administration. Studies show that advanced driver assistance systems (ADAS) could help with this alarming trend, in particular automatic emergency braking in conjunction with pedestrian detection.
Pedestrian detection technologies use a variety of "eyes"—cameras, radar, and other sensors—to allow cars to "see" what's happening on the roads around them. The systems process that information and can respond, often faster than a human driver, when a crash appears imminent.
And there is real-world data that show pedestrian detection systems can be effective. For example, Subaru's EyeSight system when equipped with pedestrian detection cut the rate of likely pedestrian-related insurance claims by 35 percent when compared with the same vehicles without the system, according to the Insurance Institute for Highway Safety's Highway Loss Data Institute.
Some AAA Results
If an adult was encountered crossing the road in daylight with the test vehicle traveling at 20 mph, a collision with the pedestrian was avoided only 40 percent of the time.
If the test vehicles came across a child darting into traffic from in between two cars, with the test vehicle traveling at 20 mph, a collision occurred 89 percent of the time; at 30 mph, none of the test vehicles avoided a collision.
None of the test vehicles avoided a collision (or even mitigated the impact speed) with a pedestrian crossing the road immediately after the test vehicle, traveling at 15 mph, made a right-hand turn.
When encountering two adults alongside the road with the test vehicle driving at 20 mph, a collision occurred 80 percent of the time.
The pedestrian detection systems proved to be ineffective when encountering an adult crossing the road at night.
Darkness Brings Extra Risk
Performance of the systems at night is particularly critical—NHTSA reports that 75 percent of pedestrian fatalities occur after dark. It's also important to point out that AAA's night testing was done with zero ambient street lighting using a dummy clad in dark clothing to simulate driving in a poorly lit neighborhood.
"Darkness brings its own inherent risks and should be considered a more dangerous situation even when headlights are on," says Jennifer Stockburger, director of operations at CR's Auto Test Center. "From 60 mph a driver needs about 300 feet to see, react, and brake for anything ahead in the road. CR's ongoing tests of headlights show that many low-beam headlights don't reach that far and that slower speeds and increased attention can help to improve crash outcomes at night," says Stockburger, who manages headlight testing at CR.
These types of low-light scenarios are challenging not only for pedestrian detection systems but also for other advanced driver assistance technologies that rely on "seeing" something ahead in order to make quick decisions or reactions. "But if the system can react in time to at least somewhat reduce vehicle speed, it may have injury- and fatality-reducing potential even if a collision cannot be completely avoided," Stockburger says.
Experts stress that speed makes a big difference when cars collide with people. In the U.S., the average risk of severe injury to a pedestrian increases from just 10 percent at an impact speed of 17 mph to 90 percent at 48 mph. "The more speed you're able to scrub off, the more likely a pedestrian is to survive the impact," says David Aylor, director of active-safety testing at the IIHS.
Even though AAA's study shows some glaring gaps in the ability of pedestrian detection systems, the auto organization believes in their potential.
"AAA is a proponent of these systems and applauds automakers for including pedestrian detection as standard equipment," says Greg Brannon, director of automotive engineering and industry relations at AAA. "These systems have the potential to save lives, and consumers should look for the system on their next vehicle. However, they should drive the car like the system is not there. It is not a replacement for an engaged driver."
Pedestrian Safety Tips
Pedestrians can do their part to reduce safety risks when they are out walking, whether on city streets or on country roads. Consider these tips the next time you are out walking, especially at night:
Stop at the curb momentarily before entering the street.
Make eye contact with the driver before crossing in front of a vehicle. Even better, a friendly wave can get their attention.
Don't text on your phone while crossing the street; instead, keep scanning for cars approaching as you cross.
Always walk on sidewalks. If there aren't any sidewalks, always walk facing traffic so that you can see what is coming and be able to react, if necessary.
Wear light- or bright-colored or reflective clothing, especially after dusk. Use a flashlight when walking at night.
Walk and cross with other pedestrians wherever possible.