When you shop through retailer links on our site, we may earn affiliate commissions. 100% of the fees we collect are used to support our nonprofit mission.
Learn more.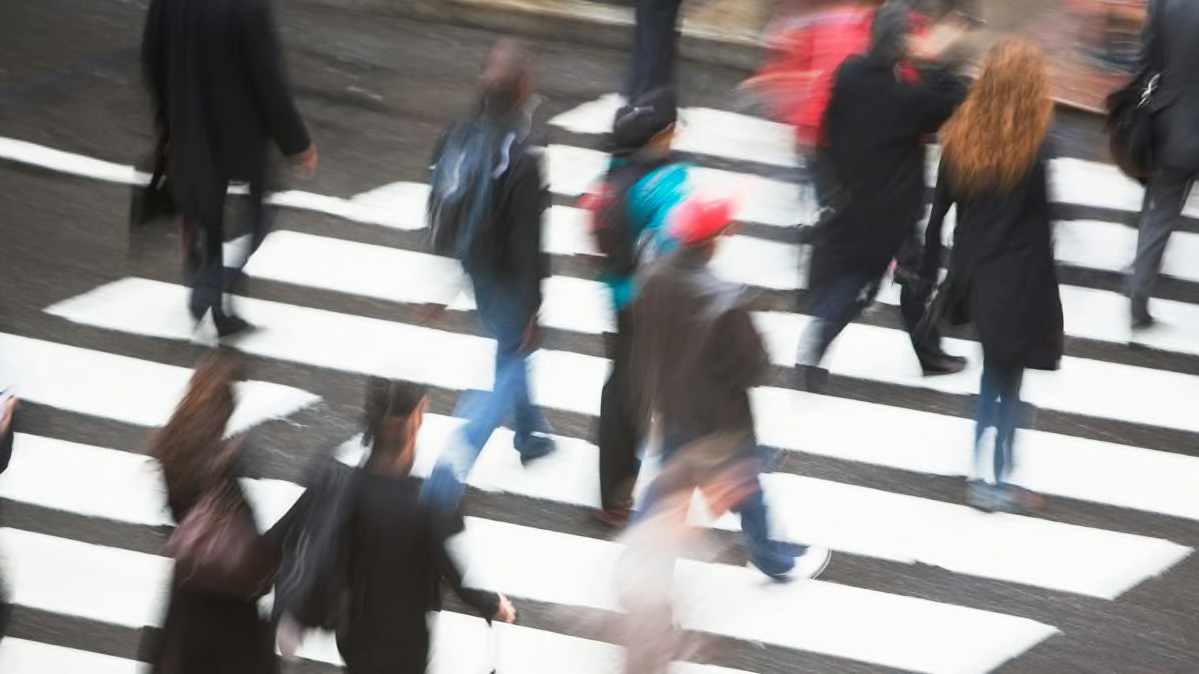 On a cold, crisp Virginia morning, engineers and technicians watched as a BMW SUV approached from the far end of a test track. As a pedestrian dummy moved across the road on a pulley, the vehicle slammed into it at about 25 mph. The dummy's legs flew off as the force of the collision violently flung the rest of its body up and over the SUV. Even the auto-safety experts gasped.
Welcome to a typical morning at a new kind of testing lab, one focused on reducing pedestrian deaths.
The track—at the Insurance Institute for Highway Safety (IIHS) near Charlottesville, Va.—is a key test facility for systems that help cars see and brake for pedestrians. IIHS, funded by insurance companies, believes that by assessing and publishing special pedestrian-detection scores for different models, it can push automakers to improve the performance of their software, sensors, and algorithms. The hope is that pedestrian-detection systems will evolve to the point that one day they can reliably save pedestrians' lives, even when drivers don't notice someone crossing the street in front of them.
Auto-safety experts have been increasingly alarmed by the rising number of pedestrians killed by vehicles over the past decade. Some types of traffic deaths have been declining, but the number of pedestrians fatally hit by vehicles has gone up over time—and at an increasing rate. In 2009 there were 4,109 such deaths, according to the National Highway Traffic Safety Administration (NHTSA). By 2017 it was 5,977, a 45 percent increase.
And the toll is still going up. On Feb. 28, the Governors Highway Safety Association (GHSA) said its early estimate of 2018 fatalities was 6,227. That tally, based on reports from all 50 states, would be the highest number of pedestrians killed since 1990.
"The alarm bells continue to sound on this issue," GHSA director Jonathan Adkins said in a statement. "It's clear we need to fortify our collective efforts to protect pedestrians and reverse the trend."
Given the gains made in other areas of road safety, pedestrian deaths really stand out. In 2007 they were 11 percent of all traffic fatalities; in 2017 they were 16 percent.
"Automakers have invested a lot of time and money making sure that drivers and passengers are safer than ever," says Jake Fisher, senior director of auto testing at Consumer Reports. "Now it's time for the industry to do a better job at protecting those who walk along our roads."
Pedestrian-detection systems are an innovation that's quickly making its way into new cars. They're standard on about one-third of new vehicles and available as an option on about 30 percent more. Automakers are increasingly putting this feature into their automatic emergency braking (AEB) systems to prevent deaths and reduce the severity of injuries—even when human drivers can't or don't react quickly enough.
As more pedestrian-detection systems arrive on the market, it's crucial that the technology does what it claims to do. IIHS has found that some work much better than others. Building on those results, we've changed our car scoring, starting with this print issue, to give credit to vehicles that have standard pedestrian-detection systems. This adds even more incentive for automakers to make them more widely available.
CR gives credit to vehicles that offer effective safety systems as standard equipment. Models no longer get credit for city-speed AEB (systems that work at lower speeds as opposed to highway speeds) unless they include pedestrian detection. That's because pedestrians are most often struck on roadways with speed limits below 40 mph.
As with all traffic-safety concerns, there's more that contributes to pedestrian deaths than vehicle and safety-system design. There are human factors, such as the growing distraction of electronics (for drivers and walkers) and poor road design when it comes to accommodating pedestrians, among other problems.
"The issues that plague pedestrians aren't new," says Heidi Simon, deputy director of America Walks, a nonprofit group that advocates for pedestrian-friendly policies. "Poor street design, improper speeds, and a culture that prioritizes cars over people have created a landscape that continues to unnecessarily endanger the most vulnerable users of the public rights of way."
Perhaps it's obvious, but experts stress that speed makes a big difference when cars collide with people. In the U.S., the average risk of severe injury to a pedestrian increases to 90 percent at an impact speed of 48 mph from just 10 percent at 17 mph.
Slowing cars down before a collision is crucial. Reducing speed even a little can be beneficial in terms of fatalities and the seriousness of injuries, says David Aylor, director of active-safety testing at IIHS. "The more speed you're able to scrub off," he says, "the more likely a pedestrian is to survive the impact."
Of course, it's not just about surviving. Clearly, avoiding crashes in the first place is the ultimate goal.
"The moment flesh and bone interact with steel, it's bad," says David Friedman, vice president for advocacy at Consumer Reports. "This is why pedestrian detection is so important."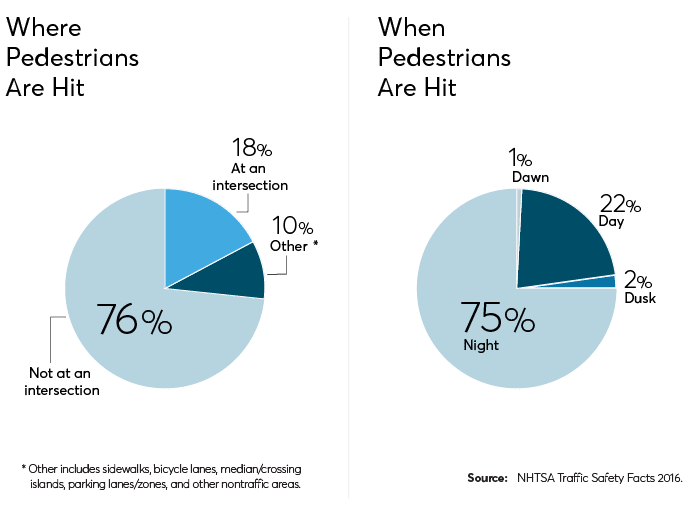 Why Deaths Are Rising
Safety experts, including those at the National Transportation Safety Board (NTSB), point to several factors contributing to the increase in pedestrian fatalities—and drivers, pedestrians, and infrastructure share the blame. Drivers can be distracted by smartphones and other technology. But walkers also can be absorbed with their smartphones, not paying attention as they cross a street. Alcohol is often discovered in pedestrians and motorists when there's a fatal crash. Poor urban and suburban planning makes matters worse, say groups such as America Walks. Weak street lighting, not enough crosswalks, and higher-than-necessary speed limits have been cited as risks for pedestrians.
On top of that, the unforgiving structure of SUVs, when compared with the lower profile of cars, is adding to the death toll, according to IIHS research. Higher-riding SUVs and other light trucks—which now account for almost 70 percent of U.S. vehicle sales, up from nearly 50 percent a decade ago—mean that pedestrians are more likely to be hit in the abdomen or head than at the legs, which leads to more serious injuries and fatalities.
As with other new crash-avoidance technologies, features that were first offered as pricey options on luxury vehicles are now trickling down to less expensive vehicles. Honda, Subaru, and Toyota are among the automakers that offer pedestrian-detection systems on less expensive models that work with low-speed AEB. According to IIHS, 79 of the 109 models currently offered in the U.S. with standard AEB also offer technology to detect pedestrians as standard equipment; 20 of the other 30 offer pedestrian detection only as an option.
Automakers that offer AEB with pedestrian detection should be commended. But if the systems were required on every new vehicle, even more lives could be saved, says William Wallace, a senior policy analyst with CR.
Some consumers might not choose to pay more for pedestrian detection, especially because the safety benefit isn't specifically for drivers and passengers. "Lives shouldn't be jeopardized by an auto company deciding that safety is optional or forcing car buyers to pay extra for the technology as part of a luxury package," Wallace says.
The federal government has taken steps in the past to get involved. In 2015 NHTSA proposed adding pedestrian detection to the battery of tests it runs under its New Car Assessment Program. Despite its earlier activities, the agency has generally not followed through with action since then, leaving largely nongovernmental groups to push the industry to improve in this area.
Still, as promising as the pedestrian-detection systems are, they have shortcomings. There can be false positives—when the car sees a "person" who isn't there—and sometimes there are misses, when a system doesn't sense a person when it should. Consumers should understand that current vehicle technology can only assist in driving—and doesn't replace the need to pay attention, says Alex Epstein, director of transportation safety at the National Safety Council, a nonprofit that has been working to reduce preventable deaths since 1913.
"They're an extra set of eyes and ears, and sometimes they'll intervene, but they're not foolproof," Epstein says of vehicle safety systems. "You really can't rely on them. For now and the foreseeable future, you have to drive and be the best driver you can be."
Moving the Industry Forward
IIHS research shows that pedestrian-detection systems could prevent or reduce the severity of about two-thirds of single-vehicle/pedestrian crashes and prevent 58 percent of related deaths.
A 2017 IIHS analysis using data from the insurance industry found that Subaru vehicles equipped with the automaker's EyeSight crash-avoidance system, which detects pedestrians, had an injury claims rate that was 35 percent lower than vehicles without it.
Because of that, it's time to make this feature standard equipment in today's new cars, says CR's Fisher. "It's important for automakers to expand use of this technology," he says, "because many of the serious low-speed accidents can now be prevented."
IIHS has created a new ratings program for pedestrian-detection systems. Its tests focus on whether vehicles can detect a dummy in three scenarios that duplicate the most common types of crashes involving pedestrians.
The Deadliest Cities for Pedestrians
This map below shows the most and least dangerous cities for pedestrians killed in traffic accidents with populations of 500,000 and above.
Sources: NHTSA Traffic Safety Facts, 2016.
Cities Work to Protect Walkers
Cutting down on pedestrian deaths isn't just about improving cars and driving. A 2016 NHTSA analysis found that a higher percentage of those deaths occur in cities (76 percent) and on open stretches of road (72 percent) than at intersections (18 percent). There are also significant numbers of fatalities at night.
Better road design is a cornerstone of the Vision Zero movement, which has been embraced in places such as New York, San Francisco, and Washington, D.C.
The goal is to eliminate all road deaths, not just bring the number down. Some cities are taking a close look at the data on pedestrian deaths and considering policy alternatives that are sometimes controversial.
Boston saw immediate traffic-safety improvements after officials lowered the speed limit in the city to 25 mph from 30 mph. Vision Zero cities are also making investments in raised curbs, better crosswalks and signals, and pedestrian islands. They're implementing "road diets" by reducing the number of travel lanes on major streets, which reduces the number of cars that pedestrians have to encounter when walking across.
A couple of recent innovative approaches stand out. To reduce distracted walking, Honolulu passed an ordinance in 2017 that lets the police give tickets to pedestrians who are looking at their phones when they're crossing a street. In Detroit, pedestrian fatalities dropped after burned-out streetlights were replaced in certain areas, underscoring the role that poor visibility can play in these crashes.
But the politics of lowering speed limits or cracking down on drunken or texting walkers isn't easy, says Epstein. "It's a very difficult area to move the needle. Folks who drive don't necessarily want to drive slower," he says. "Folks who walk don't want to put their cell phones away while they're walking. The truth is, to have a safer roadway environment, everyone has to give up a little bit of something."
More From the 2019 Autos Spotlight