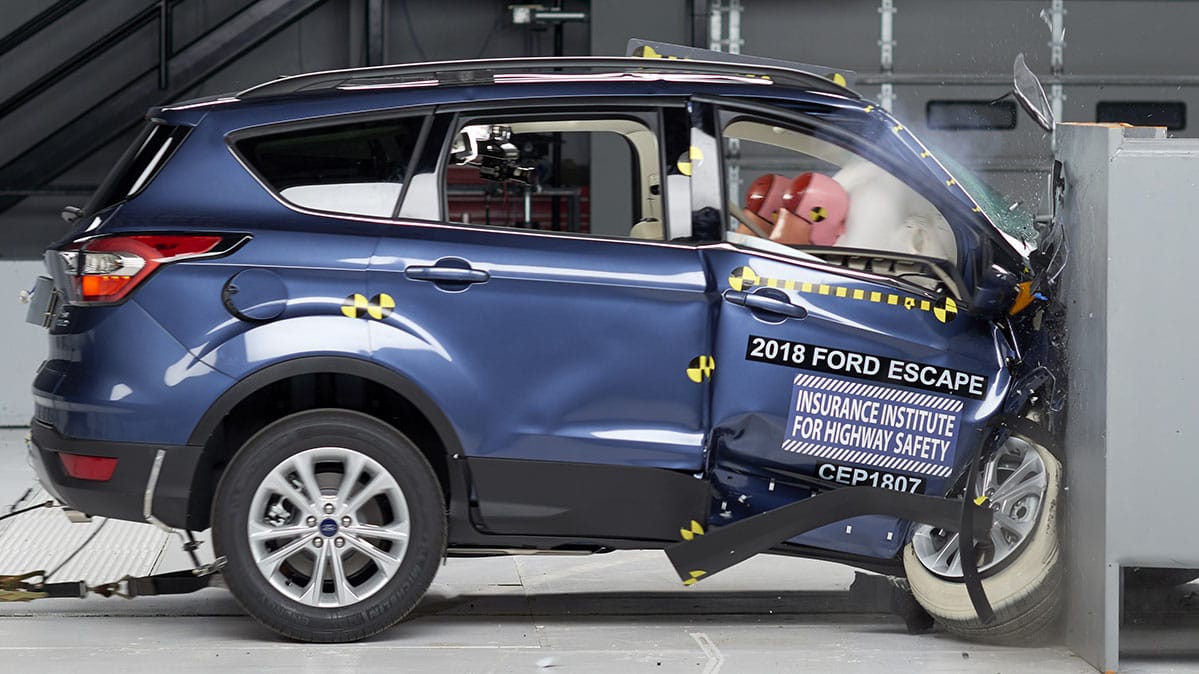 New crash-test results show that some popular vehicles still don't offer adequate protection for passengers even if they can keep drivers safe in certain types of crashes.
On Wednesday, the Insurance Institute for Highway Safety released passenger-side small-overlap test scores for seven small SUVs. The 40 mph test mimics a crash where the front corner of the vehicle collides with a tree, a telephone pole, or the front corner of another vehicle.
The Ford Escape earned the lowest possible rating of Poor for a passenger-side impact, which translates to a "very high likelihood of the passenger having a thigh or hip injury," according to the IIHS. The Mitsubishi Outlander Sport earned a Marginal rating for the passenger. However, both vehicles earned Acceptable scores for crash tests on the driver's side.
The IIHS says this is because some vehicles were designed only to pass the group's driver-side small-overlap tests. For instance, Ford reinforced the structure of the driver's side on the Escape starting in 2017 but did not make the same changes on the passenger side.
"They already have the know-how for what to do to improve structure," says Becky Mueller, lead engineer for the IIHS' small-overlap tests. "To apply the same kinds of designs to the passenger side would be the simplest and most effective fix."
The results echo those found in prior tests, where the current Subaru Forester and Toyota RAV4 both scored better on driver-side tests than on passenger-side tests. Both of those vehicles will be redesigned for 2019. A spokesman from Toyota told CR, "The 2019 RAV4 that we revealed at last week's New York International Auto Show is on our new [Toyota New Global Architecture] platform, and we've incorporated countermeasures to meet or exceed tests."
Mueller says that most automakers are reacting to the new test by making safety improvements when a model is scheduled to be refreshed or redesigned. "Since we announced the official rating test, we've seen a dramatic increase in the number of Good-rated vehicles that we're testing on the passenger side," she says.
"These results also demonstrate the value of third-party testing," says Jen Stockburger, director of operations at CR's auto test center. "Ratings are not only a useful tool for consumers but can drive industry to make important improvements."
According to the IIHS, side-curtain airbags did not deploy during tests of both the Outlander Sport and the Escape, which may have been a factor in both vehicles' scores.
"If these vehicles aren't designed specifically with the passenger small-overlap test in mind, the restraint systems may not be tuned to deploy when they need to in a crash," Mueller says.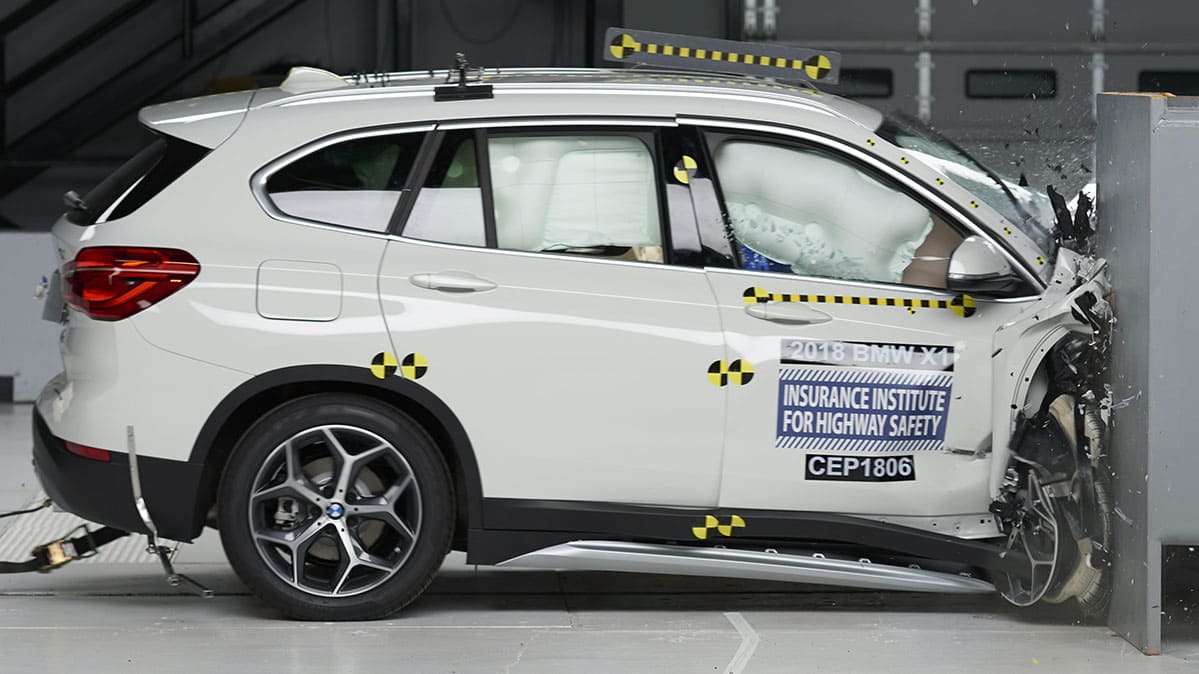 The BMW X1, Chevrolet Equinox, GMC Terrain, Jeep Compass, and Mitsubishi Outlander joined the previously tested Hyundai Tucson, Honda CR-V, Kia Sportage, and Mazda CX-5 and CX-3 to earn top Good ratings for passenger-side small-overlap crash tests. The agency, which is supported by auto insurers, has evaluated a total of 16 small SUVs and 13 midsized sedans.
"When there is a passenger in a car, we believe they deserve the same level of protection in a small-overlap crash as would the driver," Mueller says. "The people who are typically sitting in that right front passenger seat are your loved ones."
Passenger-Side Small-Overlap Front Crash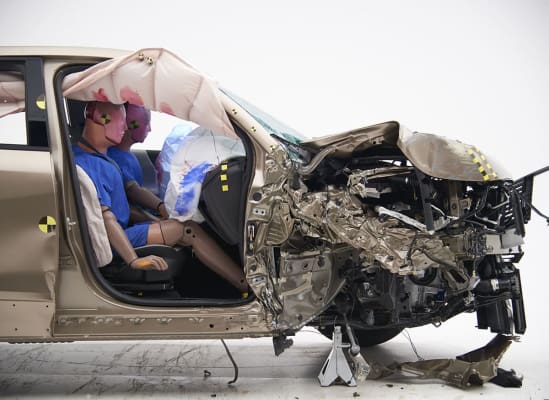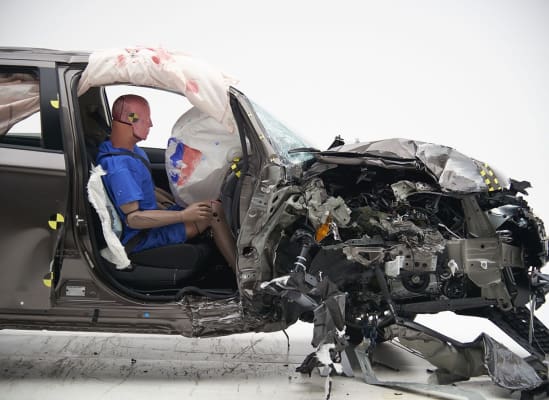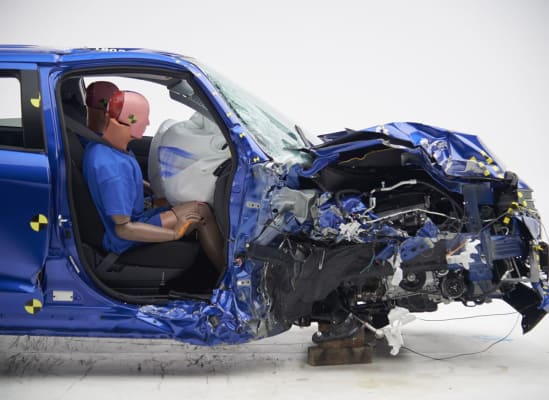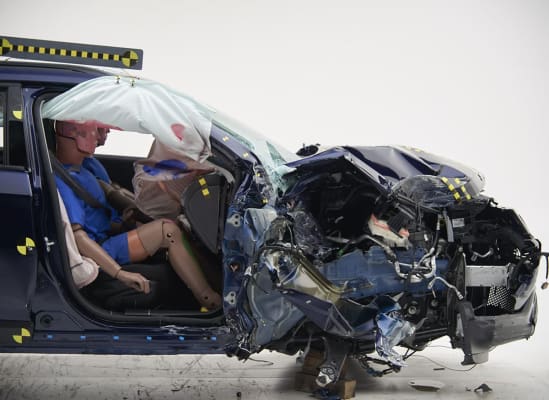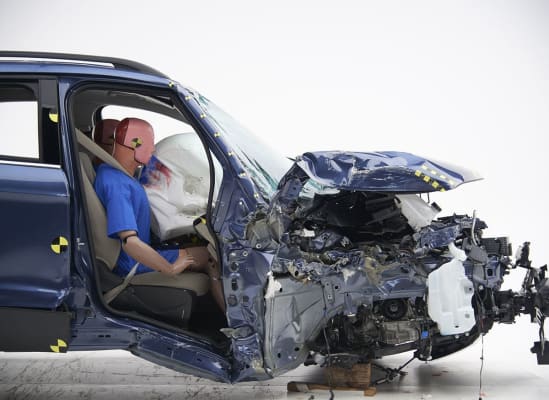 Consumer Reports is an independent, non-profit organization dedicated to helping consumers. We make it easy to buy the right product from a variety of retailers. Clicking a retailer link will take you to that retailer's website to shop. When you shop through retailer links on our site, we may earn an affiliate commission – 100% of the fees we collect are used to support our mission.
Learn more.
Our service is unbiased: retailers can't influence placement. All prices are subject to change.