When you shop through retailer links on our site, we may earn affiliate commissions. 100% of the fees we collect are used to support our nonprofit mission.
Learn more.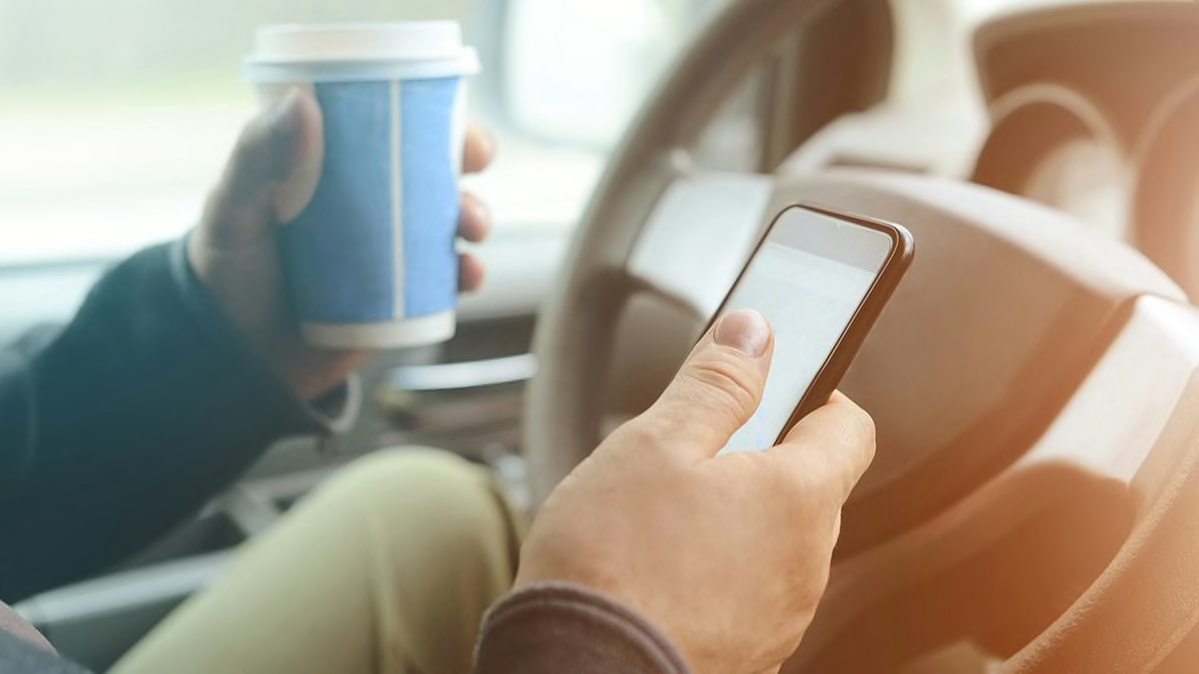 Drivers are more likely to text or use apps on their phones when cruise control is on, and younger drivers spend more than 10 percent of their time on their phones behind the wheel, new research has found.
Researchers at MIT announced the findings Wednesday after analyzing a massive amount of data collected by telematics firm Agero. The data set draws from 270 million trips taken over 3 billion miles.
Among other results, the study found that when cruise control was activated, drivers used their phones for text, e-mail, or apps slightly more than 10 percent of the time—22 percent more than for drivers not using cruise control.
According to Bryan Reimer, a research scientist in the MIT AgeLab and the associate director of the New England University Transportation Center, the survey results demonstrate how little is known about the connection between distracted driving and vehicle automation, despite the growing popularity of advanced driver-assistance systems, including adaptive cruise control and lane-keeping assist. The systems allow a car to maintain the pace of the flow of traffic and to stay within travel lanes. The systems aren't meant to be a substitute for attentive driving.
Although these systems are becoming more common over time, Reimer says that little is really understood about what drivers are doing behind the wheel when the systems are in use. "Even the most basic forms of automation, we don't know how they're impacting behavior," he says.
Automakers still have a lot to learn about driver distraction before they debut new advanced safety and automation systems, Reimer says. For example, Agero's data doesn't differentiate between conventional cruise control, which keeps a vehicle at a specific speed, and adaptive cruise control, which alters a car's speed to stay within the traffic flow.
Kelly Funkhouser, CR's program manager for vehicle interface, also says more research is needed. "Cruise control has been around for decades, and we still don't fully understand how today's drivers are using it," she says. "Without more data, we might be making unfounded assumptions about how tomorrow's drivers will use more advanced technology."
Many consider driver distraction a national epidemic. According to the National Highway Traffic Safety Administration (NHTSA), 9 percent of fatal vehicle crashes in 2016 were reported as distracted driving-related. That's 3,450 people killed.
The MIT findings are especially concerning in light of previous survey data that suggest that the public vastly overestimates the progress of vehicle automation.
Currently, there are no commercially available fully autonomous vehicles, although prototypes are undergoing testing in the U.S.
Even so, a survey conducted by MIT and the New England Motor Press Association found that 22.7 percent of Americans think self-driving cars are already available for purchase, and 8.2 percent think they've already taken a ride in one.
"Folks are thinking about a lot of the automation on the road today as self-driving," Reimer says, adding that the results suggest that automaker marketing language and coverage from the media have led to the misperceptions.
MIT and Agero also found that driver phone use behind the wheel drops with age: Drivers between 17 and 22 physically manipulate their phones 12 percent of the time while driving, compared with about 7 percent for drivers between 72 and 77.
"Younger adults text, and that's very illustrated in the data here," Reimer says. Still, the oldest drivers surveyed—between 87 and 92—still spent 3 percent of their time behind the wheel interacting with a phone.
"That means even the oldest individuals out there are touching the smartphone," he says.
Agero provides vehicle-connectivity and crash-detection software, including software for usage-based car insurance programs that offer discounts if users agree to have their driving monitored.
According to Jeffrey Blecher, Agero's chief strategy officer, data was collected from users of the company's MileUp app between the winter of 2017 and fall of 2018.
MileUp uses accelerometer and GPS data that can tell how a phone is being used and whether a driver or a passenger is using it, and offers rewards for driving after downloading the app.
Using a Cellphone in the Car
The best bet is to not use your phone when operating a car—but smartphone navigation and Bluetooth is a common feature nowadays. On the 'Consumer 101' TV show, CR expert Jen Stockburger shows host Jack Rico and friends how to stay safe while on the road.