When you shop through retailer links on our site, we may earn affiliate commissions. 100% of the fees we collect are used to support our nonprofit mission.
Learn more.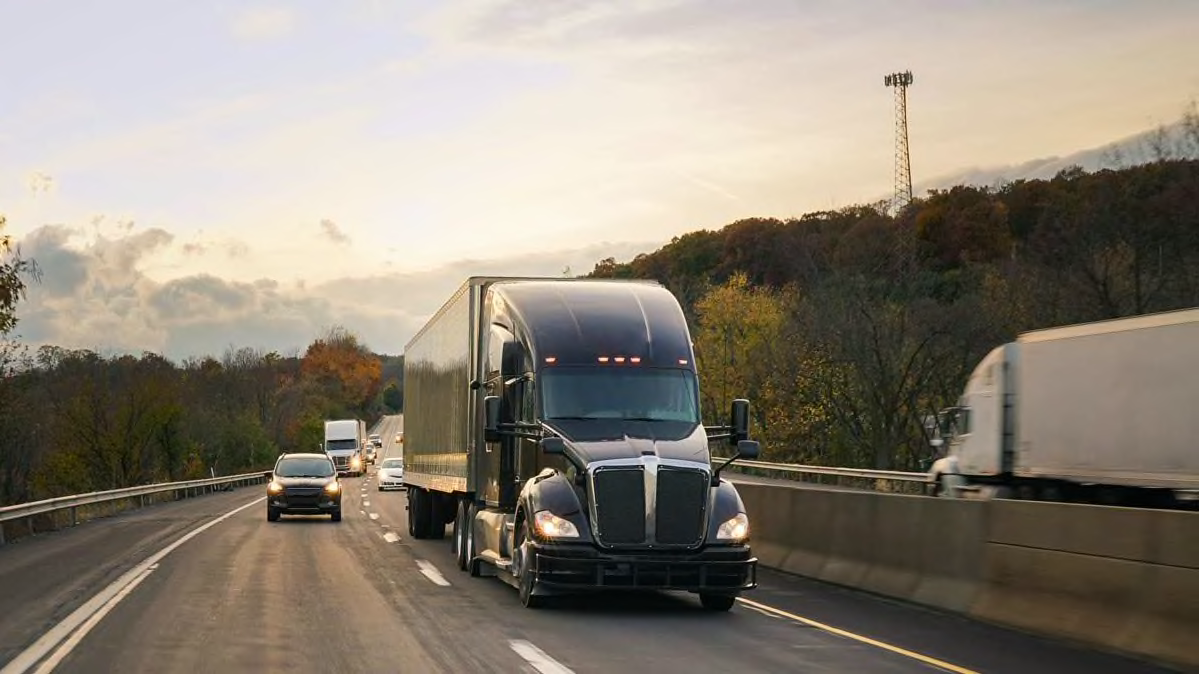 Some of the biggest trucks on the road lack automatic emergency braking (AEB) and forward collision warning (FCW)—common safety technologies that are found on the majority of new passenger cars—and it's costing lives, a new study shows.
In 2018, at least 119 people were killed in crashes on U.S. roads in which a large truck struck another vehicle from behind. A new study from the Insurance Institute for Highway Safety (IIHS) estimates that equipping tractor trailers and other trucks weighing more than 33,000 pounds with AEB and/or FCW could prevent more than 40 percent of those crashes.
Joe Young, spokesman for IIHS, said that although these systems can add to the initial cost of a vehicle, the investment is "well worth the safety benefit." FCW also can be retrofitted to older trucks.
The study also found that trucks equipped with FCW had 22 percent fewer crashes overall, and trucks with AEB had 12 percent fewer crashes than those without either technology
About 66 percent of all new cars come standard with either AEB, which can automatically slow or stop a vehicle before a collision, or FCW, which can alert the driver to a potential crash. In passenger cars and trucks, these features are proven to reduce crashes and prevent injuries. But the IIHS estimates that only about half of new semi-trailer and other commercial trucks of similar size have either AEB or FCW, despite the fact that they're some of the biggest and heaviest vehicles on the road and therefore a greater danger in a crash.
Historically, the trucking industry has opposed federal mandates for new trucks to include AEB. But Sean McNally, spokesman for the American Trucking Associations trade group, says the ATA is working with federal officials, fleets, and individual owners to encourage those in the industry to equip their trucks with the technology, and to determine over time how—if any—mandates should be implemented.
In 2015, the National Highway Traffic Safety Administration (NHTSA) granted a petition by safety advocates to require AEB on these trucks, but the agency has not taken action since that time to establish rules for the industry. Legislation passed by the U.S. House of Representatives in July would mandate AEB on all new commercial vehicles weighing over 10,000 pounds, in addition to school buses and passenger cars. It's now up to the Senate to act.
"This study reinforces that we're on the verge of enormous progress to save lives on our roads, and that further delay is unacceptable," says Oriene Shin, policy counsel for Consumer Reports. "Congress should take action now by requiring AEB on all new vehicles, including large trucks, and directing NHTSA to create strong performance standards for the technology."
In studies of passenger cars and trucks, the IIHS found that AEB and FCW led to a 43 percent drop in front-to-rear crashes and a 65 percent drop in injuries due to those crashes. Jennifer Stockburger, director of operations at CR's auto test center, says it only makes sense to add the same technology to big trucks.
"The greatest crash reduction benefits will only be realized when all vehicles that share our roads have them," she says. The IIHS study looked at data from over 2,000 crashes involving tractor-trailers and other trucks weighing at least 33,000 pounds from 2017 through 2019. Its conclusions echo those from earlier research.
Data from Europe, where AEB has been mandatory on large trucks since 2015, suggests that the technology is just the first step in increasing truck safety, as truck crashes in the European Union haven't declined as quickly as other kinds of crashes. "Like every aspect of road safety, it is not a silver bullet," says Dudley Curtis, spokesman for the European Transport Safety Council, an advocacy group.
According to Curtis, there are many next steps, but protection of pedestrians and cyclists is particularly important, as they are uniquely vulnerable in crashes with trucks, especially in urban areas. He suggests that AEB systems should be able to detect pedestrians and cyclists, and that trucks should also come with blind spot warning.
In addition, the European regulation allows drivers to deactivate AEB, a practice that has been linked to some collisions—and a policy decision that Curtis says the U.S. could learn from as it ponders its own regulations.