When you shop through retailer links on our site, we may earn affiliate commissions. 100% of the fees we collect are used to support our nonprofit mission.
Learn more.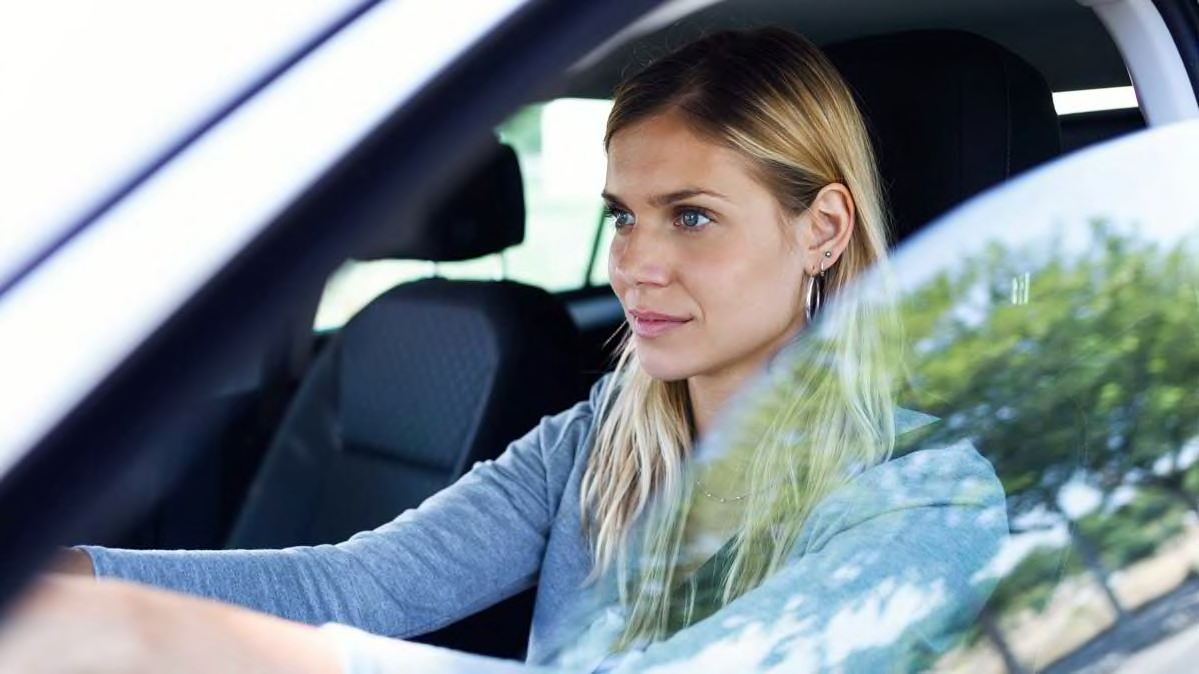 Drivers of all ages reported in a Consumer Reports survey that they were satisfied with the automatic emergency braking feature on their car and also separately that the safety feature helped them avoid a crash.
In the over 65 age group, 84 percent said they were satisfied with AEB, and 50 percent in the segment reported that the feature helped them avoid a crash. But in the under 35 age group, only 66 percent reported satisfaction, even though 71 percent credited the feature with helping them avoid a crash.
"The results of our survey show that advanced driver-assistance systems (ADAS) benefit drivers of all ages," says Jake Fisher, senior director of auto testing for Consumer Reports. "But it's ironic that even though younger people aren't as satisfied, they're the ones benefiting the most."
The data suggest that ADAS, though sometimes annoying because of false alerts, are keeping drivers and passengers safer. The data also suggest this is particularly true for younger drivers, including the particularly at-risk group of teen drivers. Click here to see our full report and analysis of the survey.
Advanced safety systems, in general, use a variety of cameras, radar, and other sensors to see what's happening on the roads around them. Onboard computers process the information and can respond, often faster than a human driver, when a crash appears imminent. The features can brake for the driver, give initial steering input to keep a car in its lane, and maintain a safe speed and distance from other cars in traffic—all with minimal input from drivers.
Consumer Reports believes that AEB, forward collision warning (FCW), and blind spot warning (BSW) should come standard on all vehicles and that automakers should commit to making that change.
"You shouldn't just want these safety systems in the car you're driving, but also in the cars of other drivers out on the road," Fisher says. "After all, it is these advanced safety systems that could very well keep you from getting hit by another driver who isn't paying proper attention."
More broadly, our survey of CR members found that ADAS systems as a group, including forward collision warning, AEB, and blind spot warning, are valuable tools that can help motorists avoid accidents.
A majority of respondents—57 percent—reported that at least one advanced driver-assist feature in their vehicle kept them from getting into a crash. Vehicles equipped with FCW and AEB have 50 percent fewer front-to-rear crashes, compared with cars without the systems, according to data from the Insurance Institute for Highway Safety (IIHS), a nonprofit scientific and educational organization.
For our survey, we asked CR members to tell us about their experiences with ADAS in their own cars. They provided data on about 72,000 vehicles, model years 2015-2019. They also provided about 87,000 comments on the individual ADAS features. Here are just a few examples of what younger drivers had to say:
"This [AEB] has saved me from a couple of highway accidents where someone cuts me off and then brakes suddenly," a 34-year-old CR member from Minnesota told us about his 2018 Volkswagen GTI. "The car detected it, gave an audible warning, and braked firmly."
The FCW system in a 2018 Subaru Forester saved a 28-year-old CR member in New Jersey from a potential accident when sunlight made it impossible to see the brake lights on a bright-red pickup in front of her. "I didn't see his brake lights (they blended in), but the system beeped to notify me that he had stopped. This is a great system!" she commented in our survey.
And a 33-year-old CR member from Missouri said the AEB system on his 2017 Toyota RAV4 Hybrid has kept him out of two accidents. "One while I was glancing in a mirror and the driver had slammed on their brakes. Another when a deer jumped in front of me," he told us.

Over the past decade, there's been a huge increase in the availability of advanced driver-assist systems in cars sold in the U.S., starting with FCW and AEB, and expanding to BSW, lane departure warning (LDW), lane keeping assistance (LKA), and most recently, pedestrian detection systems.

Because they're proving effective, CR gives extra points to the Overall Score for tested models that have the following systems as standard equipment across all trim lines: FCW, highway-speed AEB, city-speed AEB with pedestrian detection, and BSW.
BSW is becoming an ever-more-critical safety feature, because many of today's new cars are designed with thick roof pillars to help provide a strong crash structure. Those thick pillars make new vehicles considerably harder to see out, which can lead to accidents with vehicles in larger blind spots.
BSW systems help by indicating when there's a vehicle on either side of your car, warning about what's potentially in your blind spot. The system gives a visual alert—usually on the side mirror or mirror frame, or near the base of the front pillar—to indicate that it might be unsafe to merge or change lanes. Some systems provide an additional, audible warning when the turn signal is activated if a car is in a lane next to you.
BSW was universally liked across the age groups in our survey, but like AEB, older drivers rated their satisfaction with the system higher, with drivers under 35 the least happy (at 71 percent very satisfied vs. a high of 83 percent for drivers 65 to 84). Drivers of all ages reported that BSW helped them avoid a crash.
"These advanced technologies can offset some of the risks of distracted driving, but they aren't meant to be a replacement for being fully engaged in the driving experience," says Fisher. "And being more attentive behind the wheel is something that every driver can—and should—apply every time they head out on the road, regardless of their age or experience level."

Teen Driving School
Want your teen to become a better driver? On the "Consumer 101" TV show, Consumer Reports expert Jen Stockburger explains the driving maneuvers and safety features that will help him or her do it.