SUV and Pickup Truck Drivers More Likely to Hit Pedestrians When Turning, IIHS Study Finds
Poor front visibility and vehicle design may be to blame, say researchers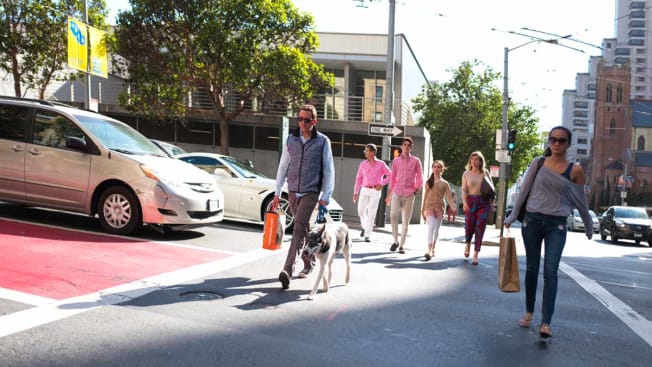 Drivers of SUVs, pickup trucks, minivans, and vans are more likely than smaller vehicles to injure or kill pedestrians when making turns, according to a new study by the Insurance Institute for Highway Safety (IIHS). The findings suggest the design of those larger vehicles may hinder driver visibility and contribute to the risk of striking a pedestrian. 
Researchers at the Insurance Institute for Highway Safety (IIHS) analyzed the details of 14,000 fatal pedestrian crashes, and they found that SUVs were twice as likely as cars to be making a left turn when the crash happened. Vans and minivans had nearly three times the odds as cars, and pickup trucks were nearly four times as likely. The researchers found similar results from an analysis of nonfatal crashes, as well.
In addition, taller ride heights and bigger hoods mean that larger vehicles have greater front blind spots. Last year, a CR analysis found that some trucks had front blind spots that measure 11 feet longer than those in some sedans and 7 feet longer than in many popular SUVs. Larger vehicles also typically have longer braking distances, compounding the problem.
According to the IIHS, in addition to the unique risks posed by SUVs and pickups, their increasing popularity on American roads may be among the reasons why pedestrian crash deaths have increased 59 percent since 2009.
Studies have already shown that when a crash occurs, larger vehicles such as trucks and SUVs are more lethal to pedestrians due to their mass and design. But these new findings suggest that these vehicles are more likely to be involved in certain types of pedestrian crashes in the first place.
Today's active safety systems are bringing new protections, but don't yet offer a widely available solution to this particular challenge. Another recent IIHS study found that current automatic emergency braking (AEB) systems with pedestrian detection are less likely to prevent a crash when a vehicle is making a turn. IIHS is developing enhanced testing of pedestrian AEB, and CR has called on automakers to optimize these systems so that they are able to recognize pedestrians—especially moving pedestrians—more quickly.
Ultimately, in addition to crash prevention systems, solutions must take into account roadway infrastructure and how vehicles might better protect pedestrians in a crash, such as through improved hood designs, says William Wallace, associate director of safety policy at CR. "It should be just as easy to walk or bike around dense communities as it is to drive in them—and you certainly shouldn't have to feel like you're taking your life in your hands," he says.
The IIHS agrees that intersection design can play a role in preventing turning crashes, including placing bollards and/or rubber curbs at intersections that slow down turn speeds and make for sharper turns. "Slower speeds can give drivers more time to see a crossing pedestrian, more time to stop, and the sharper turn could result in improved visibility through the turn," IIHS spokesperson Joe Young told CR. "This is a relatively simple step that cities can take to improve pedestrian safety at intersections."