When you shop through retailer links on our site, we may earn affiliate commissions. 100% of the fees we collect are used to support our nonprofit mission.
Learn more.
Car-crash fatalities are on the rise, and many experts say that drivers distracted by smartphones and other technology remain a problem. Is the answer enforced restrictions, increased vigilance by drivers, or more accountability by tech companies? Or all three? Here we look at advanced safety features and phone apps that can reduce the dangers of distracted driving.
Can Car Safety Features Help?
New high-tech safety features are helping drivers who have lapses in attention. These features warn them or intervene to head off potentially dangerous situations. Here are four that have demonstrated in CR's road-test evaluations that they have the ability to help drivers avoid a potential crash, according to Shawn Sinclair, a CR automotive engineer specializing in advanced safety systems. Respondents in CR's recent Advanced Auto Safety Systems survey also reported that the systems have helped them. (Learn more about safety through technology, below.)
Forward-Collision Warning (FCW)
It provides a visual, audible, and/or tactile alert to warn drivers of an impending collision with a car. Data from the Insurance Institute for Highway Safety (IIHS) show that FCW is associated with a 27 percent reduction in rear-end crashes for vehicles with the feature. And 68 percent of the owners in CR's survey said they were very satisfied with FCW in their vehicles.
Automatic Emergency Braking (AEB)
If the system senses a potential collision and the driver doesn't react in time, it engages the brakes. IIHS data show that AEB and FCW are associated with a 50 percent reduction in rear-end collisions for vehicles with the two features. In CR's survey, 69 percent of owners said they were very satisfied with AEB in their vehicles.
Lane-Departure Warning (LDW)
The system warns drivers when their vehicle crosses lane markings and the turn signal isn't engaged. IIHS research has found that if all U.S. passenger vehicles had been equipped with an LDW system, nearly 85,000 crashes and more than 55,000 injuries would have been prevented in 2015. Seventy percent of surveyed owners said they were very satisfied with their LDW system.
Lane-Keeping Assist (LKA)
It provides some steering and/or braking to correct a vehicle if it starts to drift out of a lane. IIHS research hasn't yet provided data on its potential benefits. But 70 percent of surveyed owners said they were very satisfied with the LKA system in their vehicle.
Learn more about lane-related technologies.
Safety Through Technology?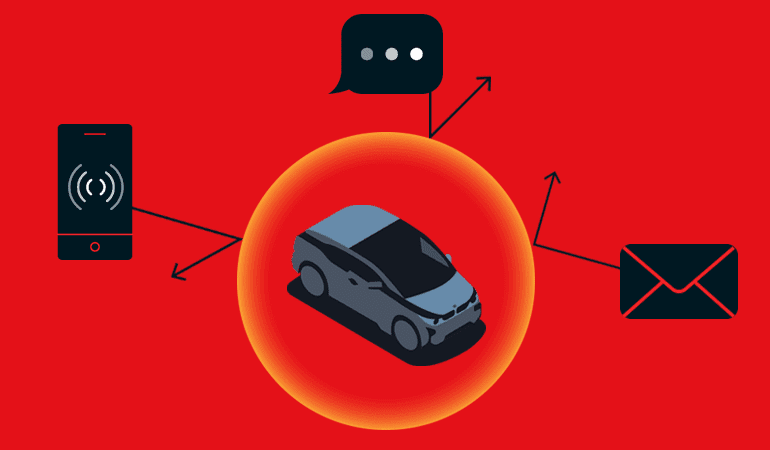 Illustration: Thomas Porostocky
Apple iOS 11
"This latest operating system includes a Do Not Disturb While Driving mode (DND) that can block notification of incoming calls and texts when your iPhone senses driving motion or is connected to a car via Bluetooth. (It doesn't block functions that work through Apple's CarPlay system, such as music and navigation.) The DND feature can automatically send a text reply that says you're driving and will reply later. Phone calls are allowed if the iPhone is connected via Bluetooth.
AT&T DriveMode
This free app is activated when your car reaches 15 mph. It blocks text alerts, which can tempt you to check your phone, and it can send automatic text replies. Parents can program the app to notify them when it has been turned off.
CellControl DriveID
Users (mostly parents) pay a one-time activation fee ($39.95) and a monthly fee (starting at $7.95) for a device that attaches to the windshield and works with an app to block drivers from sending or receiving text messages. It can also block email and smartphone cameras. Consumer Reports tried the system and liked its easy installation. We also liked that multiple devices can be paired and that passenger smartphones can be excluded. Driving behavior—such as acceleration, braking, and speed—can also be monitored.
Drivesafe.ly
This app is designed to read incoming text messages and email aloud for drivers so they keep their eyes on the road. The product website says users can hear messages without touching their phone. Some automaker infotainment systems also offer the same built-in technology.
Drivemode
This Android-based app can read text messages aloud. It also integrates some of your favorite apps and functions, such as those for programming music and navigation, and creates an interface with your smartphone that the company says is less distracting.
Drive Safe Mode
This app allows parents to track their teens' in-car phone usage. To use the service, create an account, download the app for Android or iPhone, and sync the phone to be tracked. According to the company, parents can get an immediate notification if their teen is texting; on Facebook, Snapchat, or Twitter; or using any other mobile app while the car is in motion.
Live2Txt
This Android-based app can block incoming text messages and calls while it's turned on. Like similar services, users can set up an automated reply to incoming text messages or phone calls. A parent receives a text message whenever the app is turned on or off as a way to monitor its use. According to the product website, getlive2txt.com, a police veteran came up with the app idea. It costs $1.99 to download.
Samsung
The phone maker offers a version of an Android distracted-driving app, called In-Traffic Reply. It allows users to set automatic replies to incoming calls or text messages. The app senses car motion using the phone's GPS. Samsung says users can choose a default reply or a "fun, animated response," or create a message.
Sprint Drive First
This Android app, only for Sprint customers, routes incoming calls to voicemail and silences email and text alerts when a vehicle reaches 10 mph. Exit and 911 emergency buttons on the home screen of a locked device allow users to override the app.
Verizon Driving Mode
This feature, which can be turned on from Verizon's Android messaging app, blocks texts and can send automated messages.
Editor's Note: This article also appeared in the January 2018 issue of Consumer Reports magazine.
Best Car Safety Features
There are many ways to prevent car accidents. 'Consumer 101' TV show host, Jack Rico, takes a look at the latest technology with CR's expert, Ryan Pszczolkowski.