When you shop through retailer links on our site, we may earn affiliate commissions. 100% of the fees we collect are used to support our nonprofit mission.
Learn more.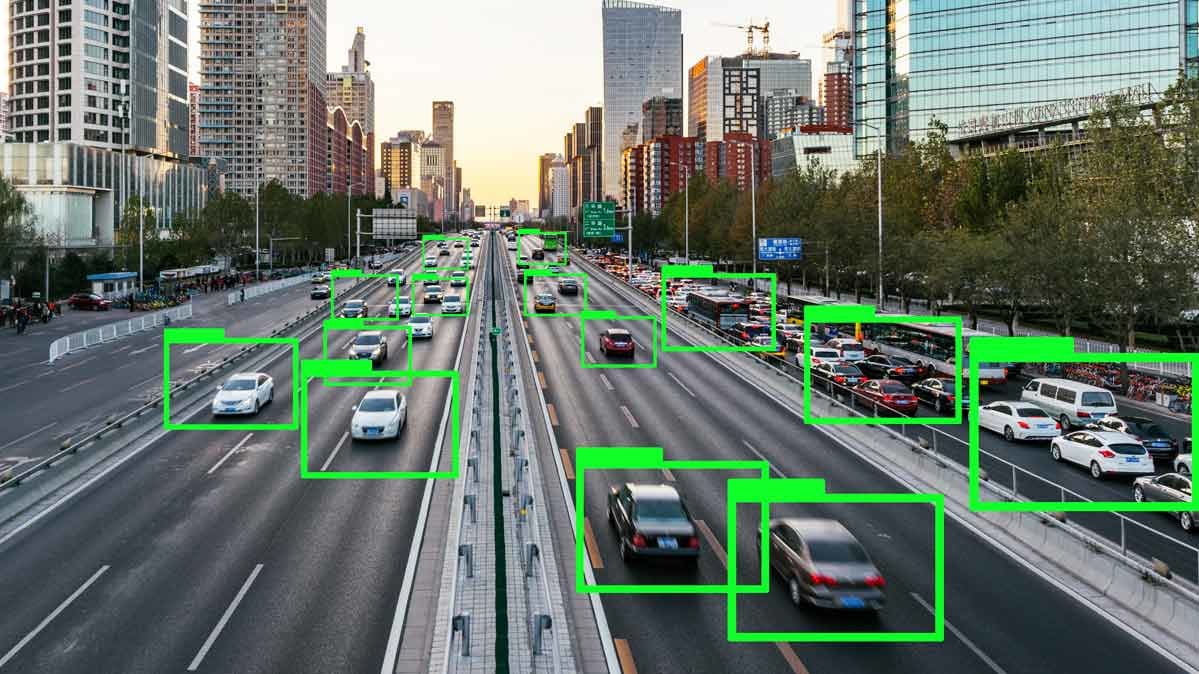 The federal government's top auto-safety watchdog conducted fewer defect investigations last year than at any time in its history—a dramatic shift that some consumer advocates say could mean dangerous defects are likely to surface down the road.
Last year, the National Highway Traffic Safety Administration (NHTSA) launched 13 investigations. The high point was 204 investigations in 1989.
The decline comes just a few years after a series of major scandals rocked the industry, including the General Motors ignition switch and Takata airbag scandals, which are blamed for scores of deaths and injuries and the recall of tens of millions of vehicles, many more than a decade old.
"The American public is relying on this agency to be a cop on the beat," says Cathy Chase, president of Advocates for Highway and Auto Safety, a Washington watchdog group. "People expect the federal government to protect them. ... Absent that, there's going to be a tremendous void in motorist safety."
Since the beginning of the Trump Administration in 2017, NHTSA has been without a chief. Deputy Administrator Heidi King was appointed to the auto-safety agency last September and is now the nominee to be the top official.
A Senate committee voted Wednesday to approve her nomination on a 14-13 party-line vote. The full Senate could vote on the nomination soon.
NHTSA also has not issued a civil penalty against an automaker since December 2015, when it fined Fiat Chrysler Automobiles (FCA) $70 million for a pattern of delaying recalls and BMW $40 million for several violations, including failure to report a safety defect.
In written answers, NHTSA told CR that the agency is in a new era of communication with the auto industry and that investigations are not as necessary as they once were, even just a few years ago.
According to NHTSA data, a shift to fewer investigations began in 2016, during the final year of the Obama administration. The tally reached a historic low last year during the first year of the Trump administration, which has trumpeted a more business-friendly regulatory environment in Washington.
Under Trump, several executive branch agencies, including the Consumer Financial Protection Bureau and the Department of Education, recently have rolled back or weakened some consumer protections.
NHTSA is the auto industry's top safety regulator, and its investigations hold automakers accountable for safety defects, when they're detected or reported, routinely spurring the recall of tens of millions of cars a year.
The auto-safety agency's regulations over the decades have resulted in life-saving seat belts and airbags, safer vehicle body structures, and dozens of incremental design changes that have made cars safer with each generation.
It's unclear what effect the decline in investigations will have because NHTSA has never gone through a period with so few investigations. And safety advocates and industry experts interviewed by Consumer Reports can't say for sure that a trend of fewer NHTSA investigations launched in a year means dangerous defects will go undetected.
But David Friedman, director of cars and product policy and analysis at Consumers Union, the advocacy division of Consumer Reports, says a healthy number of NHTSA investigations in any given year generally equates to strong oversight of the auto industry in the interest of consumer safety.
Friedman previously served as deputy administrator of NHTSA from 2013 to 2015. He was the acting administrator in 2014, during the GM ignition-switch investigation and also when the agency broadened its investigation into Takata airbags.
"Without an agency making clear they will bring the hammer down, I think you're going to see the industry slack off. You're going to see mistakes," Friedman says.
He says the importance of strong enforcement used to become obvious every 10 years or so, when an automaker was found to have hidden a serious defect, and people were killed or injured. More recently, these cycles have shortened, he says, and it has been only a few years between scandals—such as when the Toyota unintended acceleration crisis in 2009 was followed by both the GM ignition-switch crisis in 2014 and the first broad Takata investigation later that year.
Safety advocates say these corporate safety scandals are proof that NHTSA can't afford to relent in its active oversight or appear to be too cozy with the industry it's charged with policing.
Industry representatives say that automakers have become more adept at catching potential defects in the field earlier, discovering and fixing problems before the need to open investigations and issue recalls, according to the Association of Global Automakers, which represents 12 auto companies.
NHTSA Investigations at All-Time Low
The combined total of the two types of investigations has never been lower than the tally of 13 in 2017. The highest total was 204 in 1989, the first year of the administration of President George H.W. Bush.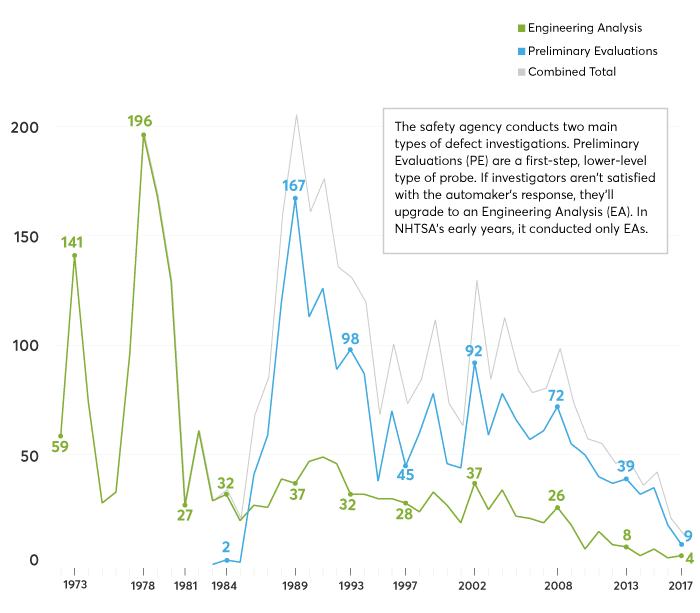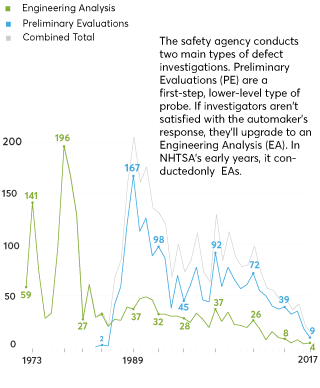 SOURCE: National Highway Traffic Safety Administration.
A CR review of records going back to 1972 shows that NHTSA's rate of active investigations started to decline significantly in 2016 when 21 investigations were launched, and last year there were 13. That compares with an annual average of 61 in the years 2006 to 2015.
It's typical during more conservative administrations to see regulatory investigations and enforcement decline, but the extent of the current drop-off for NHTSA is jarring, says Tracy Hresko Pearl, a law professor at Texas Tech University who has studied auto regulation.
"That's really unprecedented," she said.
NHTSA is also being criticized by safety advocates for its hands-off approach when it comes to oversight of self-driving technology, resisting calls to issue safety regulations that it says could slow innovation.
When operating as envisioned by Congress, NHTSA is meant to be a regulator with enough technical expertise to understand what's going on and step in as needed to investigate crashes or act against unscrupulous operators.
NHTSA told CR that it has begun hiring to meet those needs as it relates to the autonomous driving and other technologies, including hiring statisticians, data analysts, and software engineers.
Despite new driver-assist and other advanced technologies meant to increase safety, the raw number and rate of deaths on the highways have gone up in recent years.
In 2016, the last full year for which NHTSA has verified fatality numbers, 37,461 people died on U.S. roads, an increase of 5.6 percent from 2015. Early estimates for 2017 show the tally will remain about the same. In terms of fatalities per mile, the rate considered the best metric by safety researchers, there were 1.18 people killed per 100 million vehicle miles traveled in 2016, up 9 percent from 1.08 in 2014—which was an all-time low.
Jason Levine, executive director of the Center for Auto Safety, says the agency's biggest priorities now seem to be rolling back regulations and staying out of the way of the development of self-driving cars.
Levine sees the lack of civil penalties as key evidence that the auto-safety agency is not doing its job.
"It has been clear since Day One of this administration that, as far as drivers, passengers, and pedestrians are concerned, safety is not a priority," he says.
For this article, NHTSA would respond only in writing to CR questions about the decline in investigations and its regulation of the industry.
NHTSA says the decline is due to a new, closer supervision of companies, starting with General Motors in 2014 and then FCA in 2015, in the aftermath of safety scandals at the companies.
The scandals resulted in legal agreements with the companies that are "producing results before the need to open formal investigations arises," NHTSA said in a written response to CR. The agency also said it "has access to more information than before, and it is using it more efficiently."
The agreements, known as consent orders, called on the companies to overhaul their internal processes for monitoring potential safety defects and for reporting problems to the government. They required regular meetings with teams at NHTSA to review field data.
"Heightened NHTSA oversight, through the consent orders, has helped pave the way for better communications, reporting and accountability from automakers," the agency said in its written response. "These teams are finding issues sooner."
In a second round of written questions, CR asked NHTSA how this new cooperation has played out across the industry and what processes the auto-safety agency has set up to foster broader cooperation.
The agency, in writing, did not provide examples other than GM and FCA, and offered this response: "Agency-led efforts have resulted in industry reform. NHTSA proactively protects the American public and employs a variety of tools in pursuing vigilant oversight and authority over the safety of all motor vehicles and equipment."
The legal agreements with GM and FCA took effect during the previous NHTSA administration. GM's three-year monitoring agreement ended in May 2017. FCA's three-year order is scheduled to end in July.
NHTSA also says focusing on the number of investigations doesn't give the full picture of its oversight.
The auto-safety agency told CR that a better measure for investigative activity would include three less frequently used lower-level probes known as audit queries, equipment queries, and recall queries. By that measure, NHTSA opened 30 investigations and queries of all types in 2017, compared with 26 in 2016.
But even by that yardstick, the total activity of those two years is still less than half the average of more than 65 investigations and queries of all types that NHTSA launched each year between 2009 and 2015, according to a document provided by the agency.
(After the initial publication of this article, NHTSA reached out to CR to say that our analysis should also factor in "timeliness queries," which NHTSA uses to assess whether a company complied with the legal requirements and deadlines for reporting recalls. According to the agency, when analyzed this way, their number of investigations was 19 percent greater in 2017 than in 2016.)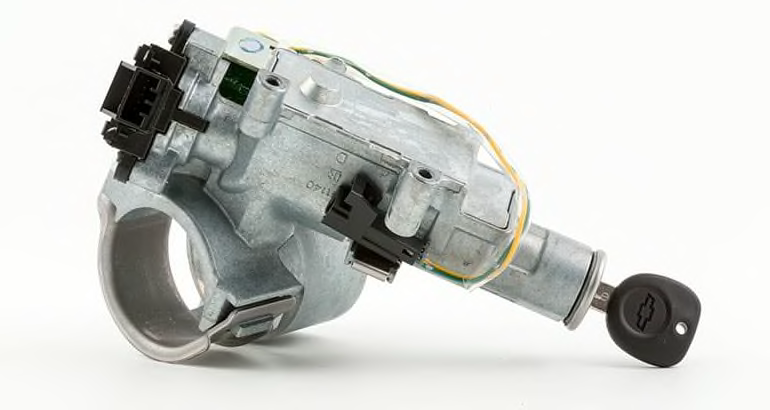 What the Automakers Say
CR contacted nine automakers with written questions for this story, and only FCA gave a response for this story, saying, "Vehicle safety is paramount at FCA US. Accordingly, we continue to work closely with NHTSA."
The leading U.S. trade group for the car companies, the Alliance of Automobile Manufacturers, said in a statement to CR that member companies "prioritize safety."
The other main trade group, the Association of Global Automakers, said that steps its member companies have taken to use advanced data analysis and testing have been successful at catching problems sooner.
"These efforts can reduce the number of recalls in any given year by proactively addressing potential safety issues even before vehicles reach the marketplace," Global Automakers said in an email responding to CR questions. "This mitigates the need for recalls and reduces the number of official NHTSA investigations."
But safety advocates contacted by CR say the decline in investigations is concerning to them. They point out that several massive auto-defect scandals from the past decade were missed by the agency, including the Takata airbag and GM ignition-switch crises.
Takata airbags were recalled by Honda for a series of manufacturing flaws between 2008 and 2011, without triggering a wider NHTSA investigation. The defective airbags, which can shoot deadly shrapnel when they activate, have killed 15 U.S. motorists and injured hundreds of others since 2009. It has become the largest recall in history, involving 37 million cars, and it's likely to take at least four more years to complete.
GM had evidence going back to 2001 of an ignition-switch flaw that could result in lost power and disabled airbags while a car was in motion. At least 124 deaths and 275 injuries are now blamed on the defect. NHTSA considered opening an investigation before backing off in 2007, and the defect remained largely from public view until GM filed paperwork with NHTSA in 2014.
Friedman, the CR director and former NHTSA administrator, agrees that greater cooperation between NHTSA and automakers could lead to more effective self-policing, but he worries the public might eventually pay a price in increased highways deaths from undetected or ignored safety defects.
"My hope is that this is a new normal where companies recall defective products before NHTSA's investigation is made official, but my fear is that DOT leadership took their foot off the gas on aggressive public investigations," he says. "If that's the case, we might not know it until defects ignored by an automaker become clear five or 10 years from now."
Editors note: This story has been updated to include new information provided to CR by the National Highway Traffic Safety Administration.