How to Fit Car Seats Three Across
Tips for safely securing three small children in one rear seat One of the most common questions we hear from consumers is, which cars and car seats will make it easy for me to secure three child seats across the rear seat of my car?
Laws in many states now require children as old as 8 to be in booster seats, which means that anyone with more than two children is far more likely to encounter this challenge than parents of the past.
If you're looking to buy a car to better suit your three-across needs but you still can't afford a large model with three rows, there are some features to keep in mind.
For the best chance to easily secure three seats, look for a vehicle with a flat rear seat. Deep contours for the outboard seats or raised center humps can limit the flexibility to move car seats side to side.
Check to see whether the seat belt or LATCH lower anchor hardware overlaps or whether the spacing is narrow—either scenario can complicate installation, or render it impossible. Standard LATCH lower anchor spacing is 11 inches, but sometimes center LATCH lower anchors overlap into the outboard seats, because they are engineered with the assumption that there would be one or two child seats. Most cars still do not have dedicated LATCH lower anchors in the rear center seats. Seat-belt spacing is not standardized, so look for spacing between buckles that can fit a car seat without overlapping with the belt next to it.
If you already have your car seats, give them a try in the car before you make your final purchase to see whether it's even possible to fit all of them.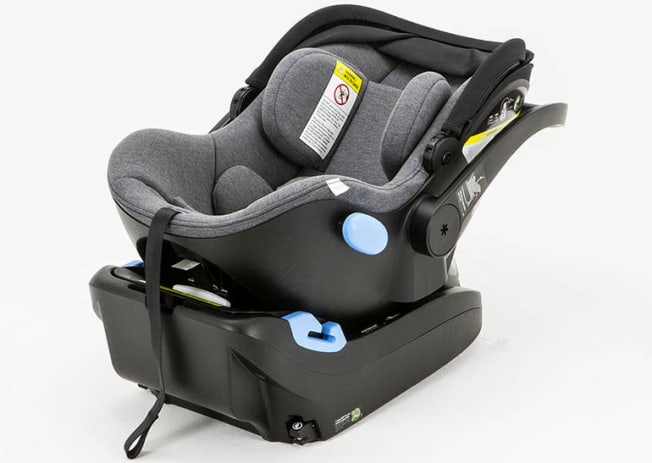 Choose Narrower Car Seats
Of course, the narrower the car seat's footprint and overall dimensions, the better. Overall shell dimensions vary among seats, and add-ons, such as cup and snack holders, can make them even wider. We measure the width of the base (the part that sits on the vehicle cushion) and the overall width (at the widest part) of all the seats we test. The following are highly rated seats (very good or excellent overall) from each category that also have some of the skinniest dimensions. 
Watch for Child-Seat Interactions
Sometimes even the narrowest seats may not work if their shapes interfere with one another. You may have two narrow seats, but if their armrests meet at exactly the same point, that may make it impossible for them to fit side by side. This may take a bit of trial and error, but try to position seats so that they don't interfere at their widest points. 
One of the ways you can avoid seats interfering with each other is to alternate them with different orientations. For example, if you have two children rear-facing and one forward-facing, you may want to position the forward-facing seat in the middle. If the configuration works for you, consider that the oldest child may have the easiest time climbing into a middle seat himself, rather than you trying to reach across to the center with a less mobile baby or toddler. Clearly, every family will have a slightly different puzzle to solve. 
Harnessed Seats May Prove Easier Than Boosters
Even if your child is old enough to safely ride in a booster seat, the need for buckling the belt on every trip with a booster in the narrow space left between the other seats may prove especially difficult. Consider keeping even a booster-aged child in a harnessed seat that will accommodate his or her weight and height. Even though the initial installation may prove a chore, the access to the harness thereafter will be from the front of the seat, which will probably be easier for all. 
Seat-Belt Installations May Give You Added Flexibility
Installing seats with the vehicle seat belts rather than the lower LATCH anchors may give you some added flexibility. This may be particularly true if lower LATCH anchors overlap where seat-belt buckles are, thereby preventing access to them. Most vehicles still do not have dedicated lower LATCH anchors in the center rear seats.  
Make Use of Your Local CPS Technicians
As three-across seating is becoming a more common challenge, child passenger safety (CPS) technicians are getting better at advising on seats and tricks that can help to get a secure installation for all seats, even in cars where you'd think it may be impossible.
Child seats can be challenging enough to install securely and use correctly even when you have just one. Be ready for some trial and error in making three across work and be willing to return a new seat if you can't.