When you shop through retailer links on our site, we may earn affiliate commissions. 100% of the fees we collect are used to support our nonprofit mission.
Learn more.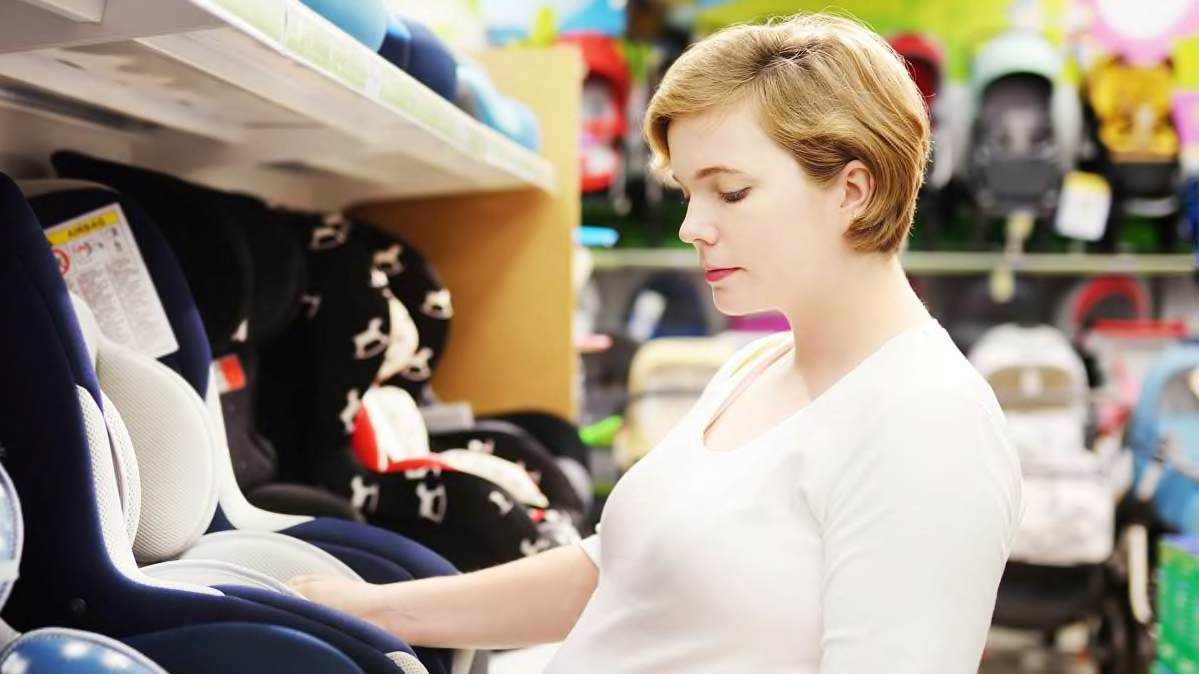 Parents are required in this country to have car seats to protect their children in the event of car crashes. All car seats sold in the U.S. must meet federal safety standards. These rules dictate how critical safety information is conveyed to buyers through labels and instruction manuals, and how each seat performs in crash tests.
Because those standards and mandates are so important, the rising number of noncompliant car seats available for purchase online or seen at car-seat check events is especially concerning, safety advocates say.
Parents and caregivers who want to find a seat that meets their budget may be tempted by new or used ones offered by third-party retailers at lower prices.
Child seats can seem relatively expensive. The average price of a new rear-facing-only infant seat is $185 (of the models Consumer Reports has tested).
But a car seat offered at a surprisingly low price may not meet important safety standards or may have been designed for an overseas market. Many of those seats have different—and often less stringent—standards or offer designs not intended for use in U.S. cars.
What Parents Can Look For
With the risks in mind, how can parents and caregivers know that the seat they've purchased is compliant with U.S. standards? It all comes down to a label. Here's what to look for on it:
"This restraint system conforms to all applicable federal motor vehicle safety standards. This restraint is certified for use in all motor vehicles and aircraft." This labeling is probably the easiest to spot. This exact wording means the seats have been tested to comply with Federal Motor Vehicle Safety Standard 213, which regulates child seats. (Note that the reference to aircraft will appear only if the car seat meets the requirements of a required "inversion" test or isn't a booster seat. Booster seats aren't certified for use on airplanes because there are no shoulder belts on a plane.)
Basic instructions for the seat's use on the seat and in the manual.
Manufacturer/distributor's name and contact information.
Date of manufacture. These labels provide the necessary information needed to check if a recall applies to your car seat.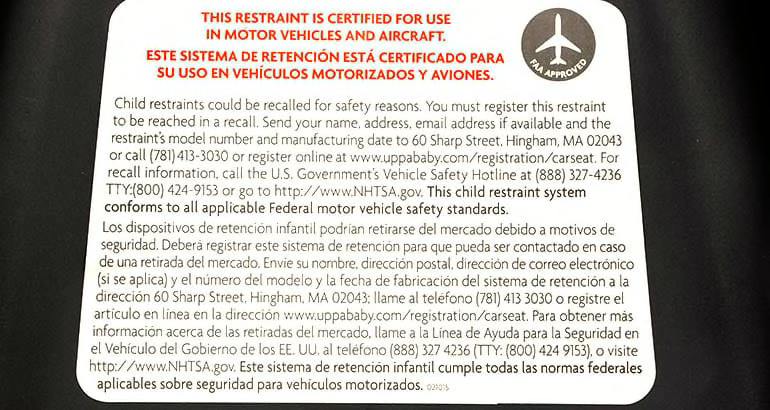 "If your car seat does not display these bits of information, then it doesn't comply with federal safety standards. Don't buy it," says Jennifer Stockburger, director of operations at the Consumer Reports Auto Test Center in Connecticut. "It's not only the words that are governed by federal regulations, but the font size and color are as well. If it doesn't look like the images here, it's probably not a U.S. certified seat."
This becomes particularly important when third-party vendors, or distributors, are selling a seat. Buying a car seat from a major U.S. retailer or a known seller of child products increases your chances of getting a certified car seat. Online marketplaces allow for third-party vendors, and so there may not be a guarantee.
Consumer Reports also cautions against purchasing used car seats, such as from tag sales or on consignment, unless you can be 100 percent sure of the seat's history.
Secondhand seats may also have suffered so much wear and tear that the labeling is no longer legible, and that's a risk you may not want to take, Stockburger says.