How to Safely Clean Coronavirus From Your Child's Car Seat
Stay away from bleach and other harsh chemicals
Sanitizing and cleanliness is at the forefront of everyone's mind these days. Parents are being extra-vigilant in cleaning their home and car to protect the family from the novel coronavirus, which causes COVID-19. Naturally this sanitization should also include their child's car seat. However, bleach and other strong chemicals that work well on some surfaces may harm the car seat.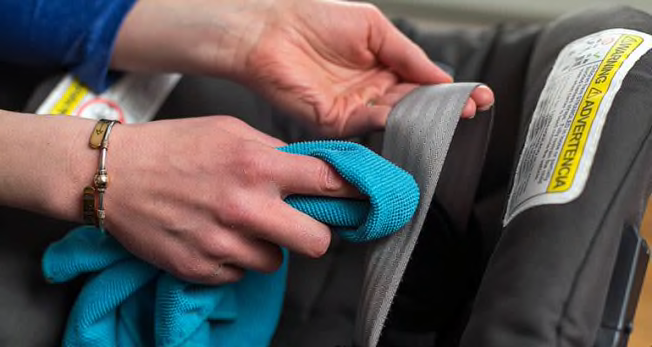 Covers and Soft Goods
Many, but not all, manufacturers allow for machine washing for removable car seat covers and pads. Mild or baby-specific detergents are typically recommended. Covers and pads should then be air-dried. Do not use bleach.
Harness Webbing and LATCH Straps
Typically, harnesses and straps should be only spot-cleaned. Use a nonabrasive damp cloth, or sponge, with mild soap and warm water. Be sure to air dry these parts and not throw them into your dryer.
Buckles
The common advice is to use only water when cleaning buckles or push-on LATCH connectors. The concern is that soaps or lubricants as may leave residue that can affect performance. Further, some cleaners that are recommended for tackling coronavirus in the house can be corrosive. However, some seat manufacturers allow for use of soap to clean these components. We recommend checking your owner's manual for the specific product guidance.
Plastics and Metals
The car seat shell and other plastic parts most likely can be cleaned with damp cloths and mild soap and water. If you use soap, be sure to go back over the shell with a clean, damp cloth to remove any soap residue.
With kids home and everyone doing less driving, this is a good time review the height and weight limits and make sure they're still appropriate.
Confirm that your child still fits the car seat's limits and that the harness height is appropriate for him. Remember, when using a rear-facing seat, the harness should be at or below your child's shoulders. If the child is in a forward-facing seat, harness height should be at or above the shoulders. Also see whether the crotch buckle needs to be adjusted to meet the manufacturer's specifications (check your owner's manual).
As always, remember the following checklist for helping to ensure car seat safety:
Right seat: The child should be within the height and weight limits of the car seat
Tight seat: When installed with either lower anchors or the vehicle seat belt, the car seat should not move more than 1 inch in any direction. Avoid these common car-seat installation mistakes.
Harness height: The harness should be at or below the shoulders if rear-facing, or at or above the shoulders when forward-facing.
Harness tight: The harness should be snug enough so that you can't pinch any harness fabric between your fingers at your child's shoulders. (Learn more about proper harnessing.)
Final check: Recline right and tether tight: Recline right for rear-facing car seats and tether tight if forward-facing.
If you have already cleaned your car seat with harsh chemicals or against the manufacturer instructions, contact to the manufacturer's customer service for its advice on any potential damage and for replacement components if needed.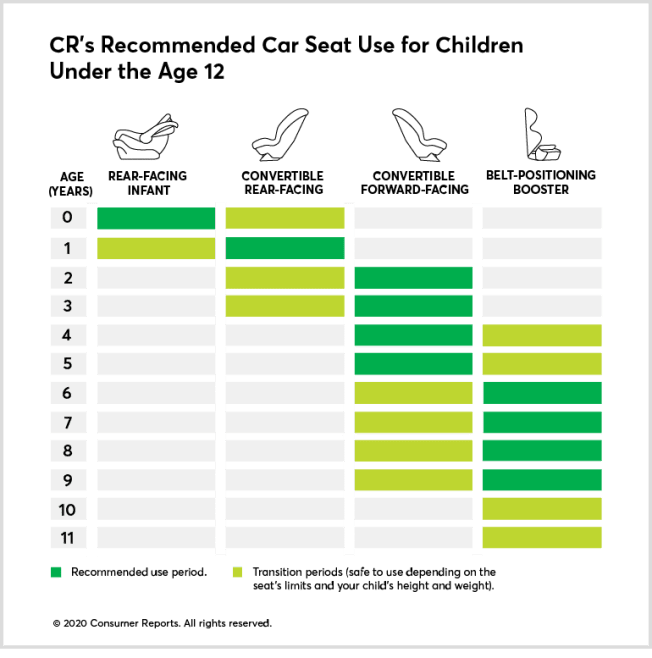 Is the inside of your car starting to resemble a garbage can? On the "Consumer 101" TV show, Consumer Reports expert Jen Stockburger offers tips to host Jack Rico on how to make a vehicle's interior look new again.