When you shop through retailer links on our site, we may earn affiliate commissions. 100% of the fees we collect are used to support our nonprofit mission.
Learn more.
Volkswagen has admitted to circumventing the emissions control system in about 550,000 vehicles sold in the United States since 2008 with the 2.0-liter diesel engine. As many as 11 million vehicles worldwide may be affected.
This has resulted in a $14.7 billion settlement to compensate car owners and address environmental harm. Reflecting the severity of the emissions deception, this agreement is massive in breadth and scope.
The deal is tough, strong, and consumer-oriented. It is significantly bigger than the civil penalties paid by other automakers, namely the more than $2 billion General Motors has paid so far over faulty ignition switches and the $1.4 billion Toyota paid over acceleration issues, according to the New York Times.
In mid-September, 2015, the EPA issued a notice of violation to Volkswagen AG, Audi AG, and Volkswagen Group of America (collectively VW) for failure to comply with Clean Air Act regulations. In November, the EPA notified the automaker about violations found with its 3.0-liter V6 diesel engine, as well. In doing so, the agency determined that certain Audi, Porsche, and Volkswagen models have been emitting more pollutants than legally acceptable, leaving in their wake potential environmental and health implications.
Consumer Reports provided a historical diesel fuel-economy analysis to the EPA to help its ongoing investigation. By the end of November, Volkswagen told the EPA that the issues with the 3.0-liter V6 diesel engine impacts model years 2009 through 2016 and counts about 85,000 vehicles.
Since the initial announcement, investigators have worked to learn how the illegal strategy came about, while the EPA has sought to close loopholes and ferret out any other potential cheaters.
On the corporate side, executives have been terminated and shuffled, stock values have roller coastered, and hands were wrung. And finally, details are emerging about the tactical decision to willingly cheat the government, customers, and the environment, thanks in part to a multistate lawsuit.
Still, consumers have been left with many unanswered questions. This fluid situation promises ongoing drama and eventual recalls. Here's what we know so far.
What Is the Concern About Volkswagen Emissions?
Federal clean-air standards are configured to become increasingly stringent over time, with clear steps when new, tighter requirements must be achieved for legal new-car sales.
The rules are in place to improve air quality for both long-term environmental and health benefits. Although the cited Volkswagen models can meet the standards in a laboratory test, thanks to a sophisticated software algorithm that distinguishes testing from real-world driving, these vehicles were found to emit nitrogen oxides (NOx) at up to 40 times the standard when driven normally.
NOx contributes to ground-level ozone and fine particulate matter. According to the EPA, "Exposure to these pollutants has been linked with a range of serious health effects, including increased asthma attacks and other respiratory illnesses that can be serious enough to send people to the hospital. Exposure to ozone and particulate matter have also been associated with premature death due to respiratory-related or cardiovascular-related effects. Children, the elderly, and people with pre-existing respiratory disease are particularly at risk for health effects of these pollutants."
Did Skirting of the Emissions Rules Result in Better Fuel Economy and Performance?
It appears so. In response to the scandal, Consumer Reports conducted new testing of 2015 and 2011 Volkswagen TDI diesel vehicles in "cheat" mode to assess fuel economy and performance. We found a noticeable decline in fuel economy for both models. Our testing also showed reduced acceleration with the 2011 model, which is equipped with a lower-tech diesel filtration system.
What Is 'Cheat Mode'?
One key factor in the emissions scandal is that the vehicles in question operate in two different modes: "on road" and "dyno." But merely having two different modes isn't a problem; many cars offer driver-selectable modes to enhance fuel efficiency or performance.

The Volkswagen and Audi diesel vehicles in question in the U.S. use an Engine Control Unit, or ECU, designed by Robert Bosch GmbH, a German multinational engineering and electronics company. In addition to the ECU, Bosch supplies other key components, such as the computers that control the braking and electronic stability control systems. This is where the dyno mode—also referred to as a test mode—comes into play. Volkswagen admitted to putting the cars in a special mode just for government emissions testing, then switching to an alternative programming for driving in the real world.
Emissions system and fuel economy testing is conducted while a vehicle is placed on a dynamometer—think of it as a two big rollers or a treadmill—rather than driving on the road. The vehicle has only its driving wheels rolling (the front ones, in the case of VW vehicles). But the rear tires are stationary.
The vehicle could otherwise interpret the test procedure as a dangerous situation or malfunction, activating traction control or stability control. By enabling a test mode, the vehicle will be able to operate during the test process. Once the test is complete and the car is restarted, the car reverts to its normal function.
The Bosch system (EDC 17) used by these models has the capability to run different algorithms to manage engine performance onboard and could alternate between those seamlessly. Other companies using similar hardware have employed this ability to enable the driver to adjust the car's dynamic personality. But VW used this mode for other purposes.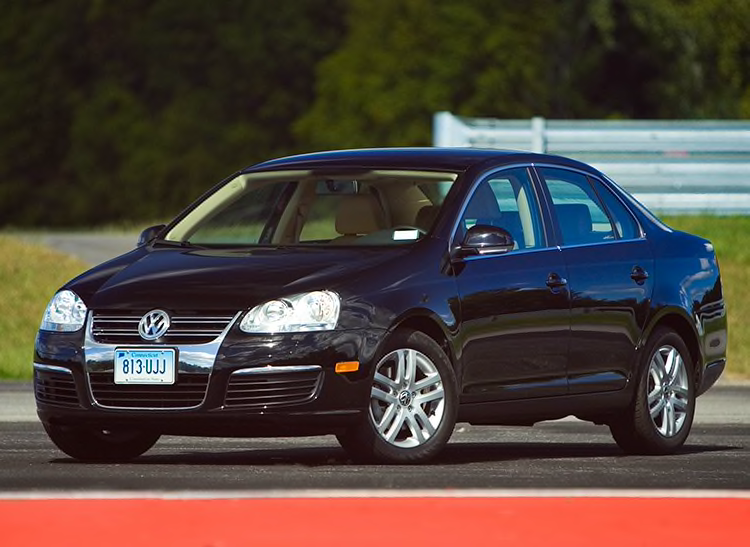 How Does the Scandal Affect Current Owners?
For now, the cars are safe and legal to drive. No immediate action is needed by today's drivers.

That said, the settlement approved Oct. 25 gives people who are ready to sell their cars back to VW an option to get their cars bought back, along with some extra cash for their troubles.

People who want to sell their diesels to VW will get restitution payments, plus the NADA clean trade-in value (the pricing reference used by most dealers) from Sept. 18, 2015—before the scandal broke. (You can find a table here giving a range of estimated settlement amounts.)
This deal is intended to be generous and slanted toward the consumer, in part to punish VW and deter other companies from thinking that cheating emissions laws is a viable option. Total settlement amounts should be the car's former book value, plus $5,100 to $9,900 depending on mileage, features, and age.
The cash bonuses should make up for any concerns about the fairness of the trade-in value, and if you want to be done with your current VW, you should be able to buy a better car with the cash you get from the company.
VW dealers are also expected to offer some incentives if you want to turn all that cash into a new gasoline-powered Volkswagen.
Lease holders get a similar deal, with VW agreeing to take the cars back and terminate the leases. The cash payments will be about half of what VW owners get. (Again, there's a table for this.)
For people who want to keep their cars, there will be a recall to bring the existing models up to regulations. The fix will likely be a software update for newer models. Pre-2015 cars are expected to need additional components installed.
Regulators have rejected some of VW's proposals for potential fixes, however, remedies for 3.0L TDI V6 engines were approved in October, 2017, as follows:
Generation 2.1 SUVs: VW Touareg (2013-2014), Porsche Cayenne (2013-2014), and Audi Q7 (2015) — Software update and hardware modification.
Generation 2.2 SUVs: VW Touareg (2015-2016) and Porsche Cayenne (2015-2016) —Software update only.
The repair for Generation 2.1 will take about an hour, and the work on Generation 2.2 takes about 3 hours. Volkswagen will provide loaner vehicles upon request.
Owners of other models will have to wait a little longer to learn how those cars will be remedied, and how much any recall repair will affect fuel economy and performance. That's the biggest fear among VW enthusiasts—that the fun-to-drive VWs will drink more fuel and lose some of their acceleration. Time and testing will tell.

Can I Still Buy a New Volkswagen Diesel?
Not from an Audi, Volkswagen, or Porsche dealership as a new or certified pre-owned model. Volkswagen issued a stop-sale on any models at dealerships, meaning, they are not available for purchase. Once an approved fix in put in place, it is expected that new diesel models will be imported. Due to the buyback program, it is expected that there will be an abundant supply of used models.

How Will VW Compensate Owners?
Owners of 2009-2015 2.0-liter, four-cylinder TDIs can have Volkswagen buy their cars back at the "clean trade-in value" established by National Automobile Dealers Association Used Car Guide pricing for TDIs in September 2015, before the scandal became public. Owners who choose to keep their cars will be able to have modifications made by dealerships free of charge, once a fix is approved by the EPA and the California Air Resources Board (CARB). In all cases, an additional cash compensation will be paid to owners—somewhere in the range of $5,500 to $9,900 depending on the model, mileage, and features of the vehicle.
Volkswagen of America hired Kenneth Feinberg, a prominent victim compensation attorney, to create and administer the claims program. Learn more at the official website.
The roll-out began with the judge's approval Oct. 25, 2016. All buybacks, payments, and modifications must be completed by June 30, 2019. Consumers have until Sept. 1, 2018 to decide on whether to choose a buyback versus a repair.
In addition, VW launched a "goodwill" program in 2015 that offered affected diesel-car owners owners with a combination of a $500 pre-paid Visa card, $500 in dealership credit, and three additional years of roadside assistance. Initially offered to just 2.0L TDI owners, the goodwill was extended to 2009-2016 Touareg TDI owners, as well. The registration period for this program has ended.
How Much Will I Get From a Buyback?
The values that will determine the buyback price of a 2009-2015 TDI are based on the estimated value prior to Sept. 18, 2015. They depend on the particular model, year, body style, mileage, location, and certain options, like a power sunroof or navigation system. (Download a PDF detailing model-by-model buyback resale values and lease restitutions.)
What Else is VW Doing to Settle the Case?
The government requires that 85 percent of the nearly 475,000 affected TDIs to be fixed or removed from the road by June 30, 2019.

To make up for the environmental damage caused by the dirty diesels, VW is paying $2.7 billion to fund efforts to reduce nitrogen oxide emissions in areas with severe smog. It has also agreed to invest $2 billion in manufacturing, promoting and building infrastructure for electric vehicles.
Further information, including official documents, can be found at: vwcourtsettlement.com.
Are States Pursuing Action Against VW?
Yes. The punishment for Volkswagen's violation of emissions regulations continues, with new civil lawsuits filed by attorneys general for the states of New York, Massachusetts, and Maryland—collectively seeking more than $1 billion in damages. The allegations claim that responsibility for the scandal rises to the highest levels of VW's leadership. This action should not affect the California case, which involved the Department of Justice, consumer-rights plaintiffs and regulatory agencies seeking restitution for consumers and the environment. (Learn more about what these lawsuits mean for VW and owners.)

When Will There Be a Recall?
There's a schedule for rolling out the fixes for vehicles broken down into four different groups. For the largest group, known as Generation 1, all buybacks, payments, and modifications must be completed by June 30, 2019.
It was announced on January 6, 2017, that Volkswagen has received approval for a two-phase emissions modification for affected 2.0L TDI vehicles with Generation 3 engines. The company will begin notifying customers.
According to the EPA, "The Generation 3 vehicle models covered by the approved emissions remedy are the model year 2015 diesel Volkswagen Beetle, Beetle Convertible, Golf, Golf SportWagen, Jetta, and Passat, and the model year 2015 diesel Audi A3."
In a statement, VW said that it "continues to work closely with EPA and CARB to reach an agreement on approved emissions modifications for other affected 2.0L TDI vehicles as quickly as possible."
Consumer Reports has three VW diesels in our test fleet, and once the recalls are performed, we will re-evaluate their fuel efficiency and performance.
Recall Fix Schedule
| | | | | |
| --- | --- | --- | --- | --- |
| Model | Years | Emissions System Generation | VW Expected Submittal Date | VW Final Submittal Date |
| Audi A3 | 2010-2013 | 1 | 11/11/16 | 1/27/17 |
| Beetle, Beetle Convertible | 2013-2014 | 1 | 11/11/16 | 1/27/17 |
| Golf 2-dr | 2010-2013 | 1 | 11/11/16 | 1/27/17 |
| Golf 4-dr | 2010-2014 | 1 | 11/11/16 | 1/27/17 |
| Jetta, Jetta SportWagen | 2009-2014 | 1 | 11/11/16 | 1/27/17 |
| Passat | 2012-2014 | 2 | 12/16/16 | 3/3/17 |
| Audi A3 | 2015 | 3 (Initial modification) | 7/29/16 | 10/14/16 |
| Beetle, Beetle Convertible | 2015 | 3 (Initial modification) | 7/29/16 | 10/14/16 |
| Golf 4-dr, Golf SportWagen | 2015 | 3 (Initial modification) | 7/29/16 | 10/14/16 |
| Jetta | 2015 | 3 (Initial modification) | 7/29/16 | 10/14/16 |
| Passat | 2015 | 3 (Initial modification) | 7/29/16 | 10/14/16 |
| Audi A3 | 2015 | 3 (Subsequent modification) | 8/15/17 | 10/30/17 |
| Beetle, Beetle Convertible | 2015 | 3 (Subsequent modification) | 8/15/17 | 10/30/17 |
| Golf 4-dr, Golf SportWagen | 2015 | 3 (Subsequent modification) | 8/15/17 | 10/30/17 |
| Jetta | 2015 | 3 (Subsequent modification) | 8/15/17 | 10/30/17 |
| Passat | 2015 | 3 (Subsequent modification) | 8/15/17 | 10/30/17 |
What is the Fix?
According to an Associated Press news report, the expected fix for the 2.0L engines communicated to dealers includes a computer software update and larger catalytic converter.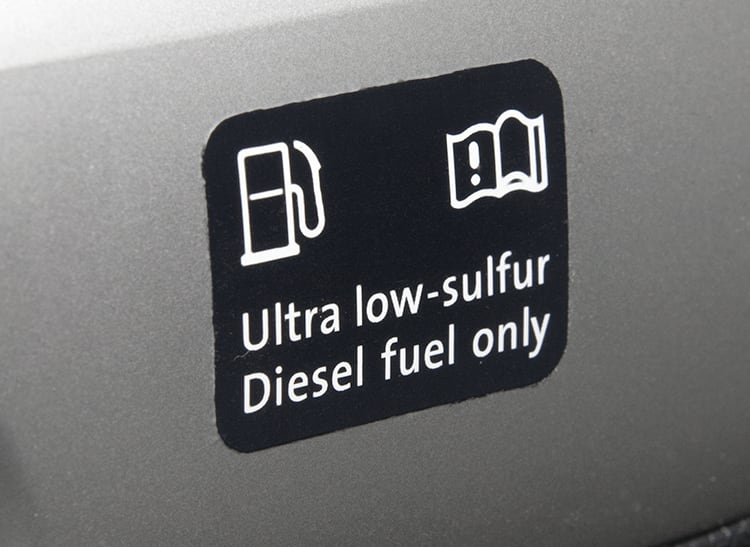 What Is Consumer Reports' Position on 'Dieselgate'?
Volkswagen lied to us. Its 11 million "clean diesel" cars have been polluting the air at up to 40 times the federal standard for years.

Worse: It installed technology to hide the problem from emissions tests.
The company is being punished by the markets. But that doesn't compensate either its customers or the rest of us, and it doesn't stop this from happening again.
Consumer Reports' President and CEO Marta L. Tellado, Ph.D., put it this way, "We need to make certain that the consequences for deceiving the public are severe, and that they bring justice to those who have been harmed." (Also read "Will Volkswagen's Penalty Be High Enough?" by Tellado on CNN.com.)
Now that a settlement has been proposed...
"We're pleased that VW owners and lessees have the option to choose what to do with their faulty cars, and will get significant cash compensation regardless of their choice," said William Wallace, policy analyst for the policy and mobilization arm of Consumer Reports. "We are also glad that the settlement addresses the harmful environmental and dangerous air quality impacts from these faulty vehicles."
Consumer Reports has put together a four point test by which to judge Volkswagen's response.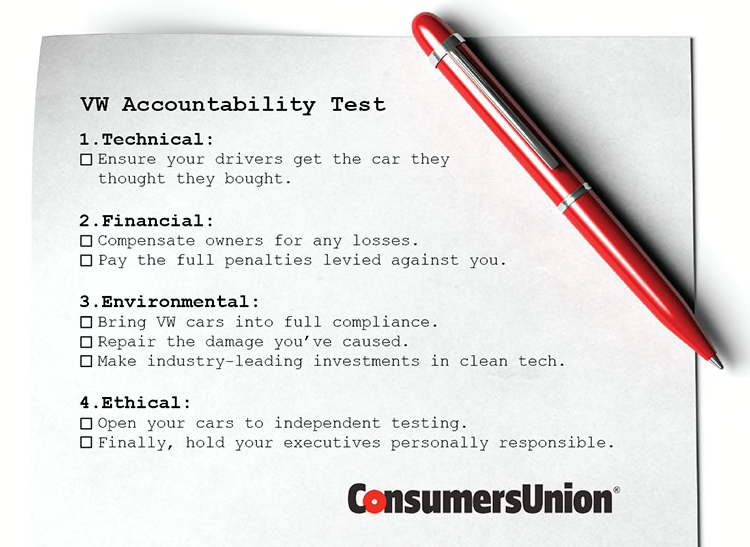 How Do VW's Actions Affect Consumer Reports' Recommendations of VW and Audi?
Based on the EPA notice of violation against Volkswagen for circumventing emissions testing guidelines, Consumer Reports has suspended its "recommended" Rating of two tested VW vehicles: the Jetta diesel and Passat diesel. These recommendations will be suspended until Consumer Reports can re-test these vehicles with a recall repair performed. Once the emissions systems are functioning properly, we will assess whether the repair has adversely affected performance or fuel economy.

What Will the EPA Do Now?
The EPA announced it will conduct sample tests on all diesel passenger car models to be sold for the new model year. Plus, the agency will add new tests to detect so-called "defeat devices" that can bend the rules in an automaker's favor, and has notified all manufacturers of the general changes to its test program.
The agency is actively collecting diesel cars from consumers and rental fleets to augment models culled from manufacturers. These cars will be put through a battery of tests.
The EPA says the investigation into Volkswagen's actions is ongoing.
The EPA and the Department of Justice filed a civil complaint against Volkswagen (including Audi and Porsche) on January 4, 2016, that "alleges that nearly 600,000 diesel engine vehicles had illegal defeat devices installed that impair their emission control systems and cause emissions to exceed EPA's standards, resulting in harmful air pollution."

Will My Volkswagen Fail Emissions Tests?
Not likely. Since no state uses a "roller test" on periodic emission/safety inspections, there's no reason for a car to fail unless it developed an anecdotal problem. If a car is covered by an emissions warranty (differs by the state the car was originally sold in), VW will fix any related problem for free. For some states, after an actual recall has been issued, owners will have a time period, potentially a few months, to complete the recall. The car will not pass inspection unless recall work has been performed.
How Dirty Are the Volkswagen Cars?
The EPA estimated that the cheating VW diesels polluted at up to 40 times the emissions standards for nitrogen oxides—a pollutant connected with respiratory and cardiovascular symptoms and diseases.
However, that estimate was measured under maximum vehicle load and throttle. Under normal operating conditions, the emissions were more in the range of 10 to 20 times over the federal limit.
Wasn't That False Advertising?
The Federal Trade Commission thought so. The FTC's part of the federal case against Volkswagen Group of America, sought compensation for consumers who were deceived by the automaker's "Clean Diesel" advertising as it cheated on government emissions tests. VW marketed the 550,000 diesel vehicles sold in the U.S. as environmentally friendly and placed a premium price on them.
Much of the $10 billion VW is paying to settle the case is being used to buy back cars from consumers who feel they were misled, as well as cash compensation on top of the fair market value of the cars.
The crux of the FTC enforcement action stated that, because of the emissions-defeat device, VW claims about low emissions, nitrogen oxides reductions, emissions compliance, eco-consciousness, and comparative resale value were false or deceptive. As a result, consumers didn't get the benefit of the environmentally friendly car they thought they were purchasing, and resale values likely will fall.