The punishment for Volkswagen's violation of emissions regulations continued today, with new civil lawsuits filed by attorneys general for the states of New York, Massachusetts, and Maryland—collectively seeking more than $1 billion in damages. The allegations claim that responsibility for the scandal rises to the highest levels of VW's leadership.
The details provided in today's suits paint an even darker picture of VW's corporate deception than outlined in the consumer and environmental-rights settlement unveiled last month in California. Massachusetts AG Maura Healey described VW's practices as including, "sham software recalls, overly technical presentations designed to obfuscate, and (resistance) to new testing" of VW vehicles. The allegations include VW's creation of a cost-benefit analysis for the cost of complying versus flouting the law, and the destruction of incriminating documents at the direction of the most senior people at the automaker.
And New York Attorney General Eric Schneiderman said that VW's attempt to paint their actions as the work of a few rogue engineers is "far from the truth," describing VW's actions as a "willful systemic scheme to the highest levels."
Here's what you need to know about the latest developments.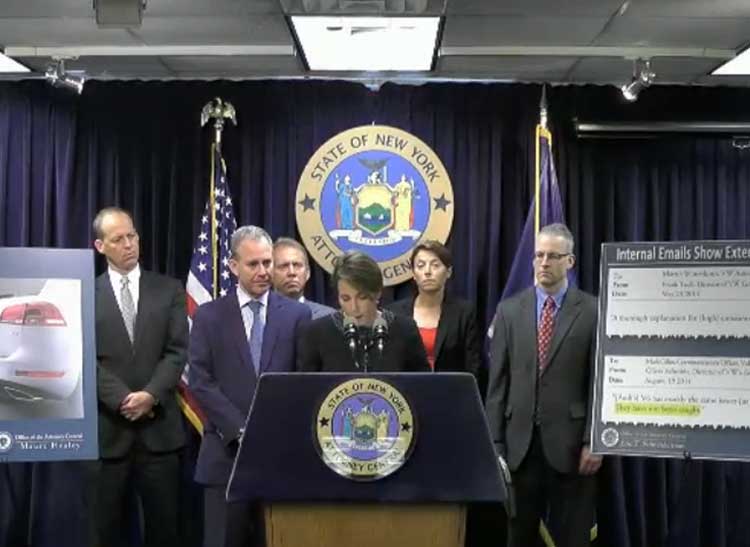 Will these lawsuits affect last month's $15 billion settlement in California?
Today's actions by the states of New York, Maryland, and Massachusetts shouldn't affect the California case, which involved the Department of Justice, consumer-rights plaintiffs and regulatory agencies seeking restitution for consumers and the environment. In addition to penalties for environmental damage, the proposed settlement from the California case provides avenues for direct restitution for customers, including direct payments and buybacks to owners of 2.0-liter four-cylinder TDI vehicles. Today's case doesn't directly involve consumers. It seeks damages on behalf of the three states bringing the suit, not only for 2.0-liter TDIs, but also for 3.0-liter V6 diesel cars sold by Volkswagen, Audi, and Porsche. Other states could file similar suits.
What damages are being sought in these cases?
The $1 billion total is the result of some very complicated math, New York is seeking approximately $500 million in damages. Maryland is seeking $25,000 for each of 13,000 diesels sold in its state, which may total $325 million, "plus additional penalties and injunctive relief." Massachusetts is seeking "$25,000 for each day of each violation," which could be about $375 million, although a Massachusetts AG spokesman declined to clarify if that figure is correct.
Will consumers gain any benefit from this?
Consumers will probably not see any direct monetary benefit from these cases, but the states will. These cases are meant to penalize Volkswagen for its violation of the law, damage to the environment, and abuse of consumer trust—the aim is not to directly compensate diesel owners for lost value or harm. But the steep penalties are intended to discourage this sort of corporate behavior by automakers going forward.
Are any criminal charges being filed? Might VW executives go to jail?
The New York lawsuit implicates multiple high-level executives at Volkswagen, Audi, and Porsche, from CEOs to division chiefs, to heads of product development and engineering. The suits also use strong language, describing the conduct at VW as "unlawful" and "deceptive." However, this is a civil case brought against the VW, Audi, and Porsche corporate entities, not against any particular individuals, so it will not put anyone behind bars. But a criminal investigation by the U.S. Department of Justice is ongoing, so individual charges are still a possibility.
What does Consumer Reports think of the lawsuit?
According to Laura MacCleery, vice president of consumer policy and mobilization for Consumer Reports: "Consumers cheated by Volkswagen deserve a full explanation. According to the lawsuits filed today, VW executives oversaw a deliberate scheme to cheat emissions regulations for more than a decade, then went to appalling lengths to try to keep it from the public—even after violations were discovered. We urge these states, as well as federal officials still looking into environmental fines and possible criminal charges, to hold VW and its executives fully accountable for their actions so that nothing like this happens again."
What is Volkswagen's response to the lawsuits?
Through a spokeswoman, VW released the following statement: "The allegations in complaints filed by certain states today are essentially not new and we have been addressing them in our discussions with U.S. federal and state authorities. Volkswagen continues to work cooperatively with the U.S. Department of Justice, the Environmental Protection Agency and the California Air Resources Board on a comprehensive national resolution of all remaining environmental issues arising from the diesel matter. To date, Volkswagen has agreed to buy back or modify affected 2.0L TDI vehicles, establish a $2.7 billion environmental remediation trust for the benefit of all 50 states, and invest $2 billion for infrastructure to increase the use of zero emission vehicles across the United States. It is regrettable that some states have decided to sue for environmental claims now, notwithstanding their prior support of this ongoing federal-state collaborative process."
What's next for Volkswagen?
According to industry analyst Ed Kim at AutoPacific in Tustin, Calif., VW has been expecting and planning for these lawsuits from the states, but the company is experiencing some deep hurt. "Volkswagen is getting slammed left and right by many governments around the world," he says "Dieselgate is far from over and will continue. It will be tough for Volkswagen to weather this and will take years to get through. With the loss of TDI sales, the numerous fines, and the loss of trust with both newer customers and their deep fanbase, they hit a huge speed bump in their long-term plans. But it won't kill the brand. It all comes at a time when VW is about to launch a whole line of new products."
Consumer Reports is an independent, non-profit organization dedicated to helping consumers. We make it easy to buy the right product from a variety of retailers. Clicking a retailer link will take you to that retailer's website to shop. When you shop through retailer links on our site, we may earn an affiliate commission – 100% of the fees we collect are used to support our mission.
Learn more.
Our service is unbiased: retailers can't influence placement. All prices are subject to change.