The Car Safety Features You Want Right Now
Here are features that our surveyed members say work best­—and the cars that feature them You're backing out of a tricky parking spot when a beep beep beep warns there's a car approaching. Or you're about to change lanes when a flashing light gives you the heads-up that there's a car in your blind spot.
You can find these and other advanced driver assistance systems (ADAS)—using radar, cameras, and other technology—on many new cars. Drivers love some of these features so much that they say they wouldn't buy a car without them. But others, they tell us, are more trouble than they're worth.
We asked more than 47,000 Consumer Reports members how satisfied they are with the ADAS systems on their cars. Our goal: to determine which systems you should look for when buying your next vehicle.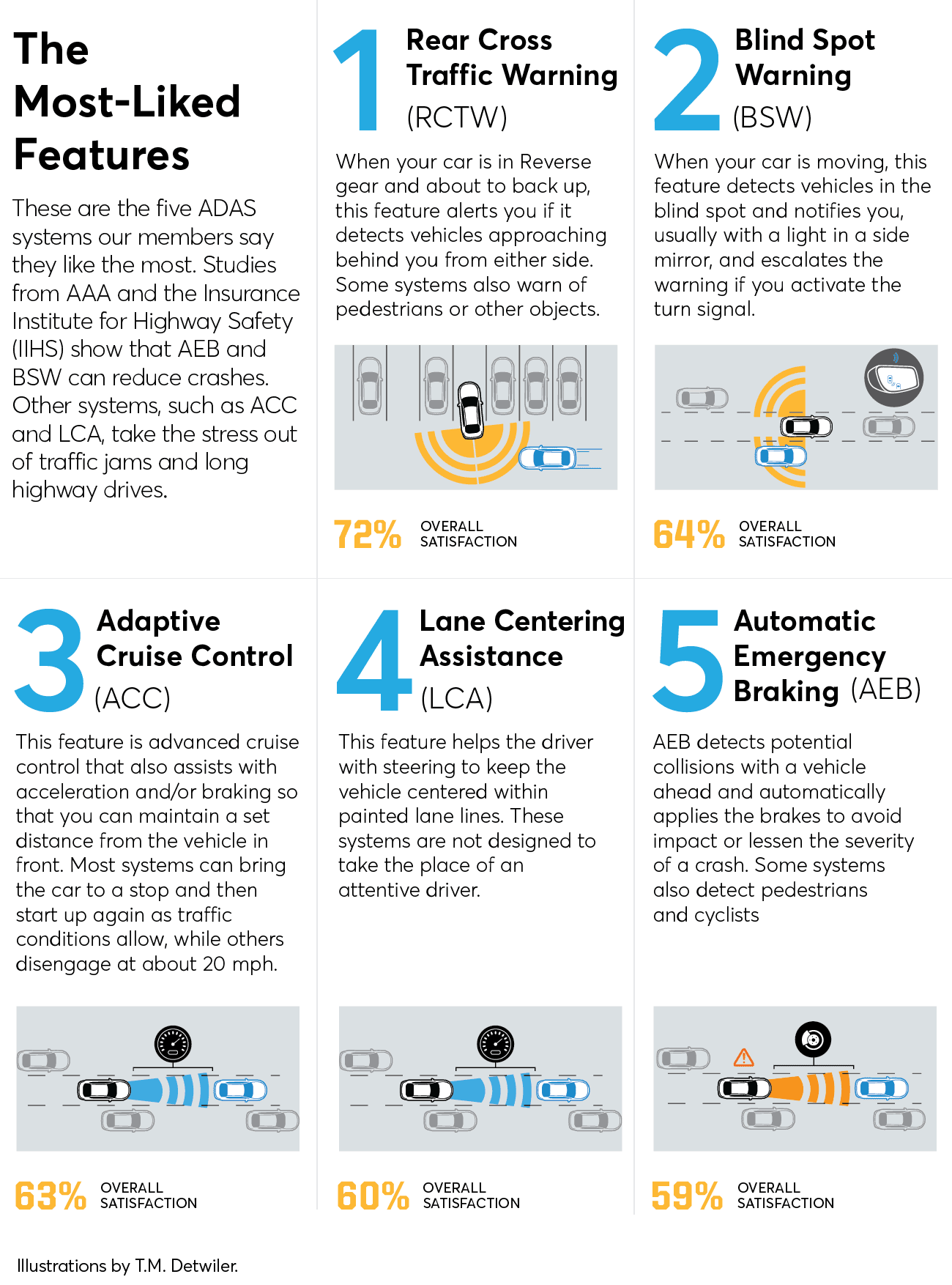 Car Brands With Popular Safety Features
We analyzed more than 280 new car models to find which automakers do the best job at making the five most popular ADAS features standard equipment on their new vehicles.
Even among the brands with the most popular ADAS features standard across their lineups, some of these five systems may be missing from specific cars because of ongoing semiconductor chip shortages. "Not all websites or brochures will have up-to-date information, so you should check the window sticker of the exact car you're buying," says Jake Fisher, senior director of CR's Auto Test Center. "If it's on the window sticker, it's on the car."
The top eight brands here are listed in descending order by average percentage of models in their lineups with each of the five systems standard as of Aug. 1. The list starts with Genesis, which is the only brand to offer all five systems on every model in its lineup. We did not count vehicles with AEB systems that work only at low speeds and/or do not detect pedestrians. We counted BSW systems only with their alerts displayed on or near the side mirrors.
Your Test Drive Checklist
Some ADAS systems work better than others. Here are the questions to ask yourself and the salesperson when taking a test drive.
Is the Blind Spot Warning on the Side Mirrors?
Tesla puts its BSW warning in the dashboard display. Such placement can take a driver's eyes off the road, Funkhouser says. "You should already be checking your mirrors, so it's the natural place to put a warning," she says.
Can You Turn Off Rear AEB?
Drivers told us they love systems that help them see whether the coast is clear when backing out of a parking space. But they dislike rear AEB systems that are too sensitive and make it harder to back up in crowded parking lots, or that beep when a bike rack is installed on the back of the vehicle. Check whether you can turn off rear AEB while leaving RCTW active in those situations.
Does the Car Put Up a Fight?
Some drivers complain that LDW and LKA systems beep relentlessly or aggressively steer the car, even when a driver is intentionally crossing a painted line to avoid trouble. Be sure to try out this feature on a test drive.
Are the Alarms Too Alarming?
Drivers tend to prefer systems with a steering wheel or seat vibration over those with an audible beep, Funkhouser says, but they also complained when the vibrations were distractingly strong—as was the case for some Honda and Acura vehicles.
Does ACC Work in Stop-and-Go Traffic?
Not all ACC systems work at low speeds, and they can shut off when traffic snarls or creeps at speeds below 20 mph. If you're buying a car for the ACC, make sure it has a stop-and-go feature.
Editor's Note: This article also appeared in the October 2022 issue of Consumer Reports magazine.