The minivan might be the most underrated and least respected vehicle type ever. It's too bad that these highly versatile family haulers are shunned over the "Mom-mobile" image, because if you've ever transported a bunch of kids and all the "stuff" that goes with them, you know just how much life is made easier with one of these vans. Plus, they are terrific for road trips.
Overall, minivans provide the most spacious, versatile, and cost-effective solution for families on the go. Nonetheless, more buyers than ever are flocking to car-based crossover vehicles and hulking SUVs. This has caused the minivan market to shrink in recent years. The remaining players in the minivan game have developed compelling options and features that offer a lot of value to sway SUV shoppers.
When considering transporting a horde of people on a regular basis, going for a minivan instead of a big SUV is likely to yield significantly better comfort, more luggage space, superior cabin access, and better fuel economy.
Simply put, if your needs match any of the above examples, we urge you to be brave and check out the latest minivans. They've never been better.
There really is only one type of minivan: a space-efficient box on wheels. Their typical layout is three rows of seating and sliding rear doors on both sides. The only manufacturers selling minivans these days are Chrysler, Honda, Kia, and Toyota. They all offer a wide variety of styles, colors, and options. The biggest difference among their trim levels is the level of luxury and high-tech entertainment features.
There are only a few commercial-grade vans for sale that have second- and third-row seating, such as the Ford Transit Connect, but we'll stick to the mainstream family units here.
What you'll spend: Expect to shell out about $38,000 to start for even a bare-bones Chrysler Pacifica. However, given the wide variety of options and trim lines available, it's easy to run the price up through the mid-$40,000s and even into the mid-$50,000s.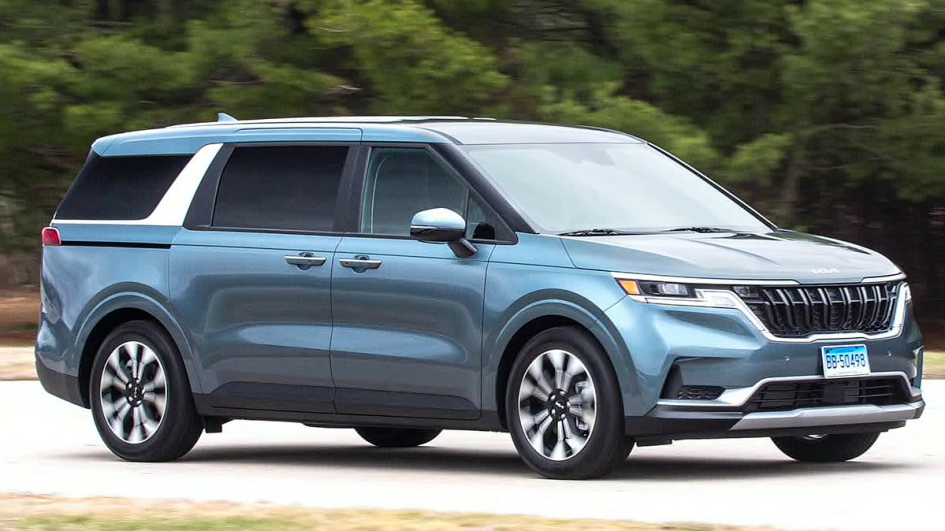 What Minivan Buyers Should Consider
Seating and Amenities
The reasons to forgo an SUV and dive headfirst into a minivan are many, but the main ones are the ability to carry various combinations of people and cargo. Cabins can be configured from strictly functional to living-room plush. Most minivans have seven or eight seats, which means they can handle as many people as a three-row SUV can—or more.
A seven-passenger model has two captain's chairs, rather than a bench seat, in the second row. These seats are more comfortable than a bench, help to separate kids, and allow for easier passage to the third row. And they can be removed to open up space, or in the case of the Chrysler vans, folded into the floor. Most minivans' third-row seats provide decent room for even average-sized adults.
Making minivans family-friendly is a key mission here. Many minivans come with a handy fold-down mirror near the top of the windshield header, so parents can keep track of the second- and third-row rug rats. Also, Chrysler offers its FamCam, an interior camera that allows front occupants to monitor rear passengers. It has a split display and the ability to zoom in, and provides an angle to see little ones in rear-facing car seats.
Many vans also come with a rear-seat reminder system—a feature that parents might find to be a lifesaver. The system reminds the driver to check the back rows for children when stopping and exiting the van. In the Toyota Sienna, its Rear Seat Reminder function is a door logic system that is activated when a rear door is opened prior to or during a trip. A visual and audible alert is shown in the instrument cluster when the engine is turned off to remind the driver to check the rear seats for kids. The system is standard equipment and factory enabled.  We like this additional step toward ensuring that no child is accidentally left in a locked vehicle.
Clearly, the automakers know that minivans must sometimes serve as a home on wheels, and they make sure these vans can be outfitted for just about any busy schedule. Power outlets and USB ports abound. Built-in WiFi is practically a given (although it's likely to require a subscription service to use). There are cup holders everywhere. All conceivable variations of storage bins, drawers, and cubbies proliferate.
Common options include leather upholstery, tri-zone climate control, reclining rear seats, power-operated doors, and rear-seat entertainment systems. The Odyssey's available rear entertainment system packs several kid-friendly features. One is a cute "How much farther?" app that serves as a cartoon "light tracker" meant to prevent a litany of "Are we there yet?" questions. Chrysler offers a similar setup.
Certain Sienna trims use a kick-to-open operation for the sliding side doors. Just like vehicles that use this process to open a tailgate or trunk, the Sienna allows users to make a kicking motion under the side of the van to open the sliding doors. However, this didn't work consistently and often resulted in the users pulling the handle at the exact moment the door finally decided to open. This is a reminder to try features to make sure they live up to the promise, especially if they come at a price premium. In this case, our staff favored the tried-and-true key fob button or simply pulling on the handle to open the door.
Other clever options available in various minivans include built-in vacuum cleaners, cooled storage compartments, and an intercom system that allows the driver to speak into a microphone to rear passengers for when wind and road noise intrude.
Engines and Fuel Economy
Most minivans come with a V6 engine, which typically produces 270 to almost 300 hp. Admittedly, minivan fuel economy is not great—most hit the low 20s—but it's better than many three-row SUVs that these vehicles compete against.
The Chrysler Pacifica is offered as a plug-in hybrid version. In our tests, it delivered a stellar 27 mpg overall when running as a hybrid. Chrysler estimates that it can travel 32 miles purely on electric power, making it a potential game-changer when used daily for short commutes or running errands. It takes 2¼ hours to fully charge the battery on a 240-volt connection and 12 hours using a standard household power outlet.
The Sienna comes exclusively as a hybrid, with a combined 245 hp between the electric drive and the 2.5-liter four-cylinder engine. We measured 36 mpg overall in our tests, which is quite impressive for a vehicle this large.
The Carnival's 290-hp V6 provides an abundance of zip in reserve for spurts of acceleration or climbing up steep grades. But its 21 mpg overall is a far cry from the Sienna's numbers.
Only Chrysler and Toyota offer all-wheel drive.
Ride and Handling
Most minivans deliver a reasonably comfortable and quiet ride. While no minivans set the world on fire with thrilling driving characteristics, they all handle soundly. Most possess a reasonable level of responsiveness to make them feel safe and not too clumsy.
Cargo
If not hauling people, minivans excel at moving cargo, easily handling trips to the local hardware and garden store. All are offered with a power-operated rear liftgate—some can open automatically when you stand behind the van with the key in your pocket.
Other handy cargo-carrying features include power-folding second- and third-row seats. Getting the seats to fold flush with the cargo floor makes loading big items easier. Some second-row seats are removable, while others simply fold up against the front-row seats.
Chrysler's Stow 'n Go system allows the second- and third-row seats to fold and fit into the floor. However, we found that this feature compromised seat comfort. The Hybrid version, on the other hand, sans Stow 'n Go, has better-padded and more comfortable second-row seats.
Often, the removable seats (like the ones in the Carnival) are heavy and a chore to remove.
As for the Sienna, the second-row seats aren't removable, nor can they be folded flat into the floor to expand cargo space. They do slide and fold forward, accordion-like, which still creates enough cargo room for the Sienna to moonlight as a small moving van.
Many third-row seats are split 60/40 to allow greater flexibility to combine carrying people and cargo. Most minivans have deep wells behind the third-row seats (into which the third-row seats are folded when not in use), giving them exceptional cargo-carrying capacity even with all seats in place. Automakers go to great lengths to make folding, storing, and reconfiguring the seats an easy process, often with pull straps and handles if not fully power-operated. It is important to try these features out to find what feels natural and easy for you.
Safety and Active Driver Assistance Systems Technologies
Consumer Reports' safety ratings include assessments of crash-avoidance capabilities and crash-test results, based on tests performed by the federal government and insurance industry. Further, our road tests detail issues regarding child seat installation and headlight performance.
Forward collision warning (FCW), automatic emergency braking (AEB) with pedestrian detection, and blind spot warning (BSW) are crash-avoidance technologies that CR believes should be standard on all vehicles. These should be on the next new or used model you buy.
FCW technology provides a visual, audible, and/or tactile alert to warn the driver of an impending collision with a car or an object directly in its path. AEB responds to an imminent collision, braking if the driver doesn't react in time. BSW monitors a vehicle's flanks, warning the driver that another vehicle is alongside, where it may be difficult to see.
Other modern safety advances include telematics systems that can alert emergency personnel if an airbag deploys, such as GM's OnStar service; lane departure warning systems that sound an alert if the driver changes lanes without signaling; lane keeping assist to maintain the vehicle's position in the lane if the driver starts to drift; and rear cross traffic alert, which monitors the sides of the vehicle when the driver is backing out of a parking spot, and can even apply the brakes if needed. (Learn more about car safety.)
Towing
A typical minivan can tow 3,000 pounds or more, which is about the weight of a midsized (5x10-foot) box trailer loaded to capacity. That capability is more than what a typical sedan can tow, but it is well within the expectations for most midsized and large SUVs.
Like with any type of car, the first decision to make in choosing the right one: Will you buy new or used?
Buying a brand-new minivan certainly has its benefits. New models have the very latest safety gear and engineering improvements, not to mention a bumper-to-bumper factory warranty. With a new vehicle, you know what you're getting; you don't have to worry about potential service problems or concealed collision damage. Further, you can have your choice of color, trim line, and option level. And financing rates are typically lower than for a used vehicle.
The crucial drawback to buying a new one is rapid depreciation. A new car can shed a third of its value in its first two or three years on the road. If you finance the new car with a low down payment, you can easily find yourself "upside down" on the loan, where you owe more than the car is worth.
Used cars can be a welcome alternative. The used-car market is about three times the size of the new-car market, so there are certainly plenty of choices. A 2- to 3-year-old car has already taken its biggest depreciation hit and should have the majority of its useful life ahead of it. Modern cars, if soundly maintained, can run for 200,000 miles or more. Material and corrosion-resistance improvements mean rust isn't nearly as big a problem as it was years ago.
Again, focus on reliability when selecting a new or used car, even if the vehicle is still covered by its original factory warranty. Check with Consumer Reports to find those that have top-notch reliability scores. (See our guide to car reliability.)
Whether buying new or used, it is important to do a little homework to choose a good model, and to follow that up with effective negotiation.
Browse the Consumer Reports Used Car Marketplace.
Thanks for sharing.
Oops, we messed up. Try again later
More From Consumer Reports