When you shop through retailer links on our site, we may earn affiliate commissions. 100% of the fees we collect are used to support our nonprofit mission.
Learn more.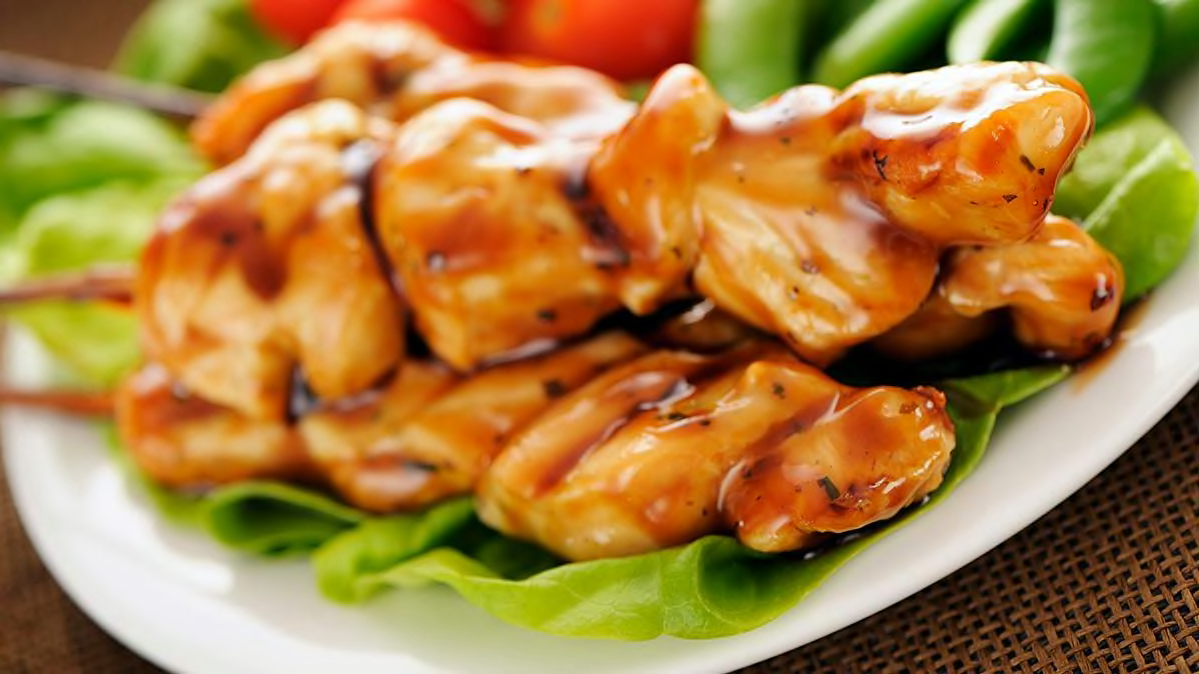 No one thinks of Buffalo wings as health food. Even a couple can equal big calories as you nosh on them while watching the 49ers and the Chiefs battle it out on Super Bowl Sunday.
Just two chicken wings with a little blue-cheese dipping sauce will cost you about 180 calories, 13 grams of fat, 3.5 grams of saturated fat, and 750 milligrams of sodium. But they probably aren't the only dish on your Super Bowl spread. And given Americans will eat 1.4 billion chicken wings during the big game, according to estimates from the National Chicken Council, chances are you won't eat just two.
The "wings" recipe below takes a little work, but it's more healthful than the store-bought or takeout variety. Serve them with a platter of crudités to pump up the health factor.
Buffalo Chicken Skewers With Blue-Cheese Dip
For the Skewers
12 6- to 8-inch bamboo skewers
3 8-ounce boneless, skinless chicken breasts
1⁄2 cup Louisiana-style hot sauce (we used Frank's)
2 tablespoons white vinegar
1 teaspoon Worcestershire sauce
For the Dip
1 cup nonfat Greek yogurt
2 cloves garlic, minced
2 scallions, chopped
¼ cup blue cheese, crumbled
¼ teaspoon black pepper
Cayenne pepper (optional)
Instructions
1. Soak skewers in water for 60 minutes, then preheat oven to broil.
2. Cut chicken into 12 lengthwise strips; thread each strip on a skewer.
3. In a small bowl, combine hot sauce, vinegar, and Worcestershire sauce; set aside.
4. In another bowl, combine yogurt, garlic, scallions, blue cheese, and pepper. Garnish with a sprinkle of cayenne pepper, if desired; set aside.
5. Place skewers on broiler pan. Broil 8 to 10 minutes, until chicken is cooked through. While chicken is still hot, generously coat each skewer in the hot-sauce mixture. Serve immediately with the blue-cheese dip.
Makes 12 skewers.
Nutrition Information Per Serving (1 skewer and 2 tablespoons sauce): 80 calories, 2 g fat, 1 g saturated fat, 1 g carbs, 0 g fiber, 1 g sugars, 16 g protein, 360 mg sodium.